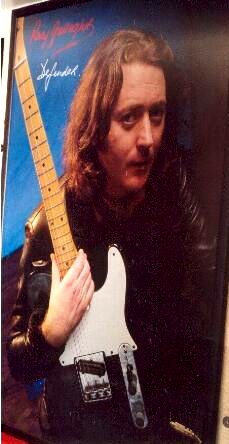 Pirate Rory revisits for his destiny

---
Molly McSnailly Burke talks to Rory Gallagher, the Cork boy with a mission and a guitar....
---
When a little boy feels bad, he might go in his room and pout, kick the dog, sass his mammy or steal a can of beer.
But Cork-bred, blues-rocker, Rory Gallagher just picked up his plastic guitar, tuned into the Armed Forces radio, plugged directly into the current of the fugitive's fearsome fight and the powerful, masculine autism that is the backbone of the blues.
The songs spoke of prison, injustice and the meaning of freedom, there was much in American roots music to appeal to any child incarcerated in school.
Rory was a well bred boy, but his acute sensitivity rocketed his dreams light years from Celtic culture and a conventional path. The dirty blues is a primal moan, the sirens of speechless underclass known only by their escapes, the gypsies , the drifters and the troubadour of the dispossessed.
He wanted to be Elvis, of course, as did every little lad. Rory describes his childhood hero as a man of "Organic genius" and one of the few to crawl out of the swamps and infect pop music, though the sellout ultimately destroyed him.
" I like the idea of the free spirit", says Rory peering over a reasonable galls of red wine with the cock-headed nervousness of a chained eagle. "I was always fascinated by the man with the guitar and a tale to tell, from Muddy Waters to Woody Guthrie, he'd seem like a pirate, man with a mission, and a sense of destiny."
If Rory has misbehaved in this life, there are at least no notable scars to tell about it. The characters and songs in his stories are often culled from crime fiction like Dashell Hammet's, infused with a Celtic intricacy that he is only just beginning to realize is part and parcel of his originality.....and subsequent commercial difficulties.
He's a proud and defensive loner, pushing 40, never acquired a wife or family, plus 15 albums and 25 U.S. tours down the road, it doesn't look as though domesticity is his lot. But he does admit he's lonely. " I've felt every emotion you can name", he says, "and sometimes I feel neglected, but if you had a settled life it would be harder to build up a climax in the music."
And that nasty, bitter edge is an intrinsic part of the sound. "When you just live from hotel to suitcase to gig, the music is bound to become nastier, he explains, "in a particular way, I don't feel bad in a lonesome room- that's where I do a lot of writing."
The result is outlaw music/ the spirit of risk or fortitude. "I've always believed that the best music should be dangerous", he insists, "It's like taking it to the edge where a riot could break out. Even in gospel music, you get the mad ecstasy- I'm no fan of cocktail music, the best blues and rock is a collision."
But Rory doesn't look dangerous. He reads a lot, tackles a few languages and pursues an avid interest in French cinema and film noir. They are full of artistic baddies, as well people condemned by circumstances to fall foul of love, the law and the mob as well. But for Gallagher, it's a romantic, intellectual exercise - until it hits the violence of his performance - a roar and visceral process which puts end to any suspicions of dilettantism.
He's never been willing to sell out and release a calculated ditty that would zip up the charts, be tomorrow's throwaway and limit the direction of his career forever more. Because he hasn't been willing, he hasn't gotten rich. Being a world class guitarist and songwriter means nothing to the star making machinery - integrity is a real liability.
But Rory is feeling happier this weather.
Though he left Cork in 1967, like many Irish men abroad, he has never admitted in having left. He describes himself as in exile.
And he says that staying out of Ireland has helped him maintain a sense of optimism about it. "Ireland's a young country which has been through the mire", he explains, "but I've had to give up feelings too emotional about it, and as to its party politics, I just try to view them as sport."
Rory Gallagher now embarks on his first Irish tour, this week, in 5 years. What he is bringing home is a pirate legacy, whatever has been borrowed, stolen or created, has been done with the ultimate knowledge of landing once more on this own turf. He'll still be a stubborn boy with a cheap guitar, dreaming of an Elvis sensuality and tunings into the crackling depths of America's dark side.
~~~~~~~~~~~~~~~~~~~~~~~~~~~~~~~~~~~~~~~~~~~~~~~~~
This article comes from Feb.2, 1988 issue of the Sunday Press
Thanks to John Wainwright for passing it along and a lot of help on this one!
reformatted by roryfan
background is a mutated donman capture from UTV
the photo is of a poster hanging in the Rory Bar

183