Rory Gallagher: He Lived, Loved, and Died with the Blues
by PATRICK KENNEDY
Worldwide his albums sold millions and his concerts have gone into the pantheon of rock history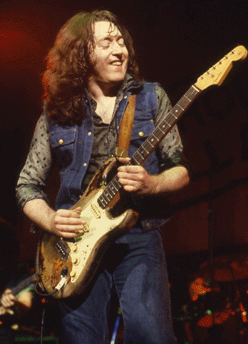 Rory Gallagher was born in Ballyshannon Co Donegal …March 2nd, 1948, and moved with his family to Cork when he was still a child. His brother Donal can remember him tuning into American radio to search out Blues music when he was aged just six. He recalls: "My father was a musician and when Rory asked for a guitar my parents sent off through a catalogue and received what was almost a toy guitar, but Rory at the age of eight was able to pick out chords on it. Later when we moved to Cork he got a proper acoustic guitar and then later an electric one."
Rory's first attempts at a band were with school friends, playing in local concert halls in Ireland. He joined The Fontana Showband at only 15 years of age, which was unheard of at the time. Showbands predominated the Irish music scene in the 1960's, and Rory simply loved to play. Rory reformed the band into a beat group called The Impact. While in London, heading for Hamburg that band split. With the remnants, the drummer and the bass player,Rory formed a three-piece rock trio, Together, and fulfilled the engagement .

In those days, Hamburg had an interesting pop culture. The centre was the Star Club where the Beatles built their experience as a live band. The owner contracted English bands who played for a nickel and turned the place upside down. Strange thing was that the owner was only was interested in bands with at least 4 members. In the summer 1965, Rory's trio tried out in Hamburg. When they arrived in the port city and the Star Club owner asked where the fourth member was, Rory said "oh the piano player got sick, he couldn't come".

When he returned to Cork, Rory stuck to the three-piece format and formed his first power blues trio, Taste. In 1966, once Taste had established its Cork credentials, Rory relocated the band's base to Belfast ('67). This city was to act as a springboard for an assault on the London club scene before Cream and one year before the Jimi Hendrix Experience.

Ireland has a unique place in the Gallagher legend during the rhythm and blues explosion of the mid 1960's. Rory and his band, Taste, lived in Ireland and refined their sound before going on to take Europe by storm.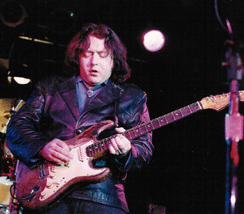 Taste went through a number of line-ups before settling down to the line-up of Gallagher on guitar and vocals,
After a recording try out for Polydor records, Rory was obliged to bring in a new rhythm section, with John Wilson (drums, ex-Them) and Richard McCracken (bass). This line up of Taste recorded two studio albums "Taste" and "On the Boards" (both made the Billboard charts).

Two further live releases were issued after the band split "Live at the Isle of Wight" and "Montreux". Taste did their first U.S. tour opening for 'supergroup' Blind Faith. At their zenith, and a the time of their split, Taste were the biggest band in Europe, with John Lennon being on record as a fan of Rory and Taste. Taste played their final gig at the Isle of Wight, where they received rave reviews. When they split up soon afterward, Melody Maker (world's biggest Music magazine) reported it on the front page.
Rory spent the rest of his career touring under his own name, usually in a three-piece format, but with piano and mouth harp augmenting the line-up along the way. His steadfast bass man through nearly the rest of his career was Belfast born, Gerry McAvoy . Rory Gallagher never forgot his roots, especially Belfast, and returned throughout the 1970's, when few other artists of his calibre dared to go there because of the troubles in the north of Ireland.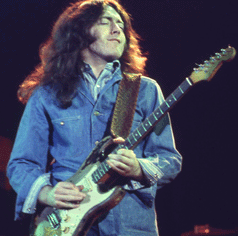 Rory developed a huge following of rockers, like myself, who can boast that we saw the great guitarist in the seventies, eighties, again in the nineties. Rory Gallagher seemed like he was always at his prime. When you saw him in those days, you were instantly taken by his mastery of the guitar, stage show and his ability to get an audience hopping. His guitar technique was amazing . He was a shy man, but seemed to come alive when he went on stage. It was like he was transformed.
Rory produced over a dozen studio albums, but the live ones seemed to portray the man at his best. Any doubters should listen to Bull Frog Blues on his early live release, Live In Europe, or Too Much Alcohol and the self-penned, A Million Miles Away, on the Irish Tour 74' album. Stage Struck, his last live album, recorded in 1979 is a live masterpiece.
Many Gallagher fans, like myself, flocked wearing his trademark cheque shirts to his concerts to hear rock classics like Shadowplay, Philby and Shin Kicker, but it was obvious that the man's artistry and passion were with the blues -a passion that he instigated in others.
The common theme that ran through Gallagher's music was the blues: he could have gone all Claptonesque and sold bucket fulls of a glossy soft bluesy pastiche, but he was too deeply rooted in the whole Blues ethos to do that.


When the Rolling Stones were looking to replace Mick Taylor they called Rory and he spent some four nights with them in a recording studio in Rotterdam, Holland. But that was not what Rory wanted and Ronnie Wood joined instead. Rory was also head-hunted by Deep Purple (to replace Richie Blackmore) and Canned Heat (after the passing of Al Wilson).
Donal Gallagher says that there was pressure on Rory from his record company to concentrate on the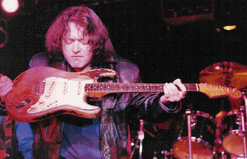 heavy metal sounds, but that Rory could not leave the Blues behind.

Rory was not into gimmicks, as for boosters, fuzzes, wah-wahs. and boxes, the only time Gallagher ever used any was in his first pickup dance bands and the early days of Taste when he used a fuzztone. Rory said he stayed away from external devices because he sees them as crutches and not as creative embellishments. ''I'm a little bit old-fashioned about boxes and effects. I mean I'm not narrow-minded. I've heard a lot of great songs from them, but I like the old wah-wah effect with the tone control a little more. I've just seen so many guys playing boring guitar breaks with them, I've seen guys play a nice interesting solo, and they get bored, and they go over to it and say 'Oh to hell with it,' and bam _waaaaah waaaaach. It's too much of a getaway- I like naked guitar."
Rory achieved the respect of legend,s and at the precocious age of 24, Rory recorded and played with Albert King, Muddy Waters and later with Jerry Lee Lewis.

He was a master of the guitar, a great acoustic guitar player with renditions of Tony Joe White's "As the Crow Flies', and Leadbelly's 'Out on the Western Plain'. His ability as a slide player was amazing he developed many open tunings. "He thought that Irish people like the blues so much because of how traditional music, Cajun, the Blues and how they were all interlinked.

He was one of the nicest guys you could meet, but if you walked in to a room with six people in it, Rory Gallagher was the last person you would ever expect to be a rock legend. If you went back stage, Rory would be pacing by himself and nervous, yet by the time he got on stage it was a completely different ball game and there was an amazing real stage presence there.
The Gallagher legacy will live long and be handed down to many new generations
He is Ireland's Pride. I remember Rory Gallagher as a quiet, unassuming man. He was very soft spoken, but a genuine and sincere person. He was always gracious to his fans, which included Robin Trower, Slash, The Edge, Vivian Cambell and the late John Lennon, who loved to watch Rory at the Marquee Club in London. Roger Glover of Deep Purple who both admired and respected him, produced an album for Rory said "His battered Strat said all he had to say to the world."
Rory didn't have the world wide recognition he deserved or he could have had. He never sold out. Few recording or touring artists have earned the accolade of being among the top 10 guitarist in the world, and in the transient world of rock music, few have secured the loyalty of life-long fans.
Rorys guitar was listed as one of the 10 Stratocasters to Die For. Recently Rory's Strat was put on display at a Fender exhibition and there were guitars belonging to Jimi Hendrix, Hank Marvin, Eric Clapton and Jeff Beck, but Rory's stood out, it is so distinctivethat it needed no explanation as to who it belonged to. It's certainly is one of the most recognizable instruments of all time. It is very exciting that Fender have reproduced Rory's Strat in every detail. It certainly is on the wish list of many Rory fans around the world.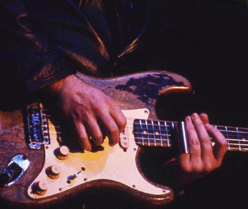 Rory was a loyal to the blues and to people also, he had the same bass player Gerry McAvoy for 20 years, the same Roadie, Tom Driscoll, for more than 35 years. He had the same manager, his brother Donal Gallagher, all his life.
I don't think he got the recognition that he deserved while he was alive, but the generation of musicians and fans coming through now seem to respect his music and I think he is now getting a lot more recognition for his integrity. He lived and died the Blues."
Pick your self up a copy of a Rory Gallagher DVD sit back and enjoy. He was "Simply the best!"
Patrick Kennedy May 2004
---
Posted to RoryON!! with permission from and thanks to Patrick Kennedy
reformatted by roryfan


255