Below are 2 pieces from the webpage of a Greek radio station. http://www.flash .gr
You might note a couple inconsistencies between the pieces.
---------------------------------------------------------------------------------
Guitar Heroes: Rory Gallagher
by: Antreas Verros

Maybe fate was hard with the man, Gallagher, because she took him from us when he was still very young. On the other hand, she was very generous with the artist, Rory, who managed to write history in a very short time and win a place in the pantheon of the world's music.
Rory Gallagher was born just before the rise of the 50's decade in Ballyshannon, Ireland. At the age of nine, he knew music was the passion that would mark his life. He started listening to folk music and American blues and he learned to play with a cheap acoustic guitar. At the age of 12, he took place in a contest at Cork City, where his family had moved, and he won the first prize, which was an electric guitar (his first one). This prize gave him the opportunity to take place in several amateur's shows.
As he grew up, he turned into a serious record collector, with clear preferences to the blues. Buddy Guy, Albert King, Muddy Waters and John Lee Hooker were the artists who musically influenced Rory. Moving to London in the beginning of the 60's decade, he created the trio "Taste", with whom he took his chances until 1970 . The self-titled lp of the group was released in England in 1969 and a little later in the US with great success .

The follow-up was easier, as Rory was already a guitar hero. With Gerry McAvoy on bass and Wilgar Campbell on the drums, his solo career took off. His first solo lp was released with his name as the title and in 1971. Deuce followed and he became more known to the public. In 1972, Rod De Ath took the place of Campbell and Lou Martin was added in the keyboards. Live in Europe, the next year is considered the album of his career. Blueprint and Tattoo followed in 1973 and the live recording, Irish Tour in 1974. He is one of the few artists who was loved so much for his live appearances and perhaps he is one of the few who literally loved being on stage .
A characteristic of this is that later, when he went for a tour of the US, the press wrote that Gallagher concerts won't end if you don't see him and his guitar melt and dripping on the stage .
In the middle of the 70's, he released Against the Grain and at the end of the 70's, he gave us three of the most important albums of his career. The beginning was made with Calling Card in 1976 and two years later Top Priority and Photo Finish followed. His concerts continue to fascinate the crowds and he continues to tour around the world endlessly. We suggestively mention that he did more than 30 tours in the US .
It was the September of '81 when Gallagher visited our country. The "Nikos Goumas" stadium where he appeared , was full with 40,000 people inside and some thousands outside who were raving just to be inside .

In 1982, it was time for the Jinx lp, when a mature Gallagher, at that time, made his appearance addressing an older audience. After a necessary pause from his live concerts, he came back with Defender in 1987. At the same time, he had the opportunity to play together with people who influenced him like : Donegan, Waters, Jerry Lee Lewis and Albert King. His own record company (CAPO) was a reality in 1990 and marks his last solo album entitled Fresh Evidence.
In 1995, he lost the battle for life, after complications following a liver transplant, which he was submitted to a few months before. Rory Gallagher may not be with us anymore, but his songs will always be a legacy for future generations.
--------------------------------------------------------------------------
Rory Gallagher Forever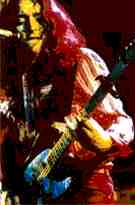 Only a few will remember that it was the September of '81, when Rory Gallagher sweated and sweated on the stage that was set up in the glorious Nea Philadelphia stadium, making 40,000 people that were inside and a few thousand that were outside.. rave. He knew how to return the love he collected from the audience every time they deified him at his concerts .
The Irish Rory Gallagher started playing acoustic when he was six, and by the time he was six, he won a music contest in Cork City Hall where he got his first electric guitar as a prize. His career started when he moved to London, where he formed the trio, "TASTE", with whom he recorded records from 1969 to 1971 . At the same time, he prepared the promotion of his personal career, recording his maiden (as a solo artist) first album with his name as a title . The Irish tour recording proved that Rory Gallagher was excellent at his live appearances .
A successful career was stopped when the great guitarist stopped breathing in 1995 . The first 'Official Best Of' was released recently and in its 2 cd's we can find songs we loved
like : Moonchild, Follow Me, Tattoo'd Lady, Calling Card, Do You Read Me, Philby and Shadowplay . A legend that will wake up the memories of many, and to the younger, the will to know him better and to enjoy him more intense .
Contents :
Moonchild, Follow me, Walk on hot coals, Tattoo'd lady, Laundromat, A million miles away (live), Calling card, The devil made me do it, I fall apart, Shin kicker, Country mile, Out on the western plain, The king of Zydeco, I ain't no saint, Do you read me, Philby, Cradle rock, Shadow play, Daughter of the everglades, Jinxed, For the last time, Cloak and dagger, I'm not awake yet, Let me in, Keychain,, They don't make them like you anymore, Loanshark blues, Kid gloves
The following two photos are Rory In Athens 1981: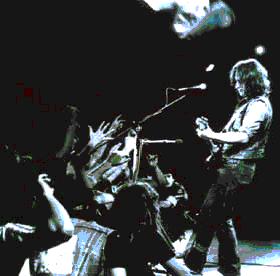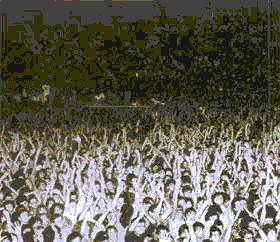 ---------------------------------------------------------------------------------------------
Thanks to Stefanos Tsiopanas for his help with these articles. He found them on a Greek radio station's webpage, translated them and sent them to me.
reformatted by roryfan
165