RORY'S
GOLDEN

DUCK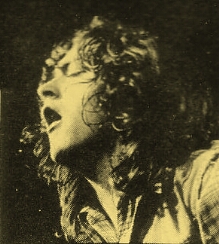 RORY GALLAGHER:
a different show every night


RORY GALLAGHER City Hall, Newcastle
Hard on the heels of Rory's latest and best album comes this, his umpteenth tour. With trusty side kick Gerry McAvoy on bass and new(ish) recruit Brendan O'Neill on drums, he has himself a band tighter than the proverbial duck's derriere. They provide the perfect backing, and, where necessary, give him full rein to play as the impulse takes him.

That impulse is the key factor at Gallagher gigs and tonight was no exception. With no set list taped to the PA, it's a different show every night, hence the atmosphere is always charged with anticipation. Rory simply goes where the impulses take him, and, on this occasion, they led him more often than not towards slow blues, the best example of which came early in the set with Willie Dixon's 'Where In The World.'





But even so, there was no shortage of faster material to keep the crowd on its feet, with excellent new songs like 'Bourbon', 'Big Guns' and 'The Devil Made Me Do It' standing proudly alongside the more familiar 'Wayward Child' and 'Follow Me.'



Other highlights were Rory's solo acoustic renditions of 'Ride On Red' and 'Philby,' for which he donned his dulcimer guitar to reproduce the sitar like sound of the recorded version.

The set climaxed with a storming 'Shadow Play,' complete with false ending, strobe and one of Rory's legendary duck walks. The band left the stage, but that famous Geordie roar demanded their return. Last buses came and went but few chased them. Most stayed for the two lengthy encores, the final one seeing a pairing of the old Rory standard 'Bullfrog Blues' with an incredible 90mph version of 'All Round Man' . . . and yet more duck walks!



That was it, 20 songs and a two hour five-minute set. Enough to make many of today's top bands hang their heads in shame. If you've seen him it's odds on you're a convert. If not, check him out soon. It's a treat not to be missed.




NEIL JEFFRIES
---
GUITAR HEROES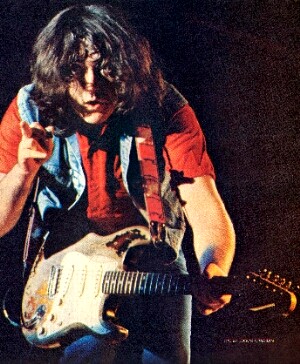 Rory Gallagher
WHEN DID YOU BEGIN PLAYING GUITAR? When I was nine years old.
WHY DID YOU START? I heard people like Elvis and Lonnie Donnegan, and other rock 'n' roll, which really made me want to start.
FIRST TYPE OF GUITAR: Just an acoustic I don't know what make it was.
MUSICAL TRAINING: None at all.
EARLY INFLUENCES: Chuck Berry, Eddie Cochran and Buddy Holly.
FIRST PUBLIC PERFORMANCE: That was in 1960 at a talent contest at the City Hall in Cork. An acrobat won the all round prize, but I won my section I think I got £5!
FIRST APPEARANCE ON RECORD: The first 'Taste' LP in about 1968 69.
RECORDING BANDS: Taste and Rory Gallagher.
OTHER VINYL APPEARANCES: I've done albums with Jerry Lee Lewis, Muddy Waters, Albert Lee, Lonnie Donnegan and lots of other odds and ends.
EQUIPMENT (LIVE): The main guitar I use is the '61 Strat, but I also have a Gretch Corvette for slide and a few others. For amps I go through a Vox AC30 with a 50 watt Marshall or a German vintage one. I've got some Boss effects and I use a flanger, a chorus and a pre amp to boost the Vox.
STUDIO EQUIPMENT: The same amps and also a 50's Fender which works very well. Occasionally I use some Gibsons and also a Vox 12 string.
NUMBER OF GUITARS OWNED: 20.
MOST MEMORABLE SOLO ON RECORD: 'Brute Force And Ignorance' and 'Double Vision.'
OTHER GUITARISTS YOU ADMIRE: Ry Cooder, Keith Richards, David Lindley, John Hammond . . . the list is too long.
---
From

Kerrang

June 17-30, 1982
Thanks to Brenda O'Brien for typing & passing these along

reformatted by roryfan
248