Rory Gallagher
- A Tribute -
October 5th 1997
Buxton Opera House
It is now twenty eight months since 'the blues came calling with its calling card ' and took our Rory. It has been hard to admit he's gone, but on a nights such as this I know Rory is with us.
As a family, we are very grateful to everyone for the condolences we have received since Rory's passing, we are particularly thankful to the organisers, musicians, technicians and all who have assisted in this evening's event. Tonight's concert is a show that Rory would have liked to attend, as he would have been very pleased at any time to see anyone of the musicians that have made their considerable talent available to honour him. Also our, thanks goes to Fender/Arbiter for their continued support.
Later this month, Rory will be again honoured, this time in his 'hometown' of Cork, during it's Jazz festival (26 -28 Oct.), where the city has named a central plaza after him and they will inaugurate a sculpture there in his memory.
I hope you will enjoy tonight's show and together we can share his spiritual musical influence.
Donal Gallagher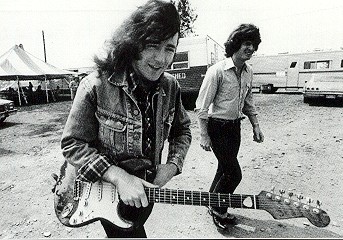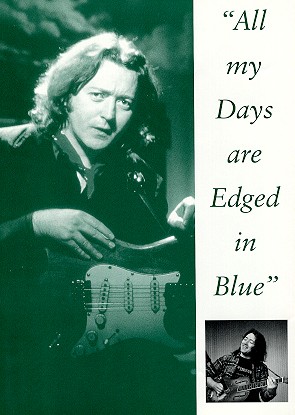 Rory and Donal in Dayton, Ohio
INTERVIEW
Extracts from a Rory Gallagher interview with Norman Beaker at the Midland Hotel, Manchester. 20th Dec. 1990 for KFM Radio

NB When did you first come over to England?
RG I made a few trips over with a dance band when I was about 14 years old, just to play a few gigs around Lent, which was a big 'no entertainment' period in Ireland, but now that's gone. It was quite important to me as on my nights off I could go to the Marquee and see bands like the Yardbirds, Spencer Davis Group and so on.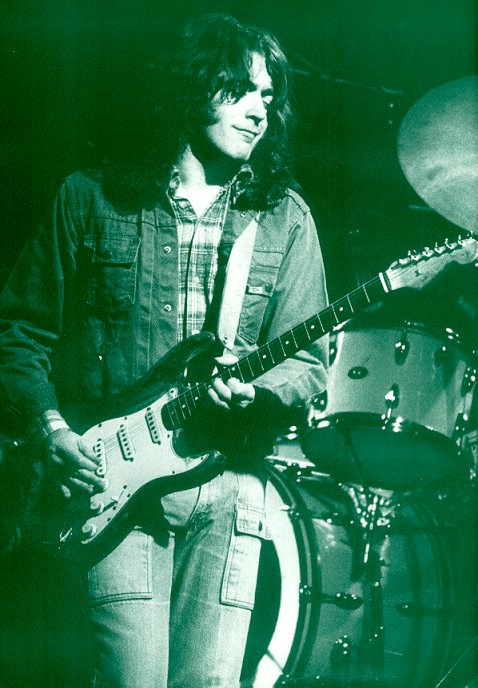 But when Taste started in 1966 I played around Ireland, did a few gigs in Hamburg and eventually got a break at the Marquee and a few other clubs. and a number of festivals such as the Woburn and Reading, so I would say that it was '67 when I moved over. We recorded the first Taste album in late '68.
NB I remember sitting in a drunken haze listening to a Taste track on a juke box of all things, the track was called "What's Going On'.
RG Yeah, that got a certain amount of play. In those days the record companies would make singles just for DJ's and for juke boxes, which was great because you had the track as you liked it, without being worried about getting on Top of the Pops or anything, but that's all changed now, the outlet for the kind of stuff we play or anything Bluesy or R&B is narrowed down to a few programmes.
NB Everyone used to have a chance at one time of appearing on TV etc, but that seems to have gone, there are two different industries, the Music business and the record industry, isn't there?
RG It's all image now, the video comes first, without having another crib, record companies prefer bands that can be controlled, and it doesn't matter if they are even on the record, but with all that said I am still looking forward to the nineties, there has been a gradual improvement over the last few years, whether it's in Blues or World music or Rock and Roll, so I think it's coming round again. A lot of young people who only started listening to music after Punk and New Wave and didn't want to know the New Romantics and Hip Hop and various things since, they probably latched on to Stevie Ray Vaughan, Jeff Healey, the younger players like that and then rediscovering Jimmy Page and you start hearing tracks by Free and so I believe people are hungry for real guitars and drums again.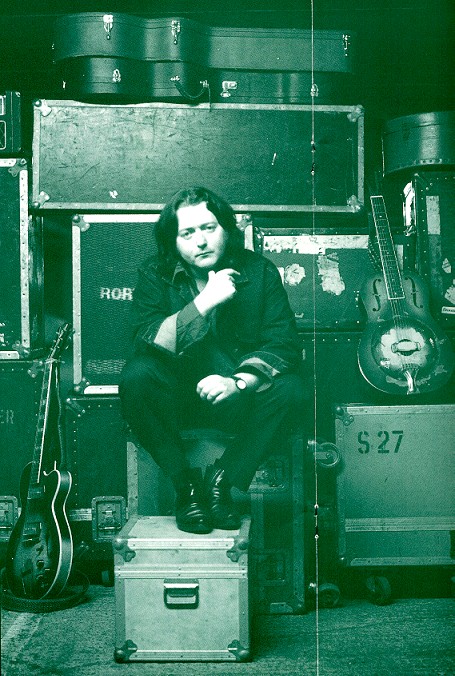 NB How long were Taste together?
RG The band were together from '66 to '70, with two different line-ups. We recorded two studio albums and two live albums came out after the band split up. I had nothing to do with the two live ones and had no control over them. The sad thing is that the two live albums were recorded in the last week of it's life with almost the same material, where as if we had recorded a live album when we were really at our peak it would have been great. I have old tapes of gigs that were ten times better. You know that happens when a band splits up, there is always someone who grabs existing tapes and contracts and the next thing you lose control over your own product.
The studio albums I'm very proud of because they were across between Blues standards like "Sugar Mama", "Catfish", and a couple of things bordering on jazz, with odd little influences, plus I was developing as a song writer, so I can listen to them without feeling embarrassment, but you're very critical of your own work. God almighty, I think some nights I must check that again and then realise the album is 15 years old.
NB You've recorded with some amazing people including Muddy Waters.
RG Yes, I played in the London Sessions and it was wonderful for me, we were in the studio for three nights with Mitch Mitchell, Carey Bell on harmonica, Steve Winwood, Georgie fame and Rick Gretch. It would have been great to have a video of it for me to savour and photos of us working just to help my memory. The record is a memory obviously, but he ( Muddy) was just so nice. I also did an album with Jerry Lee Lewis, very much larger than life, but it was fun...no trouble. Albert King was a little less friendly, and a lot more difficult as he tuned his guitar in a different way and I was thrown in at the deep end to stand in for his other guitar player and record the whole thing live. I had no running order or keys and when I asked the bass player or Albert himself what key he was in, they would always say "B natural", no matter what key they were in.
NB Who would you say have been your major influences?
RG I like really erratic players like Buddy Guy and J.B. Hutto even though he plays very much in the Elmore James style. I saw him before he died and he was great. When I was younger I liked Big Bill Broonzy and Leadbelly, they were the first blues players I heard. I like a lot of country blues players like Scrapper Blackwell, Blind Boy Fuller and Albert and Freddy King and really like Albert Collins a lot. One of the most under rated guitarists for me was Brain Jones, he and Keith really got the Jimmy Reed, Eddie Taylor feel together and he was a great slide player. He also did most of the work at the beginning of The Stones with Ian Stewart, including naming the band. It was so sad Brian didn't have time to get his own thing together before he died, just a single or something would have been great for his morale.
Going back to my favorite players, I like country blues players. It's so intricate and your really don't know where they're coming from, like Blind Blake and Rev. Gary Davis. I love BB King as well, oh there are so many, but I think on slide it had to be Earl Hooker.

---
The musical performers included :
Máire Ní Chathasaigh and Chris Newman
We are very pleased and proud to have with us tonight Máire and Chris who played at Rory's memorial service in London. They made their debut as a duo at the 1987 Cambridge Folk Festival and have since played in twenty-one countries and made TV and radio broadcasts on five continents. making four albums together.
Chris began to play the guitar at the age of four and at fourteen gave his first paid concert in a folk club. He became involved in the British jazz scene in his late teens, playing and learning from people like Stephane Grappelli and Diz Disley. Two years ago he joined celebrated Celtic band Boys of the Lough.
Máire grew up in a well-known West Cork musical family, began to play the harp when she was eleven and went on to win the All Ireland Harp Competition on several occasions.
Bernie Marsden
To the majority of people in the music business, the name of Bern Marooned means lead guitarist in the classic Whitesnake line up of the late 70's and 80's. 'Fool For Your Loving', 'Here I Go Again', 'Lovehunter', 'Would I Lie To You', 'Come On', all classic Whitesnake songs Marsden co- wrote with ex Deep Purple singer Davis Coverdale and the slideguitar axe-man Micky Moody.
"I was very lucky, at the age of 15, instead of the Swinging Blue jeans, I was given and told to listen to Howling Wolf and Sonny Boy Williamson. This changed me forever, and it's because of those two records I'm playing the guitar today", Bernie said in a recent US interview.
The professional career, which has spanned almost 25 years, contains bands and people of legendary status; Wild Turkey, Cozy Powell, Babe Ruth, P.A.L. (a shortlived supergroup with Lord and Paice, after Deep Purple split), Alasks and solo projects with contributions from who's who in the music business.
Micky Moody, claimed by many to be Europe's best slide guitarist, has recently been touring with Bernie in the Moody Marsden Band.
Bernie will be joined on stage tonight by Mark Feltham and David Levy who both worked closely with Rory.

Paul Jones
A man of many talents, great vocals and a wonderful harp player. Paul still has the enthusiasm he had back in the days of the Manfreds. Paul started playing along side Cyril Davis, Mick Jagger, Charlie Watts and Jack Bruce in Alexis Korners Blues Incorporated where he would get up and jam.
He has in many ways taken over the mantle left by Alexis Korner both as a broadcaster and performer. He's working with the Blues Band, the Manfreds, his solo career, on TV, numerous radio shows including the R&B show on Radio 2, which alongside producer Dave Shannon, has brought many up and coming bands to the public's attention
We thank Paul for his support, not only for tonight, but on numerous occasions when he has given his talents even with the busy schedule he has.

The Norman Beaker Band
The band have been touring extensively touring the last year, as a band in their own right
and, with Chris Farlowe. The band have also just finished the new Chris Farlowe album, which is due for a September release, which will be accompanied by a UK tour. A new Beaker Band album is set for an October release which will also provide a UK tour. Norman has also been busy in the studio producing albums for Chris Farlowe, Ruby Turner, Mick Abrahams and a new band called Rubber Zoo.
Bob Harris
Bob Harris established a peerless reputation during his seven years as presenter of the BBC 2 Rock show 'The Old Grey Whistle Test', recognised throughout the Seventies as Britain's premiere music television show.
As well as presenting, Bob is the founding editor for 'Time Out', author of two Rock reference books, produced records and released his own CD compilation. He has been a television music consultant, compared big name tours and festivals, interviewed many of the greats, appeared in films, videos and voiced many commercials and has worked or radio in the States.
But, it is his work on British radio that Bob is best known.

Tim Rose
Tim Rose from Virginia, USA, penned such classics as 'Hey Joe', 'Walk me out in the morning due' and 'Long time man'. His compositions have been recorded by over seventy artists.
Tim relocated to London in early 1997, initially to work on a movie music score and to follow up on production work for New York band, The Devas. After a highly successful low key gig in Putney's Half Moon, where he was joined on stage by Nick Cave who has recorded three of Tim's compositions, Tim decided to consider one or two more performances.
Subsequently Tim was invited by Nick to be a special guest at the Royal Albert Hall, and Nick plans to produce a Tim Rose album later this year. Tim was also very honoured to appear on the 1997 Alexis Korner Memorial Concert at Buxton's beautiful Opera House where his performance of the Rose written 'The Gambler', which Alexis had recorded and made his own, was a very special and moving tribute.
With a renewed career in live performance, an up coming album to be released September 29th 'Haunted' (Best Dressed Records), a Dutch TV documentary on his life and musical times, and, some input into a future Rock Family Tree programme, charting the genesis from Folk to Rock through the crucible of the Greenwich Village scene that he knew so well, its all happening for Tim Rose.
The Splinter Group (featuring Peter Green)
It is fitting that one guitar legend should wish to pay tribute to another, and there are few more legendary or influential than Peter Green. His musical past is well documented and would take far to long to go into, but it is enough to say Peter is a wonderful talent and we are really thrilled to have him and his band with us tonight.
The band is a strong unit throughout with the 5th member of Queen, Spike Edney on keyboards and Nigel Watson on guitar, the rhythm section is one of power and taste, ex Black Sabbath bassist Neil Murray and one of the world's most famous drummers Cozy Powell, it is easy to see how good this band is going to be, and we thank them all for taking part here tonight. Spike, Neil and Cozy are also a major part of the Brian May band.

Ronnie Drew
Ronnie Drew is one of the founder members, and certainly one of the most recognised of the Dubliners. The Dubliners shot to fame in 1967 with, memorable and autobiographical probably,
'7 Drunken Nights', which got to number seven in the charts and gave the people at Top of the Pops something a little different.
The band have constantly been working and in the late eighties joined up with the Pogues on 'The Irish Rover', it reached number eight in the charts. Again working with the Pogues they recorded the double 'A' side Irish World Cup song for Italia 90 'Jacks Heroes' and 'Whiskey in the Jar'.

Lonnie Donegan
Lonnie Donegan was born in Glasgow in 1931. The only child of a concert violinist, he became Britain's first superstar in 1956 after recording an old American folk song, 'Rock Island Line' which went to number one in the UK and USA.
Having played professionally in jazz bands since his army service in 1949 and allegedly gained his stage name when, on the same London bill as US blues guitarist Lonnie Johnson, he was inadvertently introduced as 'Lonnie' Donegan by the confused MC, the name stuck. Lonnie joined Ken Colyer's Jazzmen as guitar and banjo player and his blues and folk influences earn him a solo spot in the band's act, leading to a small group (Colyer on guitar, Chris Barber on bass and Bill Colyer on washboard) on US blues and work songs, generically dubbed "skiffle".
Lonnie left the band and formed the Lonnie Donegan Skiffle Group, the first popular music group to be formed and youngsters everywhere were buying guitars to learn Donegan songs. In the seventies Lonnie suffered 3 heart attacks and agreed to retreat to his home in California for a year's rest. He made a complete recovery and returned to the recording studios in 1978 making an album of his old hits, with a backing group of those paying tribute to the man who had shown them the way; Elton John, Leo Sayer, Ringo Starr, Rory Gallagher, Albert Lee, Brian May and many others, the album was aptly entitled 'Puttin' on the Style.
Twenty five years after 'Rock Island Line' Lonnie is now a living legend. Acclaimed as one of the finest stage performers in the business, still with the same energy and vitality in his unique style.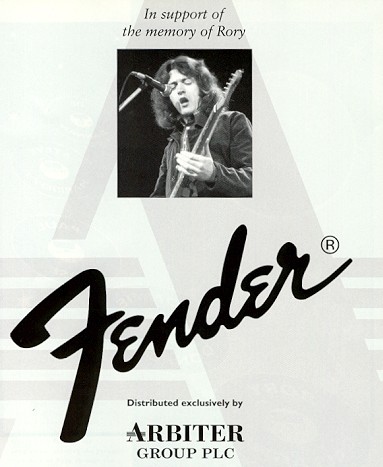 It has been our pleasure and privilege to work alongside Donal Gallagher in bringing this wonderful event to the Buxton Opera House this evening. As always when organising concerts such as these, one experiences many ups and downs, thankfully the ups are more plentiful than the downs, (who wants an easy life anyway).
Few could start to realise how much work is needed or how long these events take to organise, but it is many months. The day of the actual concert usually brings with it a huge sigh of relief that the whole thing is really going to happen. Once the crew start on the PA and lights, the adrenaline starts to really flow and the day passes so quickly you really don't get chance to take it all in. For weeks after we revil the night through the audiences eyes, and many kindly send us letters to say how much they enjoyed, and who they enjoyed the most, on the night.
There are so many people to thank we would need another programme, but we have included as many as we can, any we have failed to mention we can only apologise, but at least they know who they are and so do we.
Rory has meant so much to so many over the years and if we have helped to keep his memory alive then all the work has been more than worthwhile. Rory would probably be embarrassed by all the fuss, but I bet he would love to be here, and it would be nice to think perhaps he is.
Enjoy and savour every minute, we will.
Harry Lee & Norman Beaker

This comes from a program given out at the Buxton Tribute in 1997
Reformatted by roryfan

132