BLUEPRINT
Rory Gallagher
Polydor PD 5522


Who can actually say when the notion of vagabond outlaw, crackshot guitarist-as-superhero first entered into the rock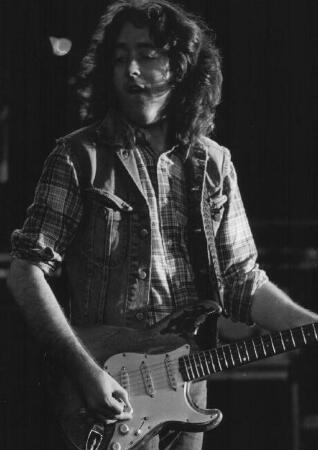 idiom? If it was the end of the 60's, when single performers were rapidly losing ground to the 'groops', and we all felt comfortable enough with our musical extravagances to heap such gleaming status upon an individual, then it was natural that, in nearly all cases, the bulk of attention inevitably fell on who plays the guitar. That is, the guitarist as quarterback or pitcher, center of attraction, focal point, el comandante. The physical presence of a gunfighter guitarist within a group—American, British, Indian, Redneck, City-Black, Hire-the-Handicapped—always insured at least moderate interest in what the group was up to. So just about anything above and beyond the traditional role of accompanist that set any rootin'-tootin' guitarist apart from everybody else, and that usually fell under the category of brains/ability/taste, meant instant immortality.
The first hotshots whose names became household words, as far as high-quality blues-bred rock 'n roll was concerned (that, at least, is the genre we're limited to here) were Jimmy Page, Mike Bloomfield, Eric Clapton, Peter Townshend, Keith Richard and, if you lived east of the Mississippi, the Blues Project's Danny Kalb. The next solid wave of machine-gunners included Johnny Winter, Larry Coryell, Jorma Kaukonen, Robbie Robertson, Bert Jansch and, finally discovered by most, John Fahey. Without elaborating on the latter "experimental" phase or the former "early primitive" phase, suffice to say that the last great flowering of guitarists whose names assumed that "household word" status included the likes of Jerry Garcia, John Fogerty, John McLaughlin, Carlos Santana, J. Geils, and the last American to say something new on the guitar, Duane Allman.
Household words. When you hear the name you immediately visualize the gaunt stranger with the ax. The stage is Main Street—the situation is roughly "Do or Die." Reputations are won and lost with the speed and logic of a blazing glorious gunfight and the hero steps off into the night having given the townspeople what they came to see and hear—some flash, some wizardry, pathos, catharsis, sexual release, psychological rejuvenation. Involving one thousand to twenty thousand people in an oceanic experience, transporting them away from their everyday drudgery to the world of fantasy flight and laying-it-on-the-line, lifting a wretched soul from the depths of personal despair into the light that is the magic of the "Jam." Ah, sweet God a'mighty, there jest ain't nothing like watching a good old boy sweat his cans off gunning down about 240 watts of 12-bar verses and choruses—is there very much more to the mystique of the metal warrior on-stage, who trades samurai sword or six-shooter for a Fender Stratocaster or Telecaster, and backs himself up with keyboards, drums, and bass in place of the three mesquiteers?
If it's always been like that, and there's no reason to expect it to change, then the process of discovery is as transcendental as the character of who is discovered, the era of discovery, individual circumstances that exist independent of each other for a time, then coalesce into something all too real to be ignored. Take Rory Gallagher, for instance.
A childhood spent in County Cork, Ireland, where Rory started playing guitar virtually as an infant, found him in a variety of skiffle bands and local groups, but mostly entertaining himself and a few friends with the songs he was able to learn from folks like Gene Autry and Roy Rogers, or Tennessee Ernie Ford, for crying out loud. Soon enough the influences graduated to the likes of Bill Haley, Muddy Waters, Eddie Cochran, and Chuck Berry, but the man whose name comes up most often is Lonnie Donegan, a gutsy Irish folk singer, himself a chip off the same school as Ramblin' Jack Elliott or Leadbelly or Woody Guthrie, whose folk country blues influence is easily discernible in an acoustic instrumental like "Unmilitary Two-step" or an eclectically C&W stopper like "If I Had A Reason," which closes this record.
Rory's first step away from the music he'd taught himself to play came while he was touring for two and a half years with the Fontana showband (later renamed the Impact), keeping a portion of the show for himself when he would sing things like "Nadine" and "Brown Eyed Handsome Man"—while the band contented itself with Georgie Fame type material. After the Impact split up, Rory put together his first rock trio with the drummer and bassist and went back to Hamburg, Germany, (where people knew him from the showband) in 1965, long after the Beatles had deserted that town to the Yardbirds and the Who, among others, and Rory Gallagher. Back in Cork the following summer Rory put together a band called Taste.
Now for all intents and purposes, Taste was a supergroup, an English power trio managed by the Stigwoods later on (after the original bassist and drummer, ex-Axels Norman Damery and Eric Kittringham, were replaced by Richard McCracken and John Wilson), which put them on the European Polydor label, the same label that sported bands like Cream and the Bee Gees, released in America on ATCO. Taste's two albums (Taste and On The Boards, a subtle reference to Taste's electrifying magnetism during a live performance), both classics—hard to find, though not impossible—were produced by Tony Colton and offer a fuller range of blues and rock 'n roll, plus a generous smattering of traditional folk-based tunes and a hunch of early Gallagher compositions—easily outclassing the first couple of Cream albums, which seemed to be getting all the unwarranted attention having been signed just about a year before Taste to Polydor.
Taste's greatest hour probably came at the Isle of Wight festival in 1970, when Rory realized that his presence in the group was the focal point for 99 percent of the people who continually followed the band. After Montreux, where a "live" album was recorded (one Rory denounces openly, though it's easily available as an import—you make your own decision about that), Rory decided it was time to hire some backup musicians who could amplify his presence on-stage, so bassist, Gerry McAvoy (from Deep Joy) and drummer Wilgar Campbell (from the Method, later to become Andwella's Dream) were recruited, the first musicians auditioned. Back in the studio, Rory produced his first "solo" album, engineered by Eddy (sic) Offord, with Atomic Rooster (ex-Arthur Brown) keyboard man Vince Crane sitting in. Deuce followed, going back to the trio format, with Rory still producing on his own and delivering the tapes to the record company. In between, he found time to play a New Year's Day, 1972, concert in Belfast that won him the cover of Melody Maker and the hearts of music fans, Irish, British, American, and what-have-you, owing to his playing the gig in a city that had been virtually deserted by music, by rock 'n roll, since the strife started. With explosions interrupting the concert regularly, only 24 hours after the city had it's worst night of at least ten explosions, Rory, Gerry, and Wilgar transported everyone to another place.
Finally, a live album, released on this country's Polydor label only after Europe's Polydor ran out of its agreement with ATCO. That album, while it offered some Rory Gallagher standards like "Messin' With The Kid," "Bullfrog Blues," the mandolin piece "Going To My Home Town," an acoustic version of Blindboy Fuller's "Pistol Slapper Blues" (definitive, but likely to be replaced by "Banker's Blues" off this Lp), and of course "Laundromat," which many regard as Rory's exclusive theme, was released shortly before Wilgar Campbell succumbed to Rory's rigorous touring schedule. He was replaced by Rod de Ath, whose style of M-15 combat drumming gets this album off the ground on the very first cut, Rory's stop-time "Walk On Hot Coals," with the refrain "I walk on hot coals, sleep on a bed of nails/I walk on thin ice, skid on razor blades," and doesn't stop pushing the gong around until "The Seventh Son Of A Seventh Son" on side 2.
The newest member of the group is Lou Martin on electric piano, who sits attentively to Rory's left on-stage waiting for moments like "Hands Off" when he gets to play a handful. The song is a cross between Jimmy Reed's "Hush Hush", "Jailhouse Rock," and "There's A Riot Goin' On," if that helps whet your lusty 12-bar appetite.
Indicative of trendier material that Rory may be conditioning himself for (he is a keenly hip musician, eager to listen and learn when he can, eager to use the blues even more dexterously than he does on the almost formalized boogie, "Race The Breeze," which offers slide guitar, harmonica, and Rory's most relaxed vocal shout, which will remind you of early Johnny Winter, at best) is "Daughter Of The Everglades," a sweeping acoustic-based cousin of the equally puzzling "Seventh Son." It's so hard to judge those two songs on record without having heard them 'live' yet, but again Rory is the last person in the world to worry about the transition from vinyl to stage—why should we?
Up until a month or two ago (when Rory found himself in the No. 1 slot of Melody Maker's annual poll) it was a coveted treat to follow Rory Gallagher—his tour in the fall of 1971, and his summer tour of 1972 that found him gigging here and there with Rod Stewart (from Rockingham's Peach Tree celebration to Madison Square Garden, with virtually no hype involved) Rory told more than one person of his belief that he would have to return to America two or three more times before he could headline securely. But when he comes back he just may be faced with another problem: a reputation that seems to precede him wherever he goes, suggesting a new Billy the Kid, perhaps. The Stratocaster is loaded, the women and small children are off the streets, and the old men look the other way. Rory Gallagher is in town. The bombing of Belfast didn't keep 2,000 music-starved kids from the "notorious" Ulster Hall in Belfast over a year ago, and the showdown for Rory Gallagher hasn't even started yet.
Arthur Levy, Records Editor
This review / article comes from the 5/10/73 issue of ZOOWORLD.
Some odd spellings...I didn't do it! honest
Thanks to Mark Stevens for passing it along and to Patricia McGarity for supplying the writer's name
Photo by Bob Hewitt ( author of Article #40)
reformatted by roryfan


225