ALBUMS
RORY GALLAGHER: "Blueprint" (Polydor).
It's a miracle that County Cork cowboy, Gallagher, ever finds time between gigs to lay down an album. Still, knowing his "No messin' round with anything" technique, I'll wager he got this pleasing little package together in a couple of days non-stop.
This, of course, sees the wax debut of the new Gallagher line up – Rod de'Ath on drums, Lou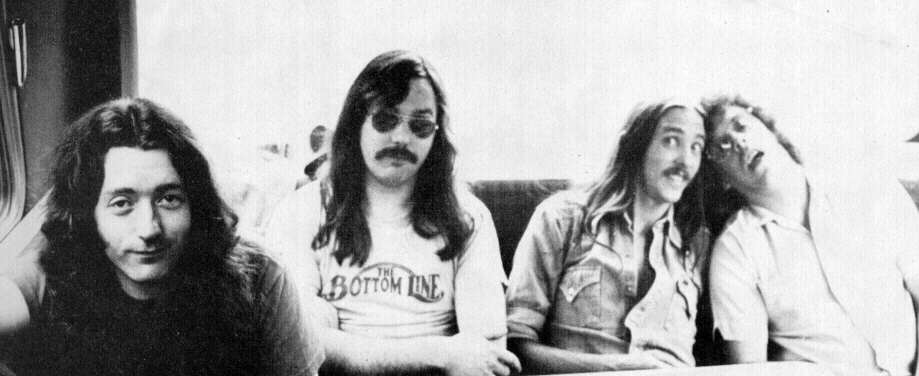 Martin on keyboards, and the remaining Gerry McAvoy on bass. And it's a nice one. There's evidence here that Mr. G is more willing to acknowledge the fact that Rory Gallagher is at time a band – although he's always going to be total ace cat in that band.

He spits into side one with "Walk On Hot Coals," appropriately titled. It's fast, and flitchy – a predictable, and nevertheless a totally enjoyable Gallagher rocker. Gallagher the balladeer on "Daughter of the Everglades" – without doubt the most "musical thing he's ever done. Not slow, but nevertheless, a ballad. Pleasing lyrics too. Then, of course, dem blues, with "Banker's Blues," the Bill Broonzy classic. A tasty shuffle-boogie with Martin supplying some delicate dancing on the piano. Gallagher's voice is just perfect for this run, and he blows in some mean harp too. "Hands Off," a quick gnashing rocker – Gallagher putting echo around his voice to give the whole track a lovely late 50s edge. The band follows him like a gem here, considering that some of his guitar running is just astonishing with its complexity. "Race the Breeze," is night-train, lengthy blues/country/rock. Then "Seventh Son of a Seventh Son." Whoops! An unusual trip into, but it lifts into a heavily riffed length. Gallagher at his best, fast, gutsy, and hell bent on winning. "Unmilitary Two-Step," a bit of acoustic guitar fun – Leadbelly style.

Oh, what an enjoyable player he is. So, here's another Big G album – it's not going to change the course of the world, but it'll give you a selection of everything he's so rightly famous for. I'll say it's his most interesting yet. – R.H.
---
From

Melody Maker

February 10, 1973
Thanks to Brenda O'Brien for sharing this article
reformatted by roryfan
141