WIDE EYED RORY
---
Our amiable Scotsman Ray Telford talks to the amiable Rory Gallagher
---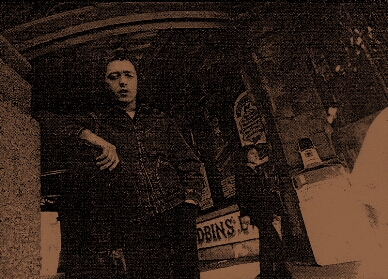 "
I'd never put out anything I wasn't satisfied with"
Rory Gallagher's last American tour was the eighth time he'd trekked across the US of A, but the first time he'd been billed as a headliner.
It elevates him to the bottom of the first division of the most popular British groups in the States. Above him are ELP, Deep Purple, Yes and The Faces who have won themselves over to Uncle Sam with a little help from hi-charged publicity and a little sheer hard sell. Of course the music does play its part, but nobody has done it in quite the same way as Rory has and, he wouldn't have it any other way.
Right now in this country, Gallagher is probably the safest bet for any promoter wanting to fill a city hall and make a few bob in the process. It's a reputation he's had in varying degrees ever since Taste broke up maybe, as has been suggested before, people feel they're in safe hands at a Rory concert knowing he isn't about to pull any weird stunts or try to be clever just come up with the goods and do it all obligingly at that. When did you ever see him visibly displeased on-stage?
But Rory is no laborous methodical plodder. The music has always had bite and sting and each new album is almost always better than the last, showing that he does have a very strong sense of direction, though his style has always been firmly blues based. The blues to Rory, you guess, is more than a handy form of self expression. He hears all sorts of things in a John Lee Hooker song, for instance, which other people don't: "There are John Lee Hooker numbers which have got more stars and glitter attached to them than any of the people who consciously try to create that effect. He doesn't have to dress up either he does it all by music," is the kind of comment he shoots at you from a completely unexpected angle.
In the can at present is a new Gallagher album, a live double which was recorded over a selection of Irish gigs last Christmas: "Ideally," he says, "I'd have liked to have had it released by now because I've already got the material together for the next studio album. The live double is current, though, and it shows the band to be in pretty good shape. It's fresh. I'd never put out anything that I wasn't satisfied with."
The release of another live set following so close on the heels of the highly successful "Live In Europe" Rory feels is of little consequence. He sees himself first and foremost as a musician who functions best in front of a live audience and is generally pretty pleased with all the live cuts that have appeared on previous LP's: "Tattoo" was the last studio album we did and I found that pretty easy. What helped was that we knew the material before we recorded. We rehearsed it all in Ireland, which was very nice. I much prefer preparing for an album there than in London because you can take your time and, you're never badgered by time schedules. We rehearsed all the others in London.
"It depends on what kind of musician you are or in the way you want to sound. Now, we're a live band first whereas The Byrds, for example, were very much a studio sound musically, you have to approach it in two entirely different ways."


As a songwriter, Rory feels his progression over the past couple of years has been considerable. He writes almost exclusively for the group, but doesn't see any particular reason why someone couldn't do cover versions of some of his songs.
"I tend to write a whole lot of songs at one time. Like work really hard for however long it takes to get what's needed and then there's a long period where I don't write at all. It's like laying an egg. That was the way "Tattoo" came about writing the whole thing over a month or so when I was back home in Ireland. Up to now I've always written for a small band, but at some time I might come across a great idea for something for a big band and as for other people doing my stuff it'd be nice to get other people's interpretations."
The audience sizes on the last US tour, Rory says, had grown considerably, though he likes to keep a careful eye on the size of his gigs: "The big stadiums are out because some of them are just a ridiculous size and when it gets like that there's nothing between you and the audience. Too many bands lose sight of the smaller places to the extent that they can't play on a small stage which is where the whole thing begins."
Credence to Rory's words can be seen in the fact that last weekend he returned to the London Marquee for three consecutive appearances. He'd been planning on doing a few selected English club dates for some time: "It is very easy to forget about those gigs. Once a band has tasted a fine life in the States too often something happens to them and they never seem willing to play the small gigs again and there's no reason why they shouldn't.
"How can you keep in touch with the people if you only play the Royal Festival Hall once in a year the way some bands do? That way people have to travel from all over the place to see what's happening. I'd much rather go to them it's more honest.
"I think there's too much image building and it looks as though the pub rock thing is a backlash to all that. There's been too much dependence on smoke bombs and the like to get an effect when all you really need is the music. The audience will always come around to you if you're sincere about it and work hard at it."
Returning once more to the States, Rory views his rather ambiguous role there as superstar with a philosophical air: "I've never found I had to adjust much within myself between small gigs and the big American ones. I just got used to it. It certainly doesn't worry me playing huge places. It's just like putting on a wider pair of glasses."
~~~~~~~~~~~~~~~~~~~~~~~~~~~~~~~~~~~~~~~~~~~~~~~~~~~
This article comes from the May 11, 1974 issue of SOUNDS
Thanks to Brenda O'Brien for finding, typing and sharing this piece
reformatted by roryfan

258