Table Dancing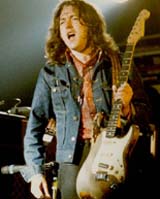 Whenever Rory hit town it was always special!
He always played 'My Fathers Place" in the village of old Roslyn on Long Island. I made it a point to see every show there and anyplace else Rory would play in the New York area.
Anyway I can't remember if it was 78' or 79' but as usual Rory was smokin' on this night! My table was pretty close to the stage. Nearly three quarters into the set Rory decides to junp onto the table a few feet from me while doing the "Duckwalk". He comes to the end of the table and falls off onto the floor!! I don't remember the song he was playing, but I can say that he NEVER missed a note! A few fans in the section helped him up (me included) and are patting him on the back.Rory is still playing and hops back onto the table and back onstage!!! Pure Rory and totally amazing!!!
Vince (from NY.)