TRIO GIVES TASTE MORE CHALLENGE

Taste are just starting to become a very hot property in England and on the continent, already having conquered the Irish fans. All the trappings and all the tinsel that goes with success, though, don't look like they are affecting the group who prefer to remain very down-to-earth and unspoiled.
Lead guitarist, Rory Gallagher is Taste's main force and it was he who told me "we're just trying to keep it a very unshow-bizzy, pop star, Max factor makeup thing. I've got my own ideas and I don't want to Walt Disney-fy them. I'm as happy to be playing Hackney West to 250 people as I am to 25,000.
We are talking backstage at Dublin's National Stadium (it is a strange hall that looks like a cross between a second division Swedish hockey patch and a hanger on an unused airfield) - prior to Taste's concert on Saint Patrick's Day.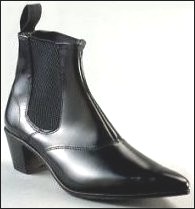 Rory went on, "People think the bands are very restricted with three-piece group, but the challenges are more, and the steps of improving come harder. We're not trying to create something new or purify pop.
The only way you can purify pop is to create a new hairstyle, or wear winkle picker boots which I don't want to do.
Rory formed his first group when he was 17, back in 1966 and he got pretty fed up with the fact that everybody else seemed to be playing Shadows stuff. He went off to Germany and spent two years there, and in London, before the group broke up and he formed the current lineup.
Bands in the progressive field do not conform to set standards of dress or behavior, and of this, Rory says "I suppose that is going back to the idea I had in the start that was a total rebellion against all I had had to do.... stay in a suit in the showbands and wanting to play what I wanted to play at all costs.
"This wasn't a formula for success, but I never had any half-baked ideas of what to do. We play what we want of play and fortunately the audiences like it."
Last year, Taste toured America with Blind Faith. The small group was such a such a big hit that they were asked to stay on for a few extra dates at the end.
"Blind Faith insisted on traveling in the bus because they were trying to get the bus-feeling back into their bones", Rory revealed. "I don't think that worked, because people on the bus were playing different things.
"I can't say they effected us musically at all. The tour gave us the opportunity of playing to audiences of 18,000....they were brutally responsive and if they didn't like your shoes, they didn't like you."
"The American music scene didn't effect us in any way. There are people like Larry Coryell and Muddy Waters there, but nothing that changed anything. The songs I write weren't effected by America."
The group is back off to America in June, where Rory hopes to see some good musicians. The tour should prove invaluable to Taste in taking a step nearer total success and achieving as Rory describes as "an invisible goal we're aiming for."
When the group went on-stage, they were greeted with a huge cheer, that of which I haven't heard for many a moon. Rory plays with only a 35 watt Vox amp, considering this sufficient for his requirements. He got some good sounds, at times aggressive, and had the audience with a him all the way.
Some little Alvin Lee-Clapton-Beck licks crept in, but above all this, it was more of the style apart that smacked of originality and supreme confidence combined.
He only has to drop the hint of a riff and the others and chase after him. It's all very nice and together. A group, I'm sure, that will go a long way in a short time.
Richard Green

---
From the March 25, 1970 issue of New Musical Express
Thanks to John Wainwright for passing it along
reformatted by roryfan
216