TASTE LEAVE BEHIND THEIR BEST ALBUM
TASTE: LIVE TASTE
(Polydor Super stereo)

I've seen Taste in grand concert halls, pokey little sweat-laden clubs, and out in the fields, and no matter what the circumstances, the trio of Irish lads has always come up with a ridiculously splendid set. Now that they're no more (weep, weep), all we have left is this album, and thank goodness someone had the good sense to suggest it.
It's by far the group's best album and being recorded live had the atmosphere that always enhanced a performance. 'Tis said that the album should have been released before Christmas and if that's the case, it proves to have been well worth waiting for.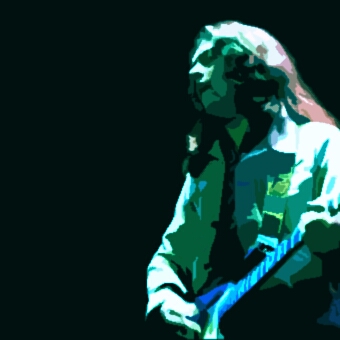 The only fault I could find was the splitting of Feel So Good into two parts, just as John Wilson is in the middle of his tight and loose drum solo, the track ends and is continued on the other side. The number is a galloping roar-up of the kind that always highlighted a Taste concert, John keeping a steady rhythm going, Richard McCracken laying a solid bass foundation and taking a firm solo and Rory Gallagher sweeping into solos of extreme brashness. After the solos, the three combine in a regular beat that builds into an idiot dancer's delight.
Gamblin' Blues is really so close to the sound of the delta blues, you can half expect Elmore James to be in the credits somewhere. An incredibly good track. Rory's incredible runs punctuate the sets of lyrics on Sugar Mama, pure blues passages and semi-classical phrases alternating with on another.
Rory's lengthy arrangement of the traditional Catfish veers from pure blues again to rock riffs which get all three lads pelting away in the cause of pure excitement. Same Old Story is one of Taste's most popular numbers with all sorts of devilish histrionics and bursts of unbounded enthusiasm. The year is young yet, but this album already stands a chance of being one of the best whatever else anyone else comes up with. RN
***********************************************************************************
From the July 7/13/71 issue of New Musical Express
Thanks to John Wainwright for passing it along
Artwork by John Wainwright
reformatted by roryfan
244