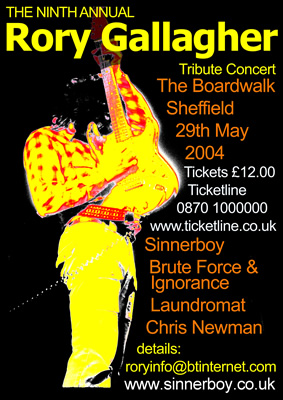 SHEFFIELD 2004

---
Dear John,
My ears may still be recovering from the Sheffield tribute, but it must rank as one of the best tributes we have ever witnessed. The Boardwalk venue and the sheer size of an enthusiastic crowd (300+) created a great atmosphere right from the start!

Each of the bands had something different to offer and everyone just loved it.
The gig moved from the gentle and carefully crafted acoustic introduction of Chris Newman, to the genuine fervour of Brute Force & Ignorance; the natural and technically brilliant style of Laundromat and the power and passion of Sinnerboy. Amongst all this, we also had the bonus of being treated to 'Are You With Angels' by Joyce, Perry and Dylan, with Thomas (BFI) on bass.
At least I remembered to take a few pics, from which I think you will get a good impression of the evening!!!
Kind regards
Phil & Janice Redshaw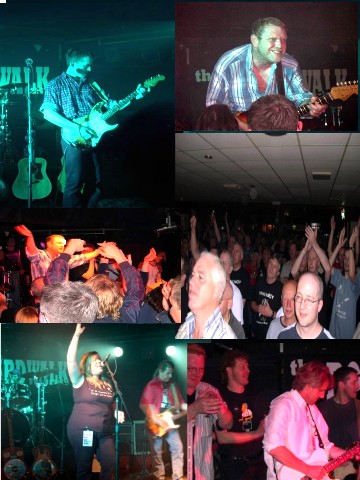 Photos from Sheffield by Phil Redshaw

clockwise from top left

Marcus (Brute Force & Ignorance)
Barry Barnes
The Crowd

Chris Newman
Joyce & Perry doing "Are you with Angels"
Sinnerboy











---
Peet van Dijk has posted 50 photos from Sheffield to http://community.webshots.com/user/dewpro
Some great shots that you can view as a slideshow....take a look!

Photos by Danny Vlaspoel of the band, Laundromat