Rocking back- the raw voice of the blues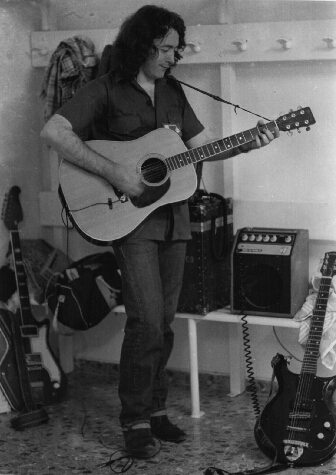 photo by Bob Hewitt
Roaring Rory lets
rip just like the old times
by paul russell
---
They came from every neck of the musical woods to welcome home Rory Gallagher. The Olympia bar was full of them, from the pin striped brigade to the heavy metal fans with "Ozzy" and "Anthrax" tee shirts on them to let you know.
But the difference in age, rank and profession had sunk under the floorboards by the end of the nights as a packed Olympia Theatre gave a long, thundering and standing ovation to one of Ireland's original troopers.
Sometimes it is hard to imagine there was Irish rock before U2. The past is so easily forgotten. But songs like "Out on the Western plain" and "Bullfrog Blues" brought it all back again, back to those innocent days of rock and roll when music thrived without the need of a computer or flashing lights.
He's a little fatter now. A little older and no doubt wiser, but Rory Gallagher's skill when it comes to guitar playing, together with his genuine live of the blues, brought simplicity and craftsmanship back to the Irish stage last night. And he was well rewarded for his work.
The audience varied from one row to the next. The occasional long haired renegade from another era could be spotted here and there, but for the most part, the crowd left the check shirts and jeans at home.
The common bond between them was a love of Gallagher's music, be it for nostalgic reasons, remembering the festivals, like Macroom back in the seventies, or out of pure admiration for the quality of his guitar playing which hasn't lost any of its power.
One things is for sure, the venue was littered with guitar players if the gasps and cheers during his solo acoustics spot were anything to go by.. It was clear Rory was quite taken aback by their knowledge and enthusiasm.
"It's been a long time, thanks for waiting for me, " he told them.
~~~~~~~~~~~~~~~~~~~~~~~~~~~~~~~~~~~~~~~~~~~~~~~~~~~~~~~~~
From the February 18,1988 issue of the Evening Herald
Thanks to John Wainwright for passing the article along
and to Bob Hewitt for the photo
reformatted by roryfan
196