REVIEWS
<>This page consists of various album and concert reviews. Some are from the early days, but interesting none the less. THANKS to Mark Stevens for sharing his collection articles and reviews and to Shiv Cariappa for passing them along to me.

More reviews will be added from other sources and will be credited with the article.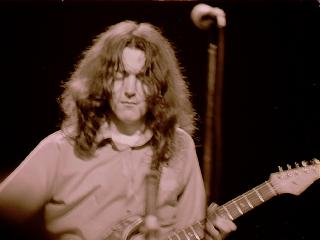 OK, here we go in no particular order.

ALBUM REVIEWS

RORY GALLAGHER: "Tattoo"
Rory, firmly "back on course" after his Blueprint " album — he himself says that one went off at a tangent — has produced a balanced collection of numbers, two at least of which must rank as the best rock guitar he has ever recorded. Also, a tough, integrated group sound has emerged, now at its most forceful since Lou Martin's resilient piano was is brought into Rory's line up. The first two tracks on the album are the real goodies packed with wild spirit. "Tattoo'd Lady " is founded on a pulsating chord which catches the breath as it boils on. It's about the biggest sound Rory's ever come up with the guitar solos are choice, eddying and melodic with a fuming power behind them. Rory sings taut and gasping. Coming hard on its heels is "Cradle Rock" anchored on a monumental R&B derived riff, with some organ sound up front. It has the relentless mass of a juggernaut, Gerry McAvoy's bass grinding and pumping away, guitar stuttering overhead bead. Harp is absorbed onto the heavy mesh and then bottleneck guitar settles onto the top layer. It's tracks like these that put Rory among the greats as a crack guitarist. They go straight for the vitals, get in the blood.
After these two monster tracks the tension subsides into " 20:20 Vision," a song with a walking blues pace and country/ ragtime acoustic guitar, the easy picking backed up by Martin's barrelhouse style, laid back and loose. That's the only track with acoustic guitar throughout. "Who's That Coming " on side two opens with raunchy bottleneck acoustic, but switches to electric bottleneck early on, driving to a climax with piano over a circular chord pattern similar in effect to '' "Tattoo'd Lady.'' Before side one is over Rory includes, as he his done in previous albums, a number with a jazz feel " They Don't Make Them Like You Anymore" This one's taken at a fast lick with snappy solos and a lively liquidity of sound. The second side begins with "Sleep on a Clothes Line" , a mid-pace rocker using 50's style echo (in Rory's voice it's hard and wiry and the piano filters through only briefly. '' A Million miles Away '' is the biggest production and includes organ and saxes to make the sound good and flat. Rory flicks the notes in that teeth - gritting split harmonic manner, catching the strings between pick and forefinger and holding them on the edge of feedback All tracks satisfy Rory's credo that what he records must be capable of parallel reproduction on stage. J.W.
I don't have the date of this article or source for sure. I speculate that 'J.W.' is Jeff Ward from Melody Maker. Based on the discussion of the release of "Tattoo", this would have been 1973.
---
Tattoo Rory Gallagher
by Tom DuPree
Rory Gallagher is a confident and intelligent rock and blues guitarist. But Tattoo, his follow-up to the excellent Blueprint, shows that he may also be turning into a composer of note. Most of the tunes on this album are, again, based on well-entrenched blues forms, but they are now augmented with fillips, hooks, bridges and phrases that transcend De Blooze and make them Rory's personal property.
Tattoo is Gallagher's closest attempt at a true pop album. It is his brightest and most joyful work, but still contains that streak of meanness which makes his live sets so powerful.
There are three clear hold-overs from the Blueprint sensibility: "Cradle Rock," "Livin' Like a Trucker" and "Sleep on a Clothes-Line." They are loud, pounding, boisterous and a hell of a lot of fun to hear.
As for new directions, "They Don't Make Them Like You Anymore" is Rory Gallagher's first swing tune. "A Million Miles Away," a ballad, is supported by a bass line reminiscent of the verses of Elton John's "Madman Across the Water," but Rory's tune is more striking than John's.
"Who's That Coming" opens with an acoustic slide segment soon replaced by an electric guitar playing the same figure, as if to point out the particular attractions of each. It's representative of the album's collective mood because it begins with the single guitar and builds into a furious break led by Rod De'Ath's machine-gun drumming and Gerry McAvoy's attack on his bass. The attention to dynamics is, for Gallagher, unprecedented.
The band has never been tighter: Keyboardman Lou Martin is now firmly associated with Rory's sound, and joins De'Ath and McAvoy in staying down where he's supposed to, but stepping out when Rory gives him the nod. As a result, Tattoo is a pleasant surprise from an already well-respected guitarist, a little extra bonus in subtlety and complexity that deserves a good many American ears.
Tom DuPree from Rolling Stone in 1973.
---
Against the Grain
Rory Gallagher
by Simon Frith
Rory Gallagher's love affair with his guitar has been so devoted for so long that one day it will be celebrated in an epic verse. I mean, even B. B. King betrayed Lucille with some fancy strings, and old white swaggerers like Eric Clapton and Alvin Lee are settling, one by one, into comfortable productions. No such betrayals from Rory, no such laziness; the guitar is still his passion and night after night, gig after gig, he's still thrilled by the sounds he can coax from it.
Against the Grain, is a studio set but there's no reason why it should be. The basic sound is, as ever, one man and his guitar and the production (by Gallagher himself) subsumes all else in it. Gerry McAvoy and Rod de'Ath are an unselfish and intelligent rhythm section, Lou Martin moves as efficiently on boogie piano as on pub organ, Rory gets through the lyrics throatily and effectively—but they're all servants, putting the guitar at ease as it growls and swoops and bites and relaxes. Gallagher needs few devices for his pleasure. There's a touch of fuzz, a hint of echo, but mostly there's his caress and an amazing range of tones—acoustic (on Leadbelly's "Out on the Western Plain"), blue (on Bo Carter's "All Around Man"), fruity (on "Lost at Sea"), excited (on "Souped-Up Ford") and arrogant (on Porter/Hayes / Hodges's "I Take What I Want").
Gallagher's songs are about arriving and leaving. He arrives full of strut and need— "No highway cop gonna make me stop"—and he leaves petulant and free—"You're making a mistake and you'll see, when I'm gone."
Gallagher's obsessed, like all great lovers, but Against the Grain, will get your hands twitching too, even if you ain't Joe Cocker! If a man can play this good standing still, why should he progress?
This one comes from the 1/15/76 issue of Rolling Stone.
---
Calling Card Rory Gallagher
By John Milward
RORY GALLAGHER is the last true journeyman of the Sixties British blues boom, and Calling Card displays the craft that has garnered him a guitar-hungry cult following.
Without frills or affectations, Gallagher has remained in solid blues territory while periodically turning up the burners to a rocker's intensity. In terms of the integrity with which he joins these two passions, he recalls Peter Green, whose tasteful guitar defined the original Fleetwood Mac.
Calling Card moves deftly through various blues-rock styles, and while neither his vocals nor his lyrics are particularly arresting, they complement the sure craft with which the songs were written. For with Gallagher, it's the sound that counts, and his rhythm and keyboard trio delivers the assured barroom backing he prefers. Tough and tight, they lay down a sound that calls attention to itself only when you find it consistently returning to your turntable.
The star of the show, of course, is Gallagher's Stratocaster, and "Do You Read Me" wisely kicks off with a brittle rhythm riff and an equally gruff vocal. Funkier still is "Jackknife Beat," which cuts by virtue of its tasteful simplicity. It's on "Moonchild," though, that Gallagher really opens up. Propelled by a vicious rhythm reminiscent of Hendrix's Ladyland, his guitar is energized with a tone that burns with electricity. In three solo appearances, Gallagher builds the tension with sharp lines that bubble with raw excitement until they burst onto flurried notes as the song fades.
The tension on the "Moonchild" solo is never completely resolved- good guitarists always leave you hungry for more- and characteristically, Gallagher follows it with a title tune that boasts straight trebly blues figures. Such fluent variety is precisely his Calling Card.
This one is from Rolling Stone by JOHN MILWARD in 1976
---

CONCERT REVIEWS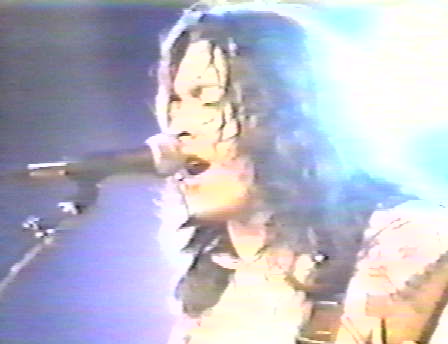 Picture captured from
Rock Goes to College
by donman


RORY GALLAGHER
If anybody can turn the electric guitar into a blues instrument, that person is Rory Gallagher. He proved it almost from the start when his tour opened at the Capitol Cardiff on Sunday. After laying down the solid boogie of '' Messin' With The Kid" and Hands Off", heturned his attention to "I Wonder Who ' and had his box sounding like a mouth harp, muted trumpet and train whistle in turn.
But the Gallagher band did not hold the mood. With bass player Gerry McAvoy straining from the spot as though his feet were nailed to the floor, drummer Rod DeAth appreciating the value of his brand new yellow drum kit and Lou Martin hunched over his keyboards like Quasimodo (when he played his hair comes across like curtains arid it's good-night face) they pitched into " Cradle Rock ' ' Walk On Hot Coals" and " A Million Miles Away." It's all good and maybe as good as you get anywhere but just for a short while, as Rory makes his way through " As The Crows Flys " and ' I'm Nobody's Dog '' with acoustic guitar and harp, we had a glimpse of Gallagher's solo style and for me, at least, the rest was anti-climax.
The support band Strider work quite well as a unit but won't improve until they learn that volume is not a virtue in itself. — PETER TATE
No idea of the source for this one, but I'd place it 1973.

Pop Festival
Reading
by Michael Wale
Not all the programming of this efficiently organized festival may have been imaginative, but at least the top-of -the bill acts over the three days provided a vivid contrast, and if competition is partly what these events are about, then it must be said the Rory Gallagher excelled. He is a musician from Cork basing his music on the Blues, an anachronism, perhaps, but his sheer, honest energy rings through. Only he of the three bill-toppers risked doing anything new, when he played four numbers from his next album to be released in October. Of these " Sleep on a Clothes Line", " Million Miles Away" and "Who's That Coming" are well up to the standard he demands. His guitar-playing is unmistakable, which is more than can be said for most theses days, and his musical integrity unchallenged. Loathing personal aggrandisement, he is the total anti-star, and as such a genuine hero of the people. In contrast, Saturday night's appearance of Rod Stewart and The Faces was a disappointment. They worked hard, but one wonders how long this group that has obviously lost its impetus can continue. Despite this, Rod Stewart still stands out as a personality, and surely must now make his own way in Rock.
Sunday night brought another glimpse of Genesis, a group who use theatrical effects as well as thoughtful electronic music in the style of groups like Pink Floyd. To say this is a tribute. They, too, are about to launch a new album, but played safe by rendering what we have heard before. "The Musical Box". " Supper's Ready" and " The Return of the Giant Hogweed" pleased both myself and the 25,000 audience, and was an effective climax to three days of sunshine and friendliness. Festivals always produce at least one surprise success and this year it was portly George Melly, musically from another era. The youthful audience immediately accepted his trad-jazz-flavoured tunes like " Frankie and Johnny" and his zanie, uninhibited approach. Undoubtedly a new cult figure has arrived.
Thanks to donman for the info on this show. This review is based on a show from the Marquee Club Reading Festival from 1973.

A FEW BACKGROUND NOTES ON THIS IRISH WONDER ON THE OCCASION OF HIS AMERICAN TOUR SPRING 1974
By Ira Robbins
Rory Gallagher knows more about playing the electric blues (that's spelled B—L—U—E—S) than all the Allman Brothers - living or dead - put together. A punky little Irishman, and the only rocker with enough nerve to play Belfast while the shit was still flying hard and heavy, Rory plays blues (both rural and Chicago) mixed with his own jazzy flavoring. Although an ancient Fender Stratocaster is his prime instrument, he also blows sweet on acoustic, mandolin, harp, and alto sax. (There hasn't been more than a smidgen of sax on any of Rory's five solo albums, but when he was with Taste, the sax was featured occasionally.
The overview
Rory Gallagher left Cork, Ireland in 1963 to join and tour with the Fontana Showband (a large conglomerate), playing stuff by Chuck Berry, Georgie Fame, Jim Reeves. After two and a half years and a name change to the Impact, Rory left, knocked around for a while, then formed Taste in August of 1966, with Norman Damery, drums, and Eric Kitteringham bass, who had been the rhythm section of Cork's own Axels. Two years later, various forces caused the demise of Taste, but not for long since a new trio was soon assembled with John Wilson drums, and Richard McCracken, bass. This Taste lasted until the end of 1970, several months after a triumphant appearance at the Isle of Wight.
In March 1971, a new pair of sidemen, Gerry McAvoy, bass, and Wilgar Campbell, drums, helped record the first Rory Gallagher "solo" album, with the keyboard aid of Vincent Crane, then with Atomic Rooster. In June 1972, after the live Rory album was released, Wilgar Campbell split and was replaced by Rod De'Ath. A few months later, a keyboard player, Lou Martin, was added as a permanent member of Rory's band. Since then, there have been no personnel changes.
The Music
Rory Gallagher's style is hard to describe. With Taste, he worked precise, jazz-oriented riffing in with the straight blues numbers. In his first two solo albums, the amount of jazz is reduced, and the blues pieces are either performed rural-style on acoustic guitar, with no bass or drums, or enhanced by the unique melodic and rhythmic structure Rory employs. The only group which these two albums resemble at all is the Groundhogs - Rory and T.S. McPhee seem to present a similar image of highly creative blues guitarists who have developed a form, of jazz-rock totally unlike that brass-sections-heavy-piano involvement form which is known in America.
The Rory Gallagher Live album is almost all blues pieces, and is quite a classic. Rory plays electric guitar acoustic guitar, mandolin, and harp, proving mastery of them all.
The next album, Blueprint demonstrates a drift back into blues and ahead to rock. Most recently, Tattoo has almost none of the rambling jazz tunes, and lots more songs with obvious rock chord progressions, but the blues is back full strength.
All of Rory's albums have varied content, and the differences between them are in the quantities of each given style. It would be difficult to match a song with its album because the character of Rory's writing and recording has changed only slight over a few years.
That's no problem ... it's consistently GREAT!
Ok, once again a UFO article.
It almost seems like a notes column at a college, prior to a local appearance. Ira Robbins wrote for Trouser Press , so it's possibly from there.
I'd appreciate any info.

MUSIC MONITOR
September 1999
What's New on CD
by Brett Dupree
Rory Gallagher BBC Sessions (Buddha)
Rory Gallagher has gone unnoticed by most newer generations of blues musicians, but now, after his death a few years ago, some overdue credit is coming his way. The bulk of his recordings never really sold in the States as they did in Europe, partially due to his heavier touring schedule on that side of the Atlantic and perhaps because he was overshadowed by Clapton. As far as sheer talent and a true feel for blues, Gallagher probably has most of the better-known guitar gods beat by a long shot. His worn out Stratocaster blazed so much during some live sets, it just didn't seem like the poor thing would stand up to the punishment. This new 2-CD set on the resurrected Buddha label may be the very best Rory Gallagher release to date, showing him at his best. The first disc is a ten song collection put together from over ten hours of live BBC broadcasts. It kicks off with the blistering "Calling Card," only a taste of things to come. His version of "Got My Mojo Working" would bring a smile to the face of the greatest blues giants, and the boogie woogie piano work of Lou Martin adds just the right complement to Rory's guitar acrobatics. Gallagher believed a band's true face showed when playing live, and he didn't like to just regurgitate studio tracks line for line, so there was no telling where some of his solos were going. The studio recordings disc is just as astounding. If you're a guitar buff, this release is a textbook on how to play rock 'n' roll blues.

---
From Creem , October 1979 in a section called "Rock a rama"
"RORY GALLAGHER, The Story So Far (Polydor), Against the Grain ( Chrysalis):
Throw away your Kiss records and leave your Ted Nugents to your grandmother: this sleazy-shirted Irish guitarist is the last extant genuine mad guitarist, and he don't need no artificial preservatives ( batwings, guns, unusual clothing, lasers, etc): he does it all with one very sorry -looking Startocaster...the above-mentioned mucky flannel shirt, and a style that can only be compared with things like lightning bolts, thunder, etc. Ace Frehley: Listen, have the kittykat claw your picking hand, weep, and then take up opthamology. SW" added 4/9/00

---
THANKS TO MARK STEVENS FOR PASSING ON MANY OF THESE REVIEWS
VIA SHIV CARIAPPA
All reviews reformatted by roryfan. Added 9/99 unless indicated.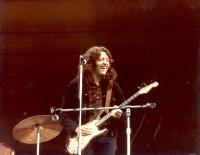 Photo from Boston 1972 by Mark Stevens

---
Of all the nights Rory Gallagher could have chosen to roll through Glasgow, he chose this particularly miserable one, when the late lamented Apollo, the scene of his finest moments in this city, lay partly demolished on the other side of the street.
It'd have plain broken your heart if it wasn't for the fact that Rory's back on the road and eating up the miles in the hot company of sidekicks Gerry McAvoy on bass, Brendan O'Neill on drums, and Mark Feltham on harp.
The hair's a little shorter and he's a little chubbier than before, but the '61 Fender Strat with its paintwork in an advanced state of decay, the throaty hollering, and the sweaty determination to give all for his audience are there much as before. So what has changed?
Well, for a start there's a far stronger blues emphasis. Rolling off with 'Continental Op' , a gritty stomp dedicated to Dashiell Hammet, Rory and his band proceeded to showcase substantial chunks of material from his 'comeback' release 'Defender', breaking things up with selected blasts from his past, 'Moonchild', 'Tattoo'd Lady' and 'Messin' With the Kid' among them.
And by way of contrast, he threw in an outstanding solo interlude when, armed with an acoustic guitar, he paid homage to the giants of the folk-blues tradition with a rousing string of covers from Robert Johnson, Blind Boy fuller, John Lee Hooker and, best of all, Leadbelly's 'On The Western Plain'. He had been on stage for two and three quarter hours before bowing out with Sonny Boy Williamson's 'Don't Start Me Talkin''. It was a long show but nevertheless, it never felt like a marathon.
As long as there's the blues and as long a people are willing to listen, there'll always be a warm welcome for Rory Gallagher.
The review above was of Rory's show in Glasgow, Scotland in 1987. Many thanks to Angela Shaw for passing it along.
---