Rory Gallagher
Pluck of the Irish By Tom Nolan
THE DATE: late 1961. THE PLACE: Crowley's Music Shop in Cork, Southern Ireland. A young teenage boy stops by to look in the windows as he has done so many times before. This time, there in the window is a beautiful sunburst Fender Stratocaster. The boy goes in. He already has a hire purchase agreement on a cheap guitar, and he has kept up the payments, so Mr. Crowley agrees to let him take the Strat and extend the deal. The guitar was the first Strat to be imported into Ireland, and had been ordered for a local Cork player, who had changed his mind when the guitar arrived, because he didn't like the colour. The boy takes the guitar home, and being a little bit worried what his mother will say, hides it under his bed. That boy and his Strat were to carve an unforgettable niche in rock legend. His name was Rory Gallagher.
Rory was born in Ballyshannon, County Donegal in March 1948, but when he was quite young the family moved down to Cork, and he regards Cork as his home town. Like many youngsters brought up in the 1950's, Rory became interested in rock and roll after seeing Elvis Presley on television. He persuaded his parents to buy him a guitar, and began to copy the music of Buddy Holly, Chuck Berry, Jerry Lee Lewis and Gene Vincent. As the skiffle boom took hold, Rory started to imitate the same blues-influenced sounds which would eventually spawn the Beatles and the Rolling Stones. By the age of 9 he had acquired his first proper guitar, and he began to immerse himself more and more in the exciting music that he loved.
In his early teens he joined up with various local musicians, but it soon became obvious that his was a talent which could not be confined by the general "middle of the road" music on which his early bands existed. Joining the popular Fontana Showband, Rory toured all over Ireland, but soon became disillusioned by the musical formulas which were demanded of the group. He recalls that promoters at the time preferred the big lineups. "Promoters thought you had to have at least 15 members before you were a proper group, he wryly comments.
By '65, Rory had outgrown the showbands, and he moved to Hamburg with a 6-piece R&B band, which gradually became trimmed down to a trio. On his return to Ireland in '67, Rory formed the band which was to catapult him into the rock limelight, the 3-piece Taste. Taste was a more or less instant success, and they quickly made the move over to London, which was right at the cutting edge of the popular music of the time. In London, Rory was playing gigs alongside Cream, the Rolling Stones, and Jimi Hendrix, who had just burst like a bombshell on the club scene. Taste soon began attracting round-the-block queues at London's famous Marquee Club, where they still hold the attendance record, and they were signed to Polydor Records. Two hugely successful albums followed: Taste and On The Boards, the second being totally written by Rory. Already he was attracting the attention of the rock media and both John Lennon and Mick Jagger had professed themselves fans. By 1970, Rory decided to take a further major step forward, to disband Taste, and go out simply as The Rory Gallagher Band.
With the familiar guitar, bass and drums lineup that Rory favoured, he now began the programme of constant touring and recording which was to establish him as one of rock's greatest and best-loved artists during the 70s. His Live in Europe album in 1972 gave him the first of many gold discs, and in the same year he was voted Musician of the Year in the prestigious Melody Maker poll.
Rory's image, or lack of one, was as endearing to his fans as it was bemusing to the critics. At a time of supergroups and scandal, Rory cut a strangely heroic figure, with his battered Strat, check "lumberjack" shirt, and his ancient 30-watt combo resting on a folding chair. His fans loved him, and remained fiercely loyal, as album sales and attendance figures have shown.
During the 80s Rory formed his own record label, label and released the big-selling Defender and Fresh Evidence albums. In early '91, he embarked on a US tour, and was feted by Guns and Roses guitarist Slash, who joined him on stage at the Hollywood concert. In '92 he returned to Ireland for a triumphant open-air concert in the centre of Dublin city, which had to be closed off for the day. More recently he has shared the billing at several European festivals with one of his great heroes, Bob Dylan.
Throughout his career Rory has relied on his favourite guitar, his '61 Strat. Apart from the obvious disappearance of most of the finish, the Strat remains pretty well unchanged from the day he bought it. (Contrary to speculation, the wearing of the sunburst finish was caused not by abuse, or as some wilder stories go, by burying the guitar in the garden, but by plain old fashioned sweat.)
"This guitar is a part of me. I mean, B.B. King might have several Lucille's, but I've only the one Strat. I don't even call it a woman's name. It's what it is. I still play it every day. I just love playing it."
Rory has guested on numerous albums by top artists like the Rolling Stones, Jerry Lee Lewis, Albert King and Muddy Waters.
Who are his favourite players? "I suppose—to be fair—as a child it would probably be Buddy Holly. Then later on I got into some of the great bluesy players like Hubert Sumlin with Howling Wolf; Buddy Guy of course, Jimi Hendrix. I played quite a few gigs with him. We never met unfortunately. He was superb. I've borrowed bits from some of the folk people like Davey Graham and Bert Jansch, plus some slide things from people like Tampa Red and Muddy Waters. Sometimes I'll inject a little Celtic feel into it, maybe like folk player Martin Carthy would do."
Truly one of the ultimate guitar heroes, Rory is still out there playing his beloved Strat. Later in '95 there will be a new album release, and plans are afoot for an American tour, his first for some time. And through it all, Rory's conviction and sincerity have survived intact, and his basic philosophy remains unchanged: "I just love singing and playing my guitar."

---
This article comes from a 1995 issue of Fender Frontline.
Thanks to shinkicker for passing it on.
reformatted by roryfan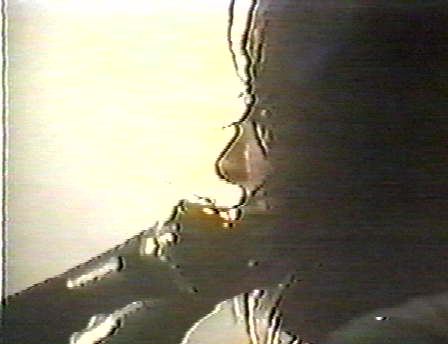 capture by donman from Savoy-Limerick 1972
36