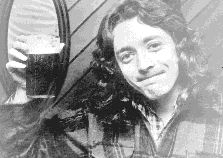 Rory Gallagher never forgot Belfast
and city fans will never forget the
world star who loved to play the
Ulster Hall
In Love with the Blues
Tonight Belfast's Elmwood Hall will rock to the music of the late Rory Gallagher. Three years after Rory's death on June 14 1995, Tony Bailie looks back at the man and his music and discovers his legacy lives on ......
It is not unusual for a city to honour its famous sons, and recently a memorial was unveiled in Cork commemorating Irish blues guitarist Rory Gallagher ..but why should there be a Avenue Rory Gallagher in Paris?
There are other more surreal memorials; a crawl through the Internet uncovers a host of sites dedicated to the guitar legend: often these sites have been set up by fans ...in Ireland, Germany and Scandinavia and another swathe in North America ...to give their own testimonies to the music of Rory and to share their memories of the man.
It is of course a cliché to use the word legendary" when talking about a rock star, particularly when they are dead, but the status of Rory, in his home country and abroad, is more deserving than most.
He may never have set the pop charts alight, but worldwide his albums sold millions and his concerts have gone into the pantheon of rock history.
Belfast has a unique place in the Gallagher legend during the rhythm and blues explosion of the mid 1960's Rory and his band Taste lived in the city and refined their sound before going on to take Europe by storm.
Rory Gallagher never forgot Belfast and returned throughout the 1970's, when few other artists of his calibre dared to come near the place.
The Ulster Hall became almost a second home to Rory and it is not unusual for older rockers in the north to become choked up as they recall his performances.
Younger (ish) rockers like myself can boast that we saw the great man in the eighties, again in the Ulster Hall, but there was always a feeling that we had missed Gallagher at his prime. Not so, assure the older members of the rock fraternity- Gallagher never lost it.
Rory was actually born in Ballyshannon, Co Donegal, in 1948, and moved with his family to Cork when he was still a child. His brother Donal can remember him tuning into American radio to search out Blues music when he was aged just six.
He recalls: "My father was a musician and when Rory asked for a guitar my parents sent off through a catalogue and received what was almost a toy guitar, but Rory at the age of eight was able to pick out chords on it. Later when we moved to Cork he got a proper acoustic guitar and then later an electric one. "
Rory's first musical outings were with the showbands that predominated the Irish music scene in the 1960's, but during atom in Germany the showband he was with fell apart and Rory persuaded the promoter to let him continue with a three-piece.
When he returned to Cork, Rory stuck to the three-piece format and formed his first power blues trio, Taste, in 1966, a year before Cream and two years before the Jimi Hendrix Experience.
The Rolling Stones and The Animals had already successfully tapped into the Delta Blues sound of the American deep south, and in Belfast a young Van Morrison and his band Them, were doing the same.
The Belfast audience was ripe for the burgeoning rhythm and Blues scene and had spawned the legendary (it's that word again) Sammy Hustons and the Maritime Blues Club.
Here regulars could see the best of Irish and British Blues bands, interpreting the sounds from across the Atlantic. It was that scene which attracted Rory to the city.
Queen's University lecturer John Fleming recalls Rory Gallagher in those days and being instantly taken by his mastery of the guitar, stage show and his ability to get an audience hopping.
It is an admiration that lasted throughout Rory's career and those memorable Ulster Hall concerts. John Fleming is still a Gallagher devotee and one of those behind tonight's Elmwood Hall tribute.
"His guitar technique was what caught me and he never lost it. He was a shy man, but seemed to come alive when he went on stage. "
Taste went through a number of line-ups before settling down to the line-up of Gallagher on guitar and vocals, Richard McCracken on bass and John Wilson on drums.
They produced two studio albums and a live recording at the Isle of Wight festival in 1969 , before breaking up.
Rory spent the rest of his career touring under his own name, usually in a three-piece format, but with piano and mouth harp augmenting the line-up along the way. His steadfast bass man through nearly the rest of his career was Belfast born, Gerry McAvoy .
Rory produced over a dozen studio albums, but the live ones seemed to portray the man at his best. Doubters should listen to Bull Frog Blues on his early live release, European Tour, or Too Much Alcohol and the self-penned, A Million Miles Away, on the Irish Tour 74 album.
In fact let's get down to it, A Million Miles Away, aching vocals and tortured guitar solo, is the best goddamn song you're ever likely to hear.
Many late comers, like myself, may have been lured (appropriately dressed in denims and a cheap copy of Gallagher's seemingly endless supply of cheque shirts) to Rory concerts by the foot stompin', stadium rockers like Shadowplay, Philby and Shin Kicker, but it was obvious that the man's artistry and passion were with the blues -a passion that he instigated in others, handed down, and for many (I'll include myself here again), blossomed into an obsession.
The common theme that ran through Gallagher's music was the blues: he could have gone all Claptonesque and sold bucket fulls of a glossy soft bluesy pastiche, but he was too deeply rooted in the whole Blues ethos to do that.
Legend has it that when Mick Jones, who replaced the late Brian Jones, left the Rolling Stones, Gallagher was approached, but he refused and some guy called Ronnie Wood joined instead.
Donal Gallagher says that there was pressure on Rory from his record company to concentrate on the heavy metal sounds, but that Rory could not leave the Blues behind.
Perhaps he suffered in commercial terms, but his integrity earned him the respect of the Blues fraternity. At the precocious age of 24, Rory played with Muddy Waters and later with Jerry Lee Lewis.
Belfast, sometime in the mid 1980's, Gallagher's band disappears off the stage, but he stays and is handed a medieval looking acoustic guitar and launches into Tony Joe White's "As the Crow Flies'. Rapture and applause follow. Next comes, and somehow we all knew somehow it would, Leadbelly's 'Out on the Western Plain'. Nice one Rory.
Like John Fleming, Belfast rock impresario Terri Hooley is another who remembers Rory during his early performances at the Maritime, but he also has a unique insight into the man and his music, just before he died.
Terri recalls, "I interviewed him for a UTV programme called "Rock the North". He was ill at the time and didn't want to do it, but finally agreed....saying he would rather talk about what he was doing then, rather than his past musical career.
"That was fine, but then I asked him why did Irish people like the blues so much. That set him off and he talked for, it seemed like hours, about Irish traditional music, Cajun, the Blues and how they were all interlinked.
"He was one of the nicest guys you could meet, but if you walked in to a room with six people in it, Rory Gallagher was the last person you would ever expect to be a rock legend. If you went back stage he would be pacing up and down by himself and be really nervous, yet by the time he got on stage it was a completely different ball game and there was a real stage presence there. "
Terri Hooley has also had recent first-hand experience of Rory's international appeal.
"We see it with the influx of foreigners coming to Belfast who come in and snap up an Rory's albums. During the peace talks there were literally hundreds of journalists from all over the world staying round the corner in Jury' s Hotel and the Europa, and they would come in and get really excited about all of Rory's albums that they couldn't buy at home."
The Gallagher legacy looks set t0 filter down into a new generation. Radio Ulster's rock guru Mike Edgar, who presents the youth-focused Across the Line, admits he is a Rory Gallagher fan.
"He is Ireland's Jimi Hendrix." But Mike's admiration is, he says, outshone by a new generation of fans. "I am constantly amazed by his appeal. I can think of two 17-year-olds, one who plays in an indie rock group and the other in a heavy metal band and both claim to have the entire Rory Gallagher back catalogue in their record collections. I think it might be a generational thing, and their parents who were growing up during the seventies and eighties have now passed on their appreciation of Rory to their kids."
Mike also remembers Gallagher as "a quiet, unassuming" man.
"He was very soft spoken, but a genuine and sincere person. The last time I interviewed him he was unwell and anyone else would have told you to clear off, but he seemed to sense that it was more than an interview for me, that I was a fan, and he said it was OK for the interview to go ahead. "He was someone who was seeped in the Blues and respected by his peers. I remember on one occasion interviewing BB King and he was sitting talking about Rory Gallagher. You don't get a much better recommendation than that, but still he (Gallagher) didn't have the world wide recognition he deserved."
If Rory didn't get such recognition in terms of record sales and music press, he did among his musical peers and his fans. Few recording or touring artists have earned the accolade of being among the top 10 guitarist in the world, and in the transient world of rock music, few have secured the loyalty of life-long fans.
That devotion has continued beyond Rory's life and according to John Fleming, tribute nights will be held across Europe, Asia and North America this weekend to remember the Ballyshannon-born Blues man.
"We are expecting people from England and Europe at the Elmwood Hall on Saturday. There will be five bands, including Aftertaste with Dave McHugh, who looks like Rory and does a mean impersonation of him. Mark Feltham, who played harmonica on-and-off for nearly 15 years with Rory, will also be appearing."
Donal Gallagher also plans to travel to Belfast for tonight's concert and he is currently working his way through Rory's archive and plans to remix and release all his albums, post Taste for now, with additional tracks never before issued.
Donal still has Rory's trademark battered Fender Stratocaster guitar and will be shipping it off to Fender in California next week so they can begin work on a Rory Gallagher signature model.
Recently the guitar was put on display at a Fender exhibition and there were guitars belonging to Hank Marvin, Eric Clapton and Jeff Beck, but Rory's stood out, it is so distinctive it hardly needed any explanation as to who it belonged to."
Donal admits to being proud of his brother's legacy, although it is obviously tinged with sadness that he is no longer with us.
"I don't think he got the recognition that he deserved while he was alive, but the generation of musicians and fans coming through now seem to respect his music and I think he is now getting a lot more recognition for his integrity. He lived and died the Blues."

---
This article comes from the June 13, 1998 issue of the Irish News.
reformatted by roryfan
photo comes from the article
11