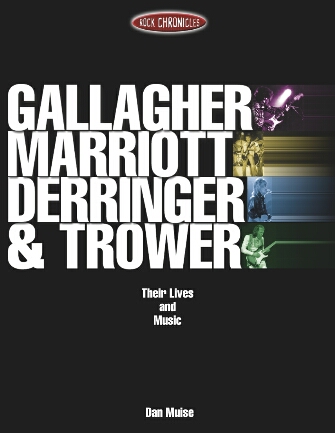 An excerpt #1 courtesy of Dan Muise

---
After producing himself and Roger Glover's production of "Calling Card," Rory decided a co-producer would be an interesting option to consider. Gallagher was drawn to experienced engineer Alan O'Duffy.
Donal Gallagher: "Alan was one of those names that was always around. He had worked at Olympic, training with Glyn Johns. He'd worked on 'Jesus Christ Superstar' and Humble Pie and Slade and The 5th Dimension and just finished 'Venus and Mars' with McCartney. The Point Studios is where I met Alan. Alan has a very nice manner. He's a lovely man and has a special way with him."
Ted McKenna: "Alan O'Duffy. I always found him a very pleasant and gentle Irishman. He's a very nice man. Very intelligent. Very sweet man. And he was always good fun. He would tease a lot. Once I'd done my drum check in the studio, he'd very often say things like, 'OK, that's great Ted. If you just wanna take it easy the drummer will be here shortly' (laughs). He would always have that kind of real gentle Irish way of giving you a hard time."
Alan O'Duffy: "I came in at 'Photofinish.' They still had to deliver an album. The whole album was in their heads. Certainly in Rory's head. But it was a question of recording it. So I got the job of recording an album with Rory from scratch. A lot of the time working in Germany was a one-on-one experience. The band may have been watching television or whatever and it was just Rory and myself for hours on end. He was a gifted fellow.
"My background is different. I'm a music-mixer. I had worked in recording studios since the age of seventeen with bands like the Kinks, The Spencer Davis Group and The Rolling Stones. I like melodies. I love great pop structure and I brought that interest in to working with Rory. Rory had his own path to follow. And it was my job as a mixer-producer with Rory, to be a facilitator for Rory to get his heart, his soul, on tape. I tried to do that and have as good fun as we could and make it a facility for Rory. But at the same time, having a bias in my own head, towards the idea of making it accessible."
Donal Gallagher: "I'd heard about the studio just outside Cologne. Cologne is such a nice town and we had friends there through our connections with the WDR TV people.
"On one of my trips I'd driven to a small town way outside Cologne called Pulheim. It seemed to have a nice set-up and a vibe. It had a good reputation from a recording point of view. The Germans were always meticulous in their recording techniques. And we were quite used to Germany. A lot of equipment, in particular our P.A. system, we had built up in Hamburg. Language wasn't a problem. Rory had a good, basic grasp of German. So Rory came over and I drove him out to the studios. He liked it and he liked Dieter. The set-up was quite homey. I think that was the attraction."
Alan O'Duffy: "Dieter Dierk is a bit of a laugh of a man who used to manage The Scorpions. Very bright and clever chap. He had basically built a studio in the back garden of his mother's house. He had cemented over the plot of land and stuck a studio on it. Then he built a concrete roof on the studio and stuck an office and a summerhouse on top of that. Then he bought the building behind the studio and converted that into a hotel. He used his mother's kitchen to provide food for us."
Ted McKenna: "She was great. She used to always make us bacon and eggs. You'd finish maybe one o'clock in the morning. We're sitting in the cafeteria area of the studio and she'd go to bed and wish us all 'Schlaff gut. Weidersehn. Schlaff gut.' It was just like your granny putting you to bed as it were because we all lived there. I really enjoyed it. We had a great crew. Rory's main roadie, Tom O'Driscoll, Joe O'Herlihy, Gerry and Rory and Don. It was just the warmest atmosphere you can imagine."
Joe O'Herlihy: "I was pretty much taking care of everything. Tom O'Driscoll would do quite a substantial amount of that. Tom was the main man, the boss, as far as I was concerned. The sessions went smoothly. Rory was pretty much in command of his own destiny, in the sense of where he wanted the music to go and what he wanted people to do. He was totally creative and absolutely immersed in it. Most of us had girlfriends or wives at that stage but Rory loved his music and his girlfriend was his guitar. And that love affair was 1000%, forty-eight hours a day, eight days a week. That's why he was so good at what he did."
Donal Gallagher: " 'Photofinish' was done very quickly. The material had been developed and honed down so it was going to be relatively easy to lay it down. It was called 'Photofinish' for a reason. The San Francisco album would have come out in March had it been ready. And then with the fracture, Chrysalis had said, 'Well, look, you've got six weeks to get the album in.' The window of opportunity was tight. So he knocked the album out in three weeks. Mixed and delivered. Rory was always the eleventh hour of the eleventh minute of the eleventh day. I mean he was just frustrating beyond belief (laughs)! He was always stringing. And it was detrimental to him in the long run. So we just delivered it in. It's just associated with horse racing. This one got to the post by a hair.
"He was a perfectionist. It's as simple as that. And it wasn't so much that it had to be perfection/preciseness. It had to be perfection that wouldn't seem to be something that had been diluted. Or sweetened. The mixes took on an incredibly introverted kind of a thing as opposed to extroverted. He was inclined to mix the things in so subtly that he was almost withdrawing so that you could barely hear him. And because he was producing himself, he was writing the material, he was bandleading, he was dictating the pace of things … you can't take up that much work in your day. He'd start an album off with great gusto. For the first two or three nights he would not stop himself. He would not discipline himself and say, 'Well, when it hits two in the morning that's my cut-off point. Time to drop everything and go home. Get a night's sleep.' He'd go through 'till five, six in the morning, get a couple of hours sleep and then start listening to the playbacks. And he'd say, 'God, did we record it that fast?' What he didn't realize was that physically he'd taken so much out of himself that his ears were possibly hearing things in a hyper state. And that's where a producer was a good idea.
"What Rory needed was not so much a producer but someone that would dictate to him what you couldn't do. I mean, there was no way in the world … I would often try it and we'd end up in brotherly rows! We had a thing where we should never be seen having a row in front of anybody else. Particularly because there was a relationship and it would make everybody feel uncomfortable. No one gets involved in between two family members. So if I said to Rory, 'Why don't you knock it off for tonight and leave well alone?' I was cast from the studio and told never to come back (laughs)! So it ended up that I didn't spend as much time in the studio as I would have liked."
Alan O'Duffy: "We did spend as long as it took to get the sounds sorted out. And get the kit sounds and set it up in the most conducive way. With a band you can take a week to set things up. With Rory it really wasn't that long a process. I would say less than a day and then we were into putting stuff on tape that we could listen back to and say, 'This is great.' There wasn't any nonsense or ego flying around to stop us from getting on with it."
Donal Gallagher: "There was an attitude, almost like 'Brute, Force and Ignorance.' Rory wanted this three-piece band to create rock 'n' roll havoc. It was exciting and he was happy. And Ted's personality brought an uplifting air to things. Rory had always preferred a drummer who was ahead of the beat as opposed to being on it or dragging the beat. And Ted was kicking the drums in a way that was making Rory kind of dance, almost."
Alan O'Duffy: "Ted can play you the drum track to any song on the planet. And he does it with such fun as well. A very musical man."
Ted McKenna: "The energy of the band, for three guys, was quite frightening. I didn't think about it at all. I just played what I felt. Rory would do a lot of takes and would pick the ones that he liked. He would take them all to his room and just sit and listen to the basic tracks. Sometimes we'd spend a whole day on one track. We'd play it dozens and dozens of times. Some things, we'd go in and then we'd head out maybe two or three times and have a coffee and a beer or whatever. And we'd head out another two or three times and eventually when Rory felt he had one in the bag … it took him a long time to make his mind up about things at times."
Author: But wouldn't he end up with the correct decision?
Ted McKenna: "Oh yeah. He would painstakingly decide what he thought was the right one and that's the one he went with. The key to it is always to divorce your own performance. Sometimes I thought I played a great drum track. Anybody else may want to put bass and a guitar on top of it. But he wanted to capture the three-piece together. He didn't want to do any cosmetic work. If the whole thing wasn't right then we'd do it again. That's the way Rory wanted it, which is the way to do it."
Alan O'Duffy: "It was really Rory-driven. And we used the tracks in themselves as an entity. We didn't try and create a continuity in particular. The track relates to the track. The song relates to the song. And then the next song would be treated differently. We probably would use relatively the same kit sound or the same bass sound or whatever. If a track required a certain guitar sound then we'd go for it. We wouldn't say, 'Well, we didn't use it on the previous track so we can't use it now.' And if it needed a bit more kick or drum or cymbal, maraca or something, it got it. If we felt it would move it better.
"Rory was a driven man, if you follow me. More than most people on the planet. And I respect that he had his own agenda."

---
Excerpt #2 courtesy of Dan Muise
---
The strife between the British soldiers and the patriots of Northern Ireland had reached a violent climax in the 1970's. It was essentially a bad idea to visit, never mind publicize the fact that you were there. This was evident in the lack of entertainment. No one played Belfast. The risks were too extreme. Yet every December, when Rory and the band returned home for Christmas, they would perform a tour that included Belfast.
Donal Gallagher: "It happened unconsciously. Rory liked to work. So being at home at Christmas we would do our gigs then. Also you had to think of the economics and the situation for your audience at that time. They didn't have a lot of money. People had to save up for their concert tickets. And you had to allow for the fact that a lot of your audience were students. Being allowed to go to a concert was one thing. But if it was during school periods they weren't allowed to go out on nights of study. In effect, playing at Christmas, people were on holiday. They had a few bob that they could afford. Or they were given presents of a couple of tickets. So there were a lot of social factors taken into account."
Joe O'Herlihy: "The possibility of trouble breaking out was the one thing that was always at the back of people's minds but it never happened. The music thing seemed to cross the actual divide. Rory was accepted as an Irish guy making it on the international stage. We are very conscious of Irish people doing well and he was welcomed with open arms. There was never a sense of people going in there with fears or thoughts of trouble or anything like that. What crossed my mind was, 'Yeah, we're going to Belfast. And the crowd is great in Belfast. Wait until you see these guys, the way they'll react.' And it was always like that. Great audience. Great response. Incredible emotion and complete participation. Great connection."
It seemed that there was somewhat of an imposed moratorium on violence when Rory Gallagher and his band set up shop to perform for the people who had supported him from his earliest days on the circuit. Dino McGartland is the publisher of Stagestruck, a fanzine devoted to Rory and his music.
Dino McGartland: "Other groups thought Rory was mad for playing in the North. It was OK to play Dublin or Cork but to play Belfast was unheard of. But whenever he played there, they sold out maybe four or five nights. It was complete mayhem whenever he arrived because people took him to their hearts. He was a fantastic performer."
Gerry McAvoy: "The first night we played Belfast in '71, there was ten bombs that went off around the city as we were playing. And you're always worried. But you had to take a step and do it. No one would play Belfast. But Rory would do it religiously every year and he was admired and respected for doing it. The thing was, it was an amalgamation for both communities, Protestant and Catholic. There was no divide on the night of the concert. And right to the end there was no divide. To music fans, it didn't matter. You might have had guys from the IRA in the audience. You might have had guys from the UDN in the audience. But for three hours everything was forgotten about and you could see that in their faces."
Donal Gallagher: "Rory was accepted by all sides. I wouldn't say he was untouchable but there was an element of that. Particularly at Ulster Hall where the Belfast concerts were. That street was bombed so many times it was known as 'Bomb Alley.' He never felt immune to anything happening but he felt he was shielded somehow. In retrospect, had Rory been blatantly supporting one side or the other, he might have fell foul to some sort of sabotage. But because they would know that everyone in that hall was a mixture they wouldn't risk hurting their own."
Alan O'Duffy: "Rory was a great humorist and a lovely fellow. He would say things like, if we were all inside the room and you had just walked into the control room, for example, he'd turn around to Ted McKenna and he'd say to Ted, 'Right Ted! Say to Dan what you just said to me about him! Go on, say it! Dan, do you want to listen to this or not? Ted, just say it! Say it again, now, honestly! Alan, you heard what he said. What did you say about Dan before he came into the room?' That was one of his standard jokes. It made everybody sort of nervous and laughing at the same time. Nice man. And particularly a gentleman. More of a gentleman than I am! But when he had his guitar on he was a different person. A guitar player that could stand beside anybody."
Phil McDonnell: "One of the funniest stories … I'd never seen Rory laugh so much in his life! He had a great sense of humor about him and he used to literally cry with a good, funny story. We were down in … it was somewhere like Hartford, Connecticut."
Ted McKenna: "I think it's clear to understand that we all might be guessing at where it happened. I think we were all pretty polluted. I've told that story a few times. It goes down kind of well."
Gerry McAvoy: "Duluth, Minnesota. I remember it well."
Ted McKenna: "The night before Pete Collins said 'Guys, to save you getting up too early I'm going to take the cases to the airport and check you in. So pack your bags tonight and I'll pick them up at eight tomorrow and then you can have another couple hours sleep.' 'Ok, thanks.' We got blitzed. I went back to my room, forgot to pack. Peter arrived at the door – bang, bang, bang – 'Ted, give us your case.' So I leapt up, went, 'Oh fuck, I forgot to pack my case.' So I just threw stuff into the case, kind of in the darkness, opened the door a pinch, give him the case."
Phil McDonnell: "He stood there in a T-shirt and his underpants 'cuz we'd just woken him up, got him out of bed. So we grab his suitcase and me and Collins jump in the car and we go out to the airport."
Ted McKenna: " 'OK, see you at the airport. Bye.' Went back to sleep. Next thing I'm getting a call from Rory. Rory's downstairs. I've slept in. He's going, 'We've got to get to the airport. The taxi's here to take us to the airport.' So I opened the curtains, I looked around the room and realized I'd packed my pants. Son of a fuckin' bitch!"
Phil McDonnell: "We'd gone off with his suitcase with all his clothes in it. And he'd forgot to leave a pair of pants out."
Ted McKenna: "I opened the door and I just caught Gerry McAvoy going to the lift. I said 'Gerry, I've got a wee problem here (laughs). I haven't got any fuckin' pants to wear.' So he went downstairs, went around the corner into an Army-Navy store and bought me a pair of black cord denims. Which would have been seven sizes too big. You could have fit another one of me in. But he was in such a rush he just grabbed a pair."
Phil McDonnell: "And they were all rolled up as well at the bottom 'cuz they were too long for him. Oh, it was fucking hilarious! And I always remember Rory cried over that! He thought that was incredibly funny!"
---
GALLAGHER, MARRIOTT, DERRINGER, TROWER
"THEIR LIVES AND MUSIC"
A four-part biography that deals with the lives and careers of those listed either through personal interviews or research.
RORY GALLAGHER
Rory Gallagher<>Donal Gallagher<>Gerry McAvoy<>Rod de'Ath<>Lou Martin
Wilgar Campbell<>Ted McKenna<>Brendan O'Neill<>Eric Kittringham
Norman Damery<>John Wilson<>Charlie McCracken<>Tom O'Driscoll
Phil McDonnell<>Jack Bruce<>Eric Clapton<>Alan O'Duffy<>Rudi Gerlach
Marcus Connaughton<>Dino McGartland<>Eddie Kennedy<>Joe O'Herlihy
Derek St. Holmes<>Ginger Baker<>Van Morrison<>Chris Wright<>Roy Eldridge
"Excellent work and a great insight into Rory."
Gerry McAvoy, bassist, The Rory Gallagher Band
STEVE MARRIOTT
Steve Marriott<>Jerry Shirley<>Peter Frampton<>Greg Ridley<>Clem Clempson
Kay Marriott<>Kay Mateus Dos Anjos<>Dee Anthony<>Jerry Moss
Jenny Deardon<>Rod Stewart<>Bobby Tench<>Bill Anthony<>Pam Cross
Ian McLagan<>Kenny Jones<>Ronnie Lane<>George Harrison<>David Bowie
Alan O'Duffy<>Jim Leverton<>Keith Richards<>Rick Derringer
"I was there. And the way Dan has written this book, it's as if he was there as well."
Jerry Shirley, drummer, Humble Pie
RICK DERRINGER
Rick Derringer<>Edgar Winter<>Johnny Winter<>Randy Zehringer<>Bobby Caldwell
Randy Jo Hobbs<>Janice Zehringer<>Dan Hartman<>Chuck Ruff<>Teddy Slatus
Ronnie Montrose<>Vinny Appice<>Danny Johnson<>Kenny Aaronson
Liz Derringer<>Carmine Appice<>Steve Paul<>Floyd Radford<>Mike Varney
Steven Tyler<>"Weird Al" Yankovic<>Dennis Kelly<>Ronnie Brandon
Todd Rundgren<>Nevin Doll<>Jack Douglas
"I really have a great deal of respect for Rick. He's one of the most versatile, complete guitar players that I've had the pleasure of working with."
Edgar Winter, musician
ROBIN TROWER
Robin Trower<>Derek Sutton<>James Dewar<>Reg Isidore<>Bill Lordan
Rustee Allen<>Matthew Fisher<>Gary Brooker<>Jack Bruce<>Davey Pattison
Chris Wright<>Geoff Emerick<>Keith Reid<>Terry Ellis<>Patrick Rule
Livingstone Brown<>Roy Eldridge<>Wilf Wright<>Richard Watts
"I have known Robin Trower for over 30 years and managed him for the last 18, but I learned a whole lot from this chapter. I really enjoy the way Dan has woven differing points of view on each of the major events in Robin's career into a consistent narrative. A great read!"
Derek Sutton, manager, Robin Trower

---
Letters
Hi Dan.
Your coverage of Rory is intimate in a way most writers never get into their subjects. Usually they just praise them as musical geniuses or idols and supplement them as mere icons. Yours shows them to be living, breathing humans (with extraordinary talents), but still having their weaknesses and fears, etc. And revealed by those who knew them best and not as a Hollywood scandal sheet. After reading these chapters you (the reader) can't help but feel that you knew them also, like your know your family and friends, the good, the bad, warts and all. But the love and respect shines through. A lot of work on your part to secure these kind of interviews and paint this complete picture!
It was very cool to get the inside story on him and you've done a great job. I know musicians and music fans alike will eat it up and dig it!
All the Best,
Brian Chalmers (contributing photographer)

---
"Oh my God! What a great 'chapter' on Rory Gallagher by Dan Muise. If you think you are buying a book that ONLY devotes one chapter to Rory, you are misguided. This chapter alone is a whole book with direct quotes (you've seen the names) framed by pertinent information--info from Rory's closest friends and family (those in constant contact). Most all your questions are answered, and the man is explained (as best can be done). No coloration, no hiding, its all there. Don't save your money for anything in regard to Rory but this book! I kid you not!! You end up loving him, his music, his experiences, and crying about his death and the waste. What a man, what a story--rightly told, more revealed than in a hundred plus articles. I cannot say enough about these writings. This is the biography. Spend no other money, fans, buy this book."
By Dr. Craig Stamm (Dr. Evil)

---
The book has been released and isn't too hard to find online, at least. The books stores have been a little slow.
8 1/2 X 11", 352 pages, 54 photographs
Dan suggests that in Europe, the book be ordered via Amazon.com/UK
and in the US, the book can be ordered from:http://www.stagepass.com/books/rockchronicles
for best service when the book becomes available.