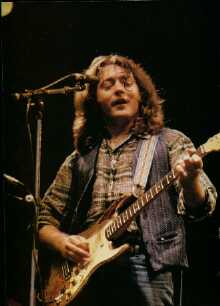 RORY GALLAGHER
Words by Max Kay, Photos by Barry Plummer
GOT A COPY OF DEUCE, TATTOO, BLUEPRINT, IRISH TOUR, ALIVE IN EUROPE, AGAINST THE GRAIN, CALLING CARD, TOP PRIORITY, STAGE STRUCK OR JINX, THEN YOU'RE MOST CERTAINLY A FAN OF RORY GALLAGHER.
My reason for such an assumption is this; if everybody that showed up to one of his gigs bought an album, the man would be rich beyond belief. I've been to many of Rory's gigs over the years, in fact I roadied for him one night at the Albert Hall. He always plays to capacity houses, be they 2,000 - or a 10,000 seater (the man is huge in Germany). He's recently finished a nationwide tour of colleges, aptly named the University Challenge Tour, with his new drummer, Brendan O'Neill and bass stalwart Gerry McAvoy. Though the band has not toured outside of the U K and Europe for the past two years, they remain one of the most hard working outfits around. It's rumoured that guitar roadie Tom, who is an old schoolchum of Rory and brother/manager Donal, wanted time off in order to have a nervous breakdown. Naturally Rory couldn't spare him, and eight years later Tom is still trying to book time off for a nervous breakdown. Unfortunately Tom has just heard that he has to prepare for a January British tour of major venues, with an American and possibly a world tour to follow. Beat that, you lazy bastards!
Being one of Nature's gentlemen and one of Ireland's finest, Rory's first question was, did I have a beer? Seconds later, clutching our thirst-quenching stimulants (we both drank Carlsberg, not a drop of Guinness in sight), we engaged in a conversation about Rory's 2nd favourite subject - playing guitar.
'I try to make my playing as interesting as possible, by using the fingers here and there along with a plectrum. I prefer to play chords rather than just solo guitar, I like to mix the two. My acoustic playing I enjoy, and I suppose it influences my electric style. I like to find unusual ways of doing phrases and scales. Self-consciously, every guitarist has three or four lifting off points I'd say, but I try to avoid the obvious scales, I also try (TRY?) to play open chords and slide tunings as well, which gives you another dimension to what you're doing. The action I use on my guitar is relatively high and I suppose you could say I just dig into it, (LAUGHS) it's hard for me to say what my qualities are or are not, you know? Over the years you learn what to leave in and what to leave out, you just become more comfortable with the guitar, but with new material you're always learning, you know what I mean?'
Rory, who comes across as the most honest of men, denied stealing his licks from anyone when I took him to task, though he admits: 'As a youngster everybody learned the Chuck Berry solos and the Buddy Holly things, but I wouldn't call that stealing as such.' He has heroes, 'Buddy Guy, Lonnie Mack, Martin Carthy is another favourite of mine, I'm not one of these guitar players with one idol, whether it's B.B. King full stop or Hank Marvin full stop, there's so many good players. A whole bunch of them inspired me when I first started, Lonnie Donegan, Buddy Holly, Elvis Presley, Eddie Cochran, later on it was Muddy Waters. The Shadows I always liked anything with guitar, I liked the Ventures' Walk Don't Run and Slaughter on 10th Ave.
I still have a lot of respect for the Shadows, particularly the early line up with Jet and Tony. Who else is there? J.J. Cale, John Hammond, Ry Cooder, Michael Schenker, John Mayo who used to play with Dr. Feelgood, Keith Richard'.....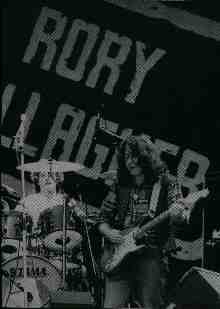 'MY OLD STRAT, WHICH HAS BEEN WITH ME SINCE I PLAYED IN SHOWBANDS, IS STILL THE MAIN INSTRUMENT.'
Some would say Rory Gallagher lacks a certain depth musically speaking, but if this is true he makes up for it in my eyes by using other instruments to colour his sound. On stage it's no surprise to see him whip out the old acoustic, or to expect a quick burst on the mandolin. Harmonica and dulcimer are the other passions that Rory will indulge in, but his alto sax playing. 'has gone by the board unfortunately, I've gone too rusty on that now. I can still play My Bonnie Lies Over The Ocean on keyboards, mind!' It's possible that this light relief, as it were, is one of the major aspects of Gallagher's popularity. Not enough heavy bands know how to mix the light with the shade, but Rory's gigs are different. As you will probably know he's still rather partial to his stock in trade, the Fender 'Tatocaster' as he calls it, that old beat up guitar that started life back in 1961 with a coat of paint. 'My old Strat which has been with me since I played in showbands, is still the main instrument. Over the years I've put heavy frets on the neck, and I've replaced the bridge saddles and the machine heads, the usual things. The selector switch has been changed for a five way, and the middle pickup tone control I've had converted into a master tone and disconnected the other tone control. The only drawbacks with Strats is that in the lead position you can't adjust the tone, mine is rather like a Telecaster setup now.'
Rory has changed his Telecaster and Esquire around so that they now resemble Stratocasters.
'On the Telecaster I've added a five-way position switch, replaced the rhythm pickup with a Strat pickup, and added a third Strat pickup in the middle. I find with Telecasters the sound of the rhythm pickup is never up to much, and I don't like the sound of the two together. For slide guitar the little metal Tele rhythm pickup just wasn't strong enough, and since I'd rather be able to use the guitar in a practical way I changed it, though I didn't like to do it. I've done the same thing with the Esquire by adding a couple of Strat pickups.' (This is very naughty and should be avoided at all costs).
Other guitars in the Gallagher collection include a National steel, Fender Lead II with a Dimarzio added and the neck stripped, as Rory doesn't like the gloss on Fender necks,
a Gretsch Corvette to which he's added a Gibson P90, (the original one wasn't strong enough), and a Danelectro solid with lipstick pickups.
'I LIKE OLDER GUITARS MERELY BECAUSE THEY'VE BEEN PLAYED IN.'
'All the early J.J. Cale albums were done with a Harmony guitar fitted with a Danelectro pickup, they're real sweet and very clear. A lot of the guitars in my collection are not really worth much, they're just interesting to me. I have an old Vox 12 string, a very old Rickenbacker which again I've added a pickup to, a Chris Eccleshall, Fender Music-master with 2 Dimarzios, a Guyatone, a 3 pickup Yamaha solid, 12 string Harmony Sovereign and a Martin D35.'
'I suppose everyone has a slight snob thing about American guitars, but I give credit to the Japanese in recent years for improving electronic circuits. Some of the active circuits in Ibanez guitars are very good. American guitars went through a bad run, they came up with very poor models, but I think that Fender and Gibson have upped their quality control lately. I tend to prefer Fender over Gibson because of the longer scale, the one volume control, the feel of them, the sting of a Fender, but I have a soft spot for some of the Gibsons, particularly the ones with the P90s. I like older guitars merely because they've been played in.'
Rory's string gauges for lead playing on his Strat are as follows, 10, 13, 15, 26, 32, 40 (she sounds like a hell of a girl!) 'Occasionally I change bottom strings to beef them up, on a Gibson scale guitar I'll probably go slightly lighter on top, slightly heavier on bottom.' Having toured the States sixteen times Rory always manages to check out the pawn shops when he's there, but as he neatly observes, 'When they hear the European accent you're sunk. The guitar I'd really like to own is a Broadcaster or one of the old blond Teles.' (Sweet Jesus, who wouldn't?!)
On the road the guitars are looked after and messed about with by roadies Tom and Steve; if Rory's in England then Chris Eccleshall performs the same tasks. Favourite backline at the moment is a pair of Marshall 50 watt combos. Occasionally Rory uses an AC30 in the studio, or a couple of old Fenders, a Concert and a Bassman, or even an Ampeg VT22. His effects are battery, not mains powered, which seems a risky way of doing business, however the batteries are changed every night. 'A lot of the expensive gadgets are too sophisticated, I prefer some of the Electro Harmonix effects though they break down a lot, they're raunchier even though they're a wee bit noisy. The same with echo - I like the old Wem Copycats instead of those very advanced ones, I prefer the tape echo. I've also got a couple of Boss effects which I think are very good, a chorus, flanger, overdrive and a graphic which beefs up the mid range on the Marshall. Boss are the best effects around I think.'
Presentation has long been regarded as important in the rock 'n' roll business, and quite often the music is only there for effect. Fortunately not everybody sees it that way. 'I like rock and roll simple and not too dolled up with smoke bombs and chains and leather, too much make up and all that. I don't like extremes and showiness; I just like down-the-line sort of very clubby rock 'n' roll and rhythm and blues with some frills on it, but I'm not keen on Cecil B. DeMille type rock 'n' roll. Having said that, mind you, we played a gig in Madison Square Garden some years back, and my amp caught on fire. The audience really thought it was part of the act and gave me a standing ovation!'

---

This article comes from a 1981 issue of Music Magazine, UK.
Thanks to Aiden Ratcliffe for sending this article along.
reformatted by roryfan


86