Rory Gallagher
The Marquee, London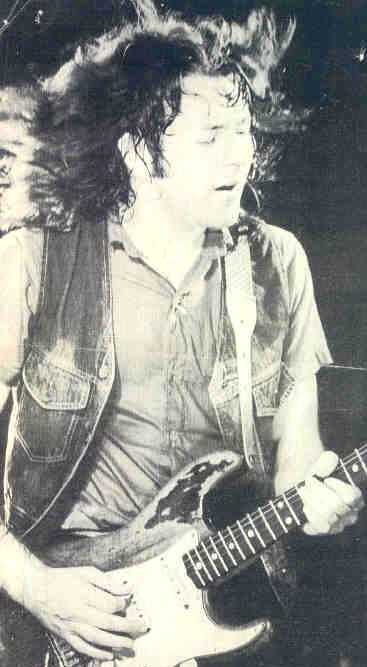 RORY GALLAGHER: When IS he gonna respray that guitar?
photo by Ric Palmer
A Rory Gallagher show is a weird and wonderful thing: you always know precisely what you're going to get, but somehow that's part of the appeal. And tonight's Marquee anniversary celebration was no exception to the norm - the only difference being the size of both audience and stage.
It took the band a full five minutes to adjust to the size of the venue, Rory even knocking the mike stand over during an early charge around the stage. But after that it was all systems go.
For nigh on two hours, Rory and his band (Gerry McAvoy, bass and Brendan O'Neill, drums) belted out their unique brand of rock-and-roll.
There was something for everyone here, some slow blues with "Jinxed", some slide guitar on the laid-back 'Ride on Red Ride On', a delightful acoustic sing-along section midway through the set, and of course, the old favourites, such as 'Brute Force & Ignorance' and 'Shadowplay'.
There was a healthy smattering of numbers from his latest album, 'Jinx", plus all the oldies that we know and love.
But what struck me most was the simplicity of it all, just three guys on stage playing heartfelt blues, with Rory wringing some great notes from his sweat stained Strat.
The audience went totally bonkers from the word go, and the band seemed to be having an enjoyable time, despite the intense heat.
As I say, a might predictable at times, but you try telling that anyone who witnessed this powerful display from one of Britain's finest showmen.
David Ling

---
From a 1982 issue of Kerrang
Thanks to John Wainwright for sharing this article and photo
reformatted by roryfan
213