Rory Gallagher- Irish Tour (1974)
A film by Tony Palmer recently released on DVD (83m)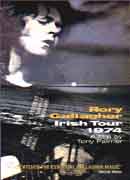 Cork : population 180,000, capitol of Corcaigh County, industrial hub of the province of Munster, Ireland.
Cork Harbour : one of the best natural harbours in Europe.
Rory Gallagher : former Cork resident, population 1, industrious, monster Irish blues-rock guitarist, singer-composer, one of the best natural talents in Europe. Mixing extensive concert footage with discerning backstage interludes, filmmaker Tony Palmer--known mostly for biopics on Wagner and Shostakovich and for co-directing the notorious Frank Zappa film, 200 Motels two years prior to this film--brings forth insightful, delicate moments of the band (Rod de' Ath on drums, Gerry McAvoy on:. bass and Lou Martin on keyboards) bantering offstage and juxta- poses those scenes with close-ups of the gallons of sweat dripping from Rory's saturated, expression-filled face in his Rory Gallagher -Irish Tour '74. Palmer's ostentation-free lensing also unobtrusively captures the drab-grey nature of the Irish countryside in selective glimpses, showing the man-who-refused-to-be-king at his healthy, dexterous prime, in front of undersized crowds full of discriminate fans perfectly suited for his playing style. Through these shots of dreary Ireland, Palmer slyly clues in his viewers on the Irish blues player's soul.
The unpretentious Gallagher--voted best guitarist in the annual BBC Guitar poll in 1972 - clearly demonstrates throughout the film his steadfast refusal to conform to the norms of a mainstream music industry, preferring relative obscurity to commercial pandering, which, unfortunately, was ironically responsible for his eventual downfall and tumble into depression and alcoholism in his latter days --a victim of indifference of the same fickle biz that abandoned him after he had abandoned it. The backstage scenes show the maestro's love for his art in his prime, whereas the on stage scenes show the master's perfect command of his art: bending, wringing, twisting each note, moving effortlessly up and down his fretboard with tremendous, unparalleled alacrity.
Historical snippets and tales-mostly courtesy of the audio commentary track featuring McAvoy and Rory's brother Donal, who was tour manager at the time and who has been directly involved in the remastering and re-releasing of the entire Gallagher archives--inform us, among other engaging tidbits, that his Irish tour included concerts in Belfast, which was shunned by most performers at the time due to the building tension between Northern Ireland and its meridional kin. The self-effacing Gallagher, who couldn't get insurance to play in the renegade nation's capital, justifies his concert appearances by stating that he was once a resident of Belfast; demonstrating once again his no-compromise attitude; letting the love of his music, rather than political turmoil, speak for itself.
The only flaw with the film is the sound recording. Taken from two different sources and equipment; the sound level is highly inconsistent. It tends to blare during the tracks recorded with the proper equipment -Ronnie Lane's mobile- it's underplayed and occasionally muddled from the Belfast sessions and it tends to nearly disappear during the interviews and offstage conversations. That said, Rory Gallagher--lrish Tour is a must-see documentary for any blues aficionado and will serve well any blues neophyte that needs a crash course in Blues 101. The well-versed-in-the-blues, Gallagher, demonstrates his extraordinary proficiency throughout the live footage on a variety of instruments, including the National Steel, his Martin mandolin and his precious, beloved Mississippi-born '32 (or '39) Fender while demonstrating his finger picking and slide playing. He was a pure player that lived for his art and remains sadly missed.
For those of you that haven't been initiated to Rory's world, here's a list of Gallagher's complete official titles as a solo performer, therefore excluding his terrific work in his first professional three-piece, Taste--that'll be for another day. The entire catalogue has been meticulously re-mastered with a smackering of bonus tracks. Hopefully it will help understand the plethora of streets, statues, monuments and locations named after Rory Gallagher in his adopted hometown of Cork -he will not be forgotten.
Rory Gallagher (1971) Eponymous debut includes Atomic Rooster's Vincent Crane on Piano. Released just as Taste were on the brink of international success following their appearance at the Isle of Wight Festival, it includes Sinner Boy, Hands Up and Laundromat as well as 7 other self-penned numbers.
Deuce (1971) Sophomore release from the same year captures the trio live in studio and includes future live staple In Your Town, track on which Rory's acoustic playing is showcased and Crest of a Wave a slide gem. Another disc filled with self-penned efforts from the 23~ year old.
"Live in Europe" ( 1972) First of a series of live recordings, this one influenced future U2 members The Edge and Adam Clayton and forced them to pick up the guitar while they were still schoolboys. Contains extraordinary renditions of I Could've Had Religion, Going to My Hometown and so much more.
"Blueprint" (1973) First album with Rod de' Ath as a full-fledged member and first album with his first official four-piece. It includes Walk On Hot Coals, Daughter of the Everglades, Stompin' Ground and the Big Bill Broonzy fave Banker s Blues.
"Tattoo" (1973) Second recording from that prolific year includes one of the most-loved tracks from his repertoire, A Million Miles Away as well as Cradle Rock, and the dobro gem ,Who's that Coming. It also contains my personal favourite Gallagher composition: Tattoo 'd Lady.
"Irish Tour" (1974) See the above review, however the sound quality is consistent on this disc and contains alternate performances not seen in the movie, which was initially supposed to be a made-for-TV film, but was released theatrically and toured America with Rory the following year. It's a landmark live album.
"Against the Grain" (1975) His 7th album was the first for a new label, Chrysalis Records. Less blues based than his previous outings, showing shades of a rockier direction, it nevertheless contains strong tracks such as Out on a Western Plain and the jazz-tinged Cross Me Off Your List.
"Calling Card" (1976) Rory's 8th effort includes the great Moonchild, Calling Card, Secret Agent and Do You Read Me. This album was the first one not to be produced entirely by Gallagher, electing to co-produce this one with Deep Purple's Roger Glover instead, who facilitated Rory's transition towards a harder-edged sound.
"Photo-Finish" (1978) First album with former Sensational Alex Harvey Band skin beater Ted McKenna, this one took on an even further step in rock. Includes many inspired tracks such as Shin Kicker , Brute Force & Ignorance and Shadow Play. This one was recorded at Dieter Dierks studio in Koln, home of a plethora of superb Krautrock masterpieces from the '70s.
"Top Priority" (1979) Another solid, rockier album with tracks such as Follow Me, Wayward Child, Keychain and the brooding slide gem Nothing But the Devil (a bonus track). Rory's showing signs of wear and tear on the cover as he started on his decline in health and inspiration throughout the 80's.
"Stage Struck" (1980) Last strong effort for the Gallagher-McAvoy- McKenna trio for quite some time. It's caught live, always a plus and an area in which Rory was still excelling at this point. This album consists of self-penned gutsier numbers from his last two studio efforts and one track each from Calling Card and Photo-Finish.
"Jinx" (1982) One of his weaker albums, it certainly lives up to its prophetic title. This album marked the start of his peripety. Also recorded at Dierks Studios, it has its moments, but is a more pedestrian and lackadaisical effort. This one featured the new drummer, Brendan O'Neil.
"Defender" (1985) A fine return to form after a five-year exile from the recording studio, the trio focuses more on a return to blues with plenty of slide and acoustic work. Standouts include Kickback City, Loanshark Blues,..Smear Campaign and the Sonny Boy Williamson II number Don't Start Me Talkin '- -one of Rory's few studio covers.
"Fresh Evidence" (1990) Excellent follow-up to the five-year old Defender with a continuation in his return to a more traditional blues slant. Unfortunately this was Rory's last album. The album cover says it all. His face was more yellow than a lemon by then, with visible signs of bloating and jaundice. Includes solid cuts such as Ghost Blues, 'Kid' Gloves and his ode to British blues godfather Alexis Korner, Alexis.
"BBC Sessions" (1999) Luckily Rory's legacy doesn't end with Fresh Evidence. This two-disc compilation, culled from sessions from 1971 and 1986 contains some extraordinary guitar work, including stunning versions of Calling Card, Used to Be, Seventh Son of the 7th Son, Daughter of the Everglades and much more. It's a fitting tribute to an unsung blues-rock guru.
Marc Giguere
****************************************************************************
This article was published in the Summer 2002 issue of the Manitoba Blues Society's newletter, BLUES NEWS. http://www.mbblues.mb.ca
Thanks to Flo Kraft for passing it along
reformatted by roryfan

175