Rory Gallagher – live and on film

On Film
RORY Gallagher sat back and watched himself, on screen, in his hometown of Cork, last week. It was the first showing of the first real piece of film, about his life as hardworking blues-man.

The film – Rory Gallagher – Irish Tour '74 – caught the essential Gallagher stage magic with some incredible shots of his guitar-work. It was 88 minutes of hard gutsy music and a lot of audience reaction. This was Gallagher as he really is and as he likes to be seen.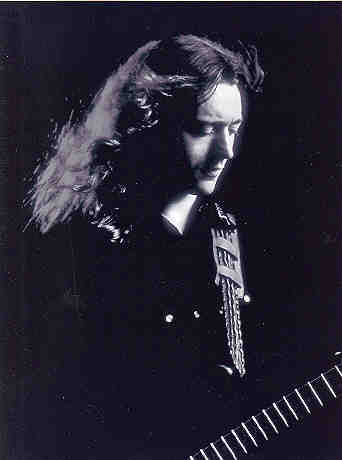 If there is any reservation about this Tony Palmer-produced film it must come from the fact that it fails to show Gallagher in his quieter onstage moments. The slow, blue, acoustic numbers, which are an integral part of his repertoire, were not there at all, but a fairly long sequence of Gallagher doing "A Million Miles Away" perhaps compensated for this.

Gallagher and Palmer managed to get the film together finally only days before the first showing, at Cork Film Festival. One of the biggest problems they had was editing the fairly rowdy party scene, which was filmed before he left for Japan earlier this year. But the final product was, in Rory's own words, "pretty satisfying."

The Irish star has had a healthy fear of films about his work ever since a Dublin TV documentary team working on a shoestring budget managed to produce some pretty weird sound balance variations.

Palmer however, had a different approach. He shot thousands of feet of film in Cork, Dublin and Belfast to get it right and managed to place the life of a working band into perspective, by showing Gallagher relaxing in his hometown.

Enough care was taken with texture and sound balance to make Gallagher say afterwards:
"It all came through just the way we had hoped it would. I trust people, who tend to switch off every time they hear my name mentioned, would at least go and see what it is all about. We tried to get inside the mind of a band on the road and I think it worked. Tony Palmer knew where he was going from the moment we first discussed the idea."

DICK HOGAN Melody Maker – June 22, 1974

LIVE

RORY GALLAGHER opened his short British tour at Hull University last Thursday with a superb performance.
After blasting straight into "Messin' With The Kid," Rory and his band maintained a pace of excitement and professional ability that is rarely seen these days.

A concert by Rory and his band is a musical and visual experience that far surpasses virtually all the bands touring in Britain today. He is a dedicated guitarist with feeling and technique that remain in a class of its own. His band comprising Rod De'Ath (drums), Gerry McAvoy (bass), and Lou Martin (organ), make up the perfect combination, applying a thundering sound that ignites Rory into his electrifying guitar work.

He strides round the stage directing and providing the vitality and intensity that is shared amongst all the band. Perhaps the most refreshing aspect of the concert is that Rory, despite many years at the top and still growing in stature, is playing at universities again.
Far too many bands, caught in the increasing spiral of commercialism, turn their backs on colleges, almost within a year of their success.

The band featured a large number of tracks from "Tattoo" such as "Cradle Rock" and "Tattoo'd Lady." A couple of new numbers were featured from the next album and the rest of the set spanned the last five years of his career, ending with the classic "Bullfrog Blues."

There is little doubt that Rory is one of the hardest working musicians around. Hull University is far from the greatest venue in the country, but Rory generated an atmosphere and enthusiastic response that had not been seen there for a long time. His success and popularity is as great as ever and looks secure for a long time yet. –
ANDREW HARRIES Melody Maker – June 22, 1974

---
Thanks AGAIN to Brenda O'Brien for her help in finding these articles and for typing them!
photo is a BMG promotional photo

reformatted by roryfan


236