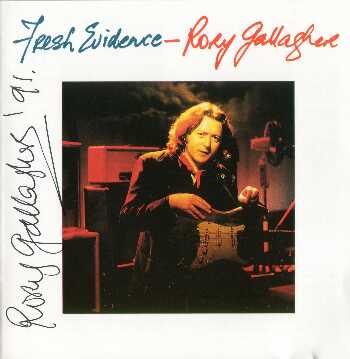 Rory autographed the CD for Doug Pugh
'Fresh Evidence' of a Fresh Start
*Blues-rock: Things are looking up for veteran singer guitarist Rory Gallagher. He's embarking on a U.S. tour that brings him to Peppers Golden Bear tonight

---
By JIM WASHBURN
SPECIAL TO THE TIMES
---
"Kid Gloves," the opening track of Rory Gallagher's new "Fresh Evidence" album, tells of a character who takes on life's struggles with a pugilistic tenacity, declaring, "I'll do anything but die."
While the 42-year-old Irish musician drew his inspiration for the song largely from a 1947 John Garfield boxing flick, "Body and Soul," he also admits there's a bit of himself in it.
"I wrote it in that kind of mood all right," Gallagher said by phone Monday from a Los Angeles hotel room. "The song started off coming from my own point of view, and then I built it up from there."
While the blues-rock music that Gallagher has espoused for decades has come to the fore in recent years in the hands of Bonnie Raitt, the late Stevie Ray Vaughan, Robert Cray and others, Gallagher has been largely shut out from that success. For the last eight years he's been without a U.S. recording contract- his last domestic disc was appropriately titled "Jinx." Add to that a flying phobia that kept him from touring here for years.
Long before Vaughan began battering a Strat, Gallagher's signature 1961 vintage Fender guitar looked as if it had been sandblasted, the result years of aggressive playing and constant gigging. While not quite a superstar, the singer guitarist had established a dedicated following and the respect of his peers. He played England's Isle of Wight Festival before some 400,000 people (with his early power trio, Taste) , recorded with some of his personal heroes,: including Muddy Waters, Albert King and Jerry Lee Lewis. He was considered for membership by the Rolling Stones when they replaced Mick Taylor in 1974.
He maintained a good following over the years in Europe, but says it was difficult to make much headway there in the post punk era, when music became entwined with fashion and video.
"I'm not a bitter person," Gallagher said, "but there were times when I felt a bit miffed at being sort of taken for granted. Obviously, as much as I play for the love of it, like the next human being, I like a little bit of a slap on the back sometimes. But, all told, I'm quite happy to have been able to play music all this time."
Things are looking up lately for , Gallagher. His fear of flying largely behind him, he's just completed a successful tour of Australia and Japan, and is embarking on a U .S. jaunt that brings him to Peppers Golden Bear in Huntington Beach tonight. The "Fresh Evidence" album has just been released here on I.R.S. Records, which also will be reissuing several of his older recordings.
And his abused Stratocaster guitar?
"I still have it, just about, " Gallagher said with a warm laugh. "It's Super glued together now. It's got the sound, though. It's so full of sweat and dirt now that it sounds a bit mellower, but I still use it most of the time."
Both the guitar and its player appear to be in fine form on "Fresh Evidence," which, true to its title, bursts with a starting gun exuberance. Outside of a pair of sonically adventurous instrumentals and some new rhythms worked into his rootsy sound, it's familiar rough-and-tumble territory for Gallagher, but he assays it with a youthful brio. ( His mates on the album and tour are bassist Gerry' McAvoy , drummer Brendan O'Neill and harmonica player Mark Feltham.) While many players who have taken an easier path have lost their passion over the years, he says he's never had trouble feeling inspiration for the music.
"I've always loved music. I'm a great listener, I play records all the time at home. And I play guitar as a hobby. So inspiration has never been a big problem for me, but motivation can be a bit difficult sometimes. I can be happy just playing at home through a small amplifier, and it can be hard to get the Gypsy back in you, to toughen up and get out on the road.
"This business puts you to task sometimes to just get on stage and play a piece of music, to forget about all the machinations that go on. I've had a couple 0f cranky years all right, where I've gotten fed up with certain elements of touring or other parts of the business. But you have to go through that if you're going to play for people, which you need to do to keep your music real.
Well before he got his first guitar at age 9, Gallagher was hooked on the instrument. "As a kid, I loved the guitarists, whether it was Elvis Presley, Lonnie Donegan, Chuck Berry or even the cowboy guitarists like Gene Autry and Roy Rogers.
Gallagher was largely self-taught on guitar, simply because " there was nobody in the city I came from- Cork, Ireland- that I could link up with to teach me the guitar. The first songs I learned were "It Takes a Worried Man" and Woody Guthrie's 'Grand Coulee Dam', 'Rock Island Line' - those kind if American folk songs that were probably on the edge of the blues. After that was Eddie Cochran and Chuck Berry songs. And then I heard Muddy Waters, Jimmy Reed and Big Bill Broonzy on the radio."
With so many of his blues mentors gone now, Gallagher feels that part of his job is to keep their music alive.
"I still regard myself as a student, but I think once you get to a certain age you start to see that whatever little talent you have, you do have a responsibility to pass it on. I know I'm not Elmore James or Muddy Waters, but I certainly have the power to enlighten people to their music - an on top of that, hopefully end up with something that stands up as my own document."
from the March 7, 1991 issue of the L.A.Times
__________________________________________________________________________
Go to Rory Stories: stories from his fans #14 for a fan's memories of this show
__________________________________________________________________________
Thanks to Doug Pugh for passing it along
reformatted by roryfan
166