"Music is not a job, more of a hobby,"
says Rory.
Saturday interview
Colm McGinty meets the rock superstar
EAT YOUR HEART OUT John Alderton, Rory Gallagher has you pipped…in the beans stakes.
While suave John likes to run his nimble fingers through whole sacks of them, Rory likes nothing better than to get his around a mug or two of steaming French roast. And it has nothing to do with flavour-lock. Rory doesn't turn his nose up at certain brands. He's no snob.
"Ah, no", he says sleepily. "I don't fly in exotic samples or anything like that. I'm not that sophisticated. I just like it hot and strong, like Spencer Tracy. "He used to drink literally pints and pints of coffee every day. He had a lot of trouble with the drink and turned to the dreaded caffeine. It probably killed him in the end, so perhaps he should have stuck with the booze. "But I'm not an early morning person", he yawns. "I only begin to function after a few pitchers of the stuff".
Though later this evening when he plugs in at Lisdoonvarna, Rory Gallagher won't be relying on coffee to stir him into action."I don't need stimulants to play. The music itself is enough. We're just back from doing a festival in Switzerland and a couple of gigs in the Marquee Club in London, so we're nicely battle-scarred. Well warmed up.
"Doing the Marquee was fun. It's the club's 25th anniversary and it was a long time since we were there before. The idea is that everyone who ever played the place over the years would do a show this year as part of the celebrations. "The Police did a couple and The Who have promised a set. It's a great idea because through the year you never know who might turn up."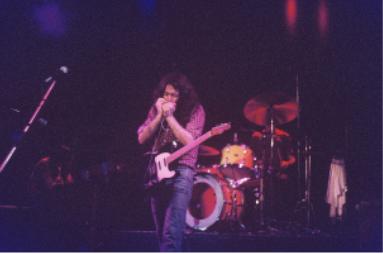 Working base
Although Rory lives in London, he doesn't consider himself as settled there. "I've been living in London now for ten years, I suppose. It's a working base. And I come over here often enough not to feel committed to the place", he says.
"I don't regard myself as a permanent exile or anything like that, but it's a great place to work in, a very creative city. And though I suppose Irish people have a love-hate relationship with London, it's a place where you can get your work done. Though I suppose I could just as easily live in New York, Hamburg, Los Angeles", he laughs. "I'm quite used to moving around".
"We used to tour Britain more a few years ago, but now we seem to play abroad a lot more. That's not a policy, it's simply the way things worked out. "I mean, some years it's crazy. We might do two months in the States, a month in Australia and Japan. Then back across Europe and maybe into the studio to do an album."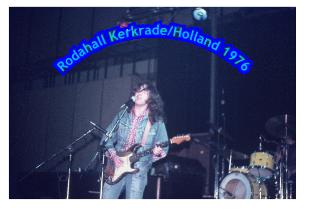 Like gypsies
"So there wouldn't be hardly any time off at all. In a year like that it doesn't really matter where you live. You aren't going to see home anyway," he groans. "But no, these days I do try to plan things a little better. In the old days, we didn't plan anything. We were just like gypsies. It was one town, one country after the other, all great fun, but you end up chasing your own tail".
Rory Gallagher has been on the rock 'n roll trail now for many years. His albums—all 12 of them—clocking up gold and silver right across the globe. And yet (although heaped with success) he doesn't drip with its trappings.
His earliest heroes were the pioneers of blues and rock, Leadbelly, Muddy Waters, Chuck Berry, Woody Guthrie . . . and they still are. From his time playing with show-bands up and down the country, to the heady days of Taste, right through to his current work, Rory Gallagher's music has been stamped with an honest hallmark. The man has remained faithful to the cause, proving that roots go deeper than pop posing.
"I see music as a lifetime affair", he says. "I'm not in it for the big kill and then get out. I hope to be playing strong when I'm 50, like people I admire. Your art improves with age.
"You see, I love what I do. I don't treat it like a job of work, it's more a compulsive hobby. Even if I want to get away on holiday, I still end up packing a guitar and a tape recorder", he laughs. "We've toured the States twenty times now and we do better there than is commonly known, although we don't have the 'big' album to show off for it.
"You see, unless you've got a record sticking out a mile in cashbox it goes unnoticed. But I'm not competing on that sort of level anyway. It's a conscious decision. I know we're not going to cut it on the smoke bomb kick or pull the ridiculous publicity stunts. We're divorced from that circuit."
"We have a niche and we're staying there. I don't even know if we've ever even released a single in the States. The concessions you have to make for 'success' are much too great. "But it's the pop system I hate and so much the piece of plastic that a DJ may play on the radio. Sure, I get played on the rock and 'ethnic' shows, but I'll never get the regular pop playlists because I don't churn out music that's instant and disposable, like a hamburger. I just don't run in that race".
When the spotlights are turned off Rory's big love is the cinema.
Crime films
"Yeah, but not so much the current cinema as the films of the 40s and 50s, the black and white crime thrillers. I also enjoy the European pictures of the 60s, Delon, Ventura, Belmondo, those lads.
"I'd be lost without a video, a wonderful invention. There's nothing I like better than to be able to catch a movie at four in the morning after a show or something.
"I suppose I got spoiled with the 24-hour, wall to wall TV. They show lots of movies—when you can see them through the jungle of ads.
"But I don't insist there's a video in my dressing room, or anything like that", he laughs. "I have no time for that sort of messing. Although some bands have the most ridiculous riders to their contracts . . . too Sodom and Gomorrah altogether.
"Take ZZ Top for instance, who I hear are playing here soon. At one stage they opened for us on a tour of the States and they were terrific. Three guys, three instruments and they just lashed it out. Smashing.
"They became really big and before you knew it they had a monstrous stage shaped like a map of Texas and a traveling zoo with a buffalo, a buzzard, a coyote, a longhorn steer, a rattlesnake. You name it, they had it.
"Suddenly we were witnessing the extreme side of the Texas/Dallas oil excess."
"We were playing with them in Houston a while back and they met us at the airport with big slinky limousines equipped with colour TV's and full bars. And though I suppose it was fun, it really got beyond the JR stage.
"There's nothing wrong with success but when it goes to that extreme it's ridiculous.
"Put it this way, I'd never use a buffalo or a steer suspended over the stage, unless it could sing harmonies or hum in tune or something"
____________________________________________________________________________
This interview was done at the Shelbourne Hotel, Dublin for the Evening Herald in 1983--thanks to Colm McGinty for supplying the source information!
Thanks to John Wainwright for sending it & Zetti Wood for typing it
Photos by Jos Remans from Holland 1976
reformatted by roryfan

156