THE IRISH BLUES OF RORY GALLAGHER
Bill Horan interviews the world's hardest working guitarist,
RORY GALLAGHER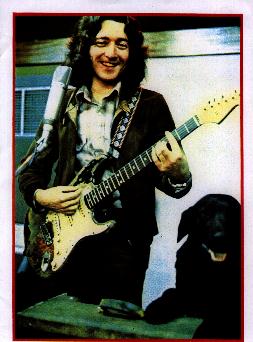 Rory Gallagher's European reputation as one of the leading blues guitarists, a fact now starting to be realized on this continent as well, was a direct result not only of his tremendous versatility and musicianship, but also of his explosive stage presence.
Unpretentious, glitter-free, and devoted to the blues, Rory plays hard and lean, still using his first electric guitar, an old pawnshop Fender with paint peeling and woodwork battered.
Born in Ballyshannon, Ireland, he moved to Cork at an early age and regards that southeast corner of Eire as home. He received his first real guitar when he was nine, a replacement for a plastic Woolworth's special on which he played Gene Autry and Roy Rogers tunes to the delight of his friends. By the time he was fifteen, he had already formed a number of groups and had started listening to Presley, Chuck Berry, Buddy Holly, Woody Guthrie, and blues men like Muddy Waters, Lemon Jefferson, and Blind Boy Fuller.
Rory found his first professional work with the Fontana Showband and stayed with that touring outfit for two and a half years. A few months after the Showband broke up, Taste, a group of amplified raunchy soloists who built up a huge following largely on the strength of their volcanic live appearances, was born. This union produced three albums, Taste, On The Boards, and shortly after the band finally broke up at the height of their popularity, Live Taste, a big chart item in Europe.
In early 1971, Rory laid down the foundation for a new band with fellow Irishmen Wilgar Campbell on drums and Gerry McAvoy on bass. Rory Gallagher, Deuce, and Live In Europe were recorded with this line-up, and it was the latter album which at last brought the giant breakthrough in record sales. Campbell was replaced by Rod de Ath in June, 1972, and soon afterward keyboard player Lou Martin was added, bringing a greater depth to the Gallagher sound, as evidenced on Blueprint. Lengthy concert tours followed in Europe and America, winning Gallagher the reputation of being the hardest-working musician in the business. Rory's latest album, Tattoo was followed by another tour of America to promote the record, and to expand his ever-going audience in the land where Blues began.
The following informal interview was taped following a two-week hiatus in the present tour. Gallagher's band had just played a sold-out Montreal concert the night after a transatlantic flight from England. Physically worn by a combination of stiff muscles and jet lag, Rory agreed to the post-midnight interview which was taped in the lounge of the Holiday Inn with the semi-sweet staccato of a Mexican-flavored lounge band playing innocuously in the dimming background.
As perhaps with all sessions of this type, the first topic is generally based around current events. Taking a long hard pull on a beer, Rory provided a thumbnail sketch of his recent activities. "We've just finished an album that was recorded in Ireland, a live album made during a tour of Belfast, Dublin, and Cork. I just went and mixed that before we came over."We also had a film unit travelling around with us so we could make a documentary film. I went back to London to keep an eye on that while it was being edited. It's an hour and a half long. Originally it was meant to be fifty minutes for television. But it looks good and the sound's good, so we're going to put it in selected cinemas and just see what happens. It'll open a few doors."
Many people still wait with varying degrees of excitement for television to become the concert hall of the future, the logical successor to the enormous twenty thousand seat arena musical showcase. "It's really a question of getting across to as many people as possible without selling out. ..just presenting it in different ways," Rory emphasized. "Sometimes people would never go to a concert, but they'd watch a television show or they'd watch a movie."
The abyssmal part of this electronic development is the loss of personal contact between musician and listener. Gallagher's band is no exception when it describes the true desire to return to small venues. "It would be nice if we could have some small places to play. We still do the odd baseball stadium, but not as much as we used to. We did some tours with Deep Purple and the Faces -that was fifteen thousand people a night." Gallagher considers it for a moment and adds: "It was fun. .. in its own way ."
Rory's hands-down reputation as the hardest working musician in the business dates back a long way, even before the '71-'72 American tour -a string of one-nighters jig-jagging across the continent. "We're working hard this year, but it's a bit more organized. I would say it's just as hard, just as busy, but it's not as hectic. Now that we've got a bit of a name, the dates fall in sequence so we don't have to go from California into Canada back to Alabama." The band's recent appearance on "Midnight Special" should help in the states, especially since the performance is in connection with the promotion of the new album.
Perhaps as a bit of styling toward wider acceptance for his blues, Rory has on each of the past two albums included one song with a distinctive difference, not exactly pop, not blues, but a bit of jazzy-rock-blues. "Daughter Of The Everglades" and "Tattoo'd Lady" are so different from any previous repertoire Gallagher has released that, if the songs became "hit singles", they would be called that: the top forty obligatto required to establish a new group in the charts. Gallagher, though, doesn't live in that space of commercialism. His desire to reach a wide audience is tempered by the type of music he plays, and blues have rarely been big pop numbers.
"Both songs have a sort of story in them. ..and there's a certain picture involved -certain characters, a certain atmosphere, so there's sort of a connection ...I suppose that there is a connection" He never refers to pop success or pop intentions, and relating the fact that at least one rock writer has referred to "Daughter" as "transcendent" merely launches him further into musician's rap -as opposed to glam hype.
"We had only done 'Daughter' a very few times, but now it's in our repetoire again. We've re-arranged it for stage." On the last tour the song was noticeably missing and missed. "The reason we didn't do it was that the recorded version couldn't be produced on stage. There was a lot of twelve-string guitars and tambourines, almost a Phil Spector- type of approach. But we've re-arranged it now -so the song's the same, but it's twisted around so it fits tightly ."
Perhaps the song is an indication of the more noticeable jazz flavor the band has now? "All the different instruments, the musicians, are becoming more interwoven. There's more rhythmic things happening, more confidence in what everyone is doing chord-wise and so on, if you can call that jazz. I suppose you can."
The excitement of Gallagher's performances comes not only from his dynamic stage presence and guitar action, but also from the kineticism the band possesses. " All music should be that way. Jazz is the most advanced form of that mental communication-type approach. I like extending things."
The hour fades away even more. The conversation extends itself and Gallagher asks some questions, the first about Biscuit Boy: "I believe he's making an album down in New Orleans. Does he still work with McKenna Mainline? They were a good little jump band." Talk had circulated for months that Biscuit Boy's album would have a number of big name musicians on it including Doctor John and Mike Bloomfield.
Gallagher has been billed with Bloomfield and John Hammond, and has great respect for them. "Bloomfield did that one album with Hammond and Doctor John. I think he did some work on that film, Steelyard Blues, as well. I believe he's going to come back on the road, isn't he? Buddy Miles was saying that they were going to get the Electric Flag together again. ..which would be good."
The barkeep announces the last call and we skip lightly over the most likely topic: guitar players and guitars. "I like big chunky strings. On electric obviously you have to use lighter ones because you're bending strings. Scrapper Blackwell was one of the first few in the old days to use lighter strings. I don't even know if there was such a thing as light strings then 'cept maybe banjo strings. Some guys used to use banjo strings on the top of the guitar, the top set.
" A couple of guitarists have always stood out for me: Blind Boy Fuller, Scrapper Blackwell, Broonzy. The electric guys -Buddy Guy, J. B. Hutto, Otis Rush, Muddy Waters. But they're just, you know, ahead. They stand out a little more than the others. But there's so many more good people playing. Leadbelly -you just can't help but listen to him -he's so dominating."
The late Reverend Gary Davis's name comes up. Gallagher's last memory of him succinctly sums up the older blues man's portrait. "I saw him playing in Belgium just before he died. He was in this festival. He was playing at the hotel, just sittin' there playing. We woke and came down for breakfast time. He had his guitar with him and he played while he had his breakfast. He didn't care who was there, or who wasn't.
Davis played guitar for over sixty-six years. Gallagher hopes he can also. Blues for life. "So many people retire too early, I think. That's one way to go down fast. It's better to keep on playing. When you've been playing for sixty years you must really know. ..must really know the feel of the instrument. Even then I suppose you're still learning. So many people, though, just stop playing. ..and start playing Moog synthesizers in their retirement."
Rory's eyes are like slits. Sleep is inescapeable. We toast a good long life to each other, closing a very mellow late night.
---

This article comes from the June 1974 issue of Sound
reformatted by roryfan
photo from the 78/79 UK Tour Program


119