The Lonestar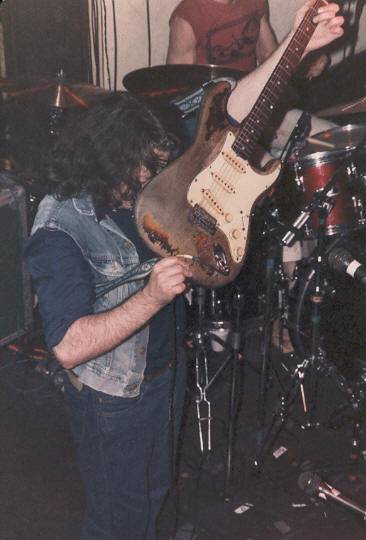 June 1985
The Lonestar Cafe
New York City
I was (still am) a Led Zeppelin, Who, Jimi Hendrix, and later, a SRV fan primarily. These guys were all wonderful and great, but the guy at the top of my list was (is) Rory Gallagher. I don't recall how many shows Rory did at The Lonestar that June, but it was at least two and maybe as many as five. I can't recall. I attended at least two. Both shows were mind blowing, ass-kicking, rock-your-socks-off....typical Rory Gallagher. The man never disappointed me ( I saw him perform at least 28 times). We always went to those shows with such high expectations, it was almost unfair to expect that Rory would meet them all the time, but he always did. Amazing!
The Lonestar was a great venue. It was relatively small. There was a main level with a smallish, low stage and a 3/4's around rotunda, on the second level. The front portion of this rotunda area had some small tables and chairs. All in all, a fantastically, intimate place to experience the great Rory Gallagher. The main level was connected to the upstairs rotunda by a plain, open stairway along the back wall. The base of the stairway landed immediately adjacent to the stage, just a few inches below the stage floor.
All of the shows at the Lonestar were packed and crowded. My girlfriend and I were having a beer prior to the start of one show and met an over-dressed (suit and tie) Japanese fellow. He seemed to be very excited about being in New York City and very excited to hear the music. His English wasn't very good and our Japanese was even worse (the most I could say was "da! it's Godzilla!...LOL, sorry). Anyway, this fellow thought that he was going to hear some country music! I guess he figured that's all the Lonestar offered, LOL! So I said something like, "Yeah, you're gonna really like this guy Rory Gallagher!" (Rory did do Out on the Western Plain).
My friend and I made our way to the stairs to get ready for the show. I thought it would be great to stand on the base of the stairs, but was worried that we'd get tossed by house security (for causing a fire hazard or something...?) We decided to give it a shot. This landing was right next to Rory's amps and his Strat was within our reach, set-up on a guitar stand, an arm's length or so from where we stood!
Rory! Rory! Rory, the familiar fanatical chant began and no one asked us or any of the other Rory-addicts to move off the stairway! Here he comes! The noise level and cheering peaks as Rory and the boys hit the stage. Rory grabs his Strat, tunes up a little, approaches the mic, throws back his hair with one hand and screams a great Rory scream (as if we needed any waking up!) and says, "Good evening New York! It's good to be back! Yeah! We already know that we're not going to be disappointed and the great man hasn't even played a note! Here we go...."It's a Shin kickin' morning....."
Half way through this opening song, Rory leaps onto our stairway landing and runs three quarters of the way up the stairs! He's wailing away..."got to find a place, that stays open late...." He moves back down the stairs and stops directly in front of my friend and I and leans back, pinning us against the wall. His hair has obscured my view and I'm trying not to move (dare I cause him to miss a note!) "CC mama! Motorcycle queen..." Rory steps forward, turns his head towards me and says, "Thanks" and gives me a quick wink and nods his head signaling his approval for my patience, as he leaps back on stage!
My girlfriend turns to me wearing an astonished smile...speechless! (this was her first Rory show) Finally she says, in a long drawn out voice, "Holy Shit!" She repeats this about five more times!!!!! I looked at her and smiled. Then I said, I told you Rory's the man!"
He totally blew the roof off the place that night. He even busted out the front door and played to a large crowd that had gathered outside on the street! I couldn't say for sure how long he played that night, but it was after two in the morning when we left. Probably a three hour plus show. I looked for that Japanese fellow during the show. I spotted him dancing and screaming in the midst of the crowd in front of the stage! Good country music I thought to myself! LOL! To me, this was how the "rockíníroll gods" planned rock'n'roll to be. Drinking, smoking, wall to wall folks in a small venue, rocking to Rory Gallagher into the wee, wee hours! It's never gotten any better. Thanks a million, Rory Gallagher!
by Charlie Gili