Deep Purple, Fleetwood Mac –
RORY GALLAGHER Steals the Show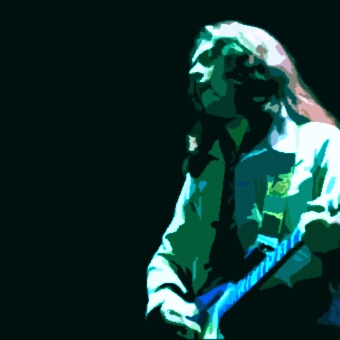 Sunday night's concert at the Coliseum featured four good guitarists; the estimable Bob Weston and Bob Welch from Fleetwood Mac, a steadfast Ritchie Blackmore from Deep Purple and Rory Gallagher. Although Rory is not well known in these parts – there was a constant stream of: "Who is that guitar player?" during his set – and he only had forty minutes allotted him on the programme, he certainly won a few admirers. Over the course of six numbers, Rory and his current band mixed up some funk and raunch with some technical brilliance and laid down some of the tastiest blues/rock to be heard in these parts for some time.
A couple of weeks ago I wasn't really interested in catching the concert – well there was some interest in the 'new' Fleetwood Mac – but with the late inclusion of Rory Gallagher I was out hustling a ticket. The man's been making consistently good music since the days when he took England and Europe by storm fronting a high-energy three-man band called Taste. In those days they would remove all the tables (and sometimes the chairs) at clubs like the Marquee in order to accommodate the crowds who turned out for a Taste appearance. Hot sweaty nights with Rory jukin' up a storm. When the band seemed to be 'peaking', on the verge of breaking into the North American market and reaping widespread success, Rory split and disappeared back home to Ireland for a few months. After resting up after the many miles of roadwork with Taste, he began working with some Irish sidemen and eventually produced a fine solo album which was released on Polydor. Since then there have been a couple of equally brilliant albums and his latest, 'Blue Print' (Polydor), should be in the shops now.
While the crowd were still filing in looking for seats – there was very little advertising for Rory's late inclusion on the bill and the earlier start to the concert – the lights went down and Rory and his band took the stage and went straight into some full throttle blues, 'Messin' With the Kid'. The background noise diminished appreciably and they went straight into 'Hands Up', off the first solo album. Two crunching blues/boogie numbers in a row and the crowd were sitting up, asking one another who 'this guy' was. I mean Gallagher has really got his chops down and there's a lot more coming out of his well-worn Fender these days. After grabbing everyone's attention, they settled down to a slow blues, 'I Should Have Learnt My Lesson A Long Time Ago', which incorporated beautiful interpretations of some classic blues runs. Vincent Crane got in a jangly, boogie-woogie, piano solo whilst the rhythm section – I'm not quite sure who's on bass and drums at present – kept laying down solid accompaniment.
Then the pace picked up again with 'Laundromat' and there's a lot more going on in the current version than the original, which was featured on his first solo album. By this time the crowd were up on their feet shaking and Rory was letting a little of the old Taste flash come through with a couple of 'Chuck Berry' leaps at appropriate moments. 'Back in You're Time' is off the new album and featured some really raunchy slide guitar that broke into break-neck boogie and brought a thunderous round of applause at the end of the song. All too often boogie has become part of 'the endless boogie', a kind of hackneyed parody of something that was really exciting two or three years ago, something bands serve up as a 'crowd pleaser' especially in Vancouver where a band can frequently win a concert audience with a few moronic shouts along the lines of: 'When I shout BOOGIE, I want you to raise your right hand in the air and shout BOOGIE back at me'. Gallagher's boogie is like it was meant to be, exciting AND inventive.
All too soon their time was almost up and Gallagher announced the last number, 'Bullfrog Blues', a traditional footstomping, hand-clapping boogie number that featured solos from all members of the band. Crane provided heavy, rocking piano throughout and then the rest of the band laid back whilst the bass-player and drummer took a short, effective solo each. Although they got a standing ovation, their time was up and the announcer was onstage saying something about: 'I know some of you arrived late and so I'll tell you again, that was Rory Gallagher and his band'. If you arrived late you missed the best part of the show and if you arrived early and caught the set you have to admit the man should have got another forty minutes'….neither Deep Purple or Fleetwood Mac would have been any worse off for losing twenty-minutes each. Still that's the 'star' rating game and after a break Fleetwood Mac came out with yet another lead guitarist and a new vocalist.
Remember the last time Fleetwood Mac were in town? Gross out at the Gardens….they were appearing with Ashford & Reynolds, John Baldry and Savoy Brown. Well their new guitarist is Bob Weston, who I think was playing with Ashford & Reynolds, and their new vocalist is Dave Waler, who was with Savoy Brown; must have been some heavy politicking on that tour… Anyway Fleetwood Mac have undergone some changes in direction, they seem to be getting a little more into stuff that's reminiscent of some of Peter Green's later work, and they had some trouble getting through to an audience that were waiting for the old, familiar, Fleetwood Mac. I was quite impressed with one of their new songs, 'Night Watch', which features some spacy, echoing guitar duets but throughout their set they were labouring with an audience that sat on their hands, and a sound system that was below par for the Coliseum. It was bad in Gallagher's set but the music surpassed technical fuck-ups, but it did seem to get better for Deep Purple; could this be another side to the 'star' rating system? Vicious things happen around sound systems on tours, there have been cases of roadies pulling 'the plug' on rival bands in the middle of their set.
In the middle of 'Night Watch' Bob Welch, the guitarist who joined Fleetwood Mac just before their last tour, was singing to the sound guys; telling them he had a 'soft voice' and they'd better get something balanced. It was that bad. Still I'd like to hear their new album 'cos I have this feeling there's probably some fine guitar playing from Messrs. Weston and Welch, a little of which came through during their concert set. After which we went on to Deep Purple a.k.a. Ritchie Blackmore and sidemen who showed a few changes but remain a 'heavy English rock band' of the variety that have been filling concert halls in North America for the past three or four years. So be it.

Review of the Rory Gallagher, Fleetwood Mac & Deep Purple Concert held at the Pacific Coliseum in Vancouver, BC, Canada on Sunday, April 22, 1973.
~~~~~~~~~~~~~~~~~~~~~~~~~~~~~~~~~~~~~~~~~~~~~~~~~~~~~~~~~~~~~~~~~~~~~~~~~~~

From the Georgia Straight Magazine, April 26 – May 3, 1973 issue
Thanks to Brenda O'Brien for sharing this article
Thanks to John Wainwright for the artwork
reformatted by roryfan

201