Barry McCabe interviews Johnny Fean
(Note: See information about Barry after the interview)

---

Johnny Fean came to prominence with the Irish Celtic Rock group, Horslips, in the early 70s. Raised in the Co. Limerick/Clare area of Ireland, Johnny started playing guitar at the tender age of 10. Moving from school bands to Sweet Street he got his first experience of playing in clubs and traveling with a band. Sweet Street featured the then unknown electric violin player by the name of Joe O'Donnell and lead singer Eugene Wallace.

Joe went on to join East of Eden (UK band) and Eugene went on to record solo albums one of which featured Phil Collins (Genesis).

In 1968 Johnny teamed up with two ex-members of Grannies Intentions to form Jeremiah Henry, playing early American country, rock & blues. In 1970, he went back to playing the tenor banjo and back to Co. Clare, the home of Irish traditional music.

In 1972, Johnny joined Horslips on lead guitar, vocals and tenor banjo. Through the decade they existed, Johnny recorded 12 albums with Horslips and gained worldwide recognition as the creator of Celtic Rock guitar. After they disbanded in 1980, Johnny teamed up with drummer Eamonn Carr to form the Zen Alligators and recorded a number of soul/R&B singles. In 1984 Charles O&'Connor (ex-Horslips) joined Eamonn and Johnny to form a band called 'Host' and recorded the album 'Tryal' in Ireland.

Johnny moved to London in the spring of 1986 and has been living and playing there since then, returning occasionally to Ireland to tour. Johnny will return to reside in Ireland in 2001.
~~~~~~~~~~~~~~~~~~~~~~~~~~~~~~~~~~~~~~~~~~~~~~~~~~~~~~~~~~~~~~~
The Johnny Fean interview



Q: Johnny, it's great to talk to you again, and that you are willing to take time out of your busy schedule to share some Rory memories with us. Also congratulations with getting the rights back to your material and the re-release of the whole Horslips back catalogue. You must be happy about that?

A: Hi Barry. Thank you for asking me to share some memories of Rory, and yes it's wonderful to have everything back on track again; having recently won a long and hard battle in the Irish Courts that went on for some 16 years! So we have regained the rights to our music, our entire back catalogue, everything was given back to us.... total victory! We have control again. The entire Horslips back catalogue (12 albums) was re-mastered at Abbey Road Studios and has been re-released in CD form on the Edsel/Demon label. So, all in all, we couldn't have asked for better really.

Q: For people not that familiar with your musical past or style of playing, perhaps it might be a good idea to mention something about it here.

A: I joined Horslips, which was the original Celtic Rock band, on lead guitar and vocals in 1972. We recorded 12 albums up to 1980. My own guitar style is a fusion of blues and Irish traditional music, having learned to play tenor banjo and mandolin in my early years. I incorporated both styles, blues and Irish traditional, into my guitar playing, and Celtic Rock guitar was born! The defining moment was the 1973 hit single Dearg Doom from The Táin. It changed everything in Irish rock music...nothing would ever be the same again!

Q: What is your first recollection of hearing Rory?

A: I first became aware of him when I heard Blister on the Moon, which was his first single. I remember thinking it was great and someone had finally cracked it, and better still... it was a blues guitarist from Cork!! Rory was flying the flag, now anything was possible!! I suppose for anyone who didn't live in Southern Ireland at that time, I should explain that musically very little happened, so for the first time we had a home grown guitarist getting recognition.

Q: So do you think that growing up only about 60 miles away from where Rory grew up influenced you both musically?

A: I'm not quite sure how much Rory's Irish background would have influenced him musically, but I suppose it must have had some influence on him. For my own part, I think it possibly had a bit more influence on me, in that I was playing Irish traditional music on banjo and playing blues on guitar.

Q: Were you playing some of the same venues then?

A: I think he was about five years older than me, so he would have been playing in bands while I was still at school. When Rory formed Taste, he started to play in the Beat Clubs, as they were called back then, in Cork, Dublin, Belfast and Limerick, and gained a big following through these clubs and I did the same circuit a little later on.

Q: As you're a little bit younger than Rory, or Rory started playing a little earlier than you, was Rory already King of Munster by the time you started traveling and playing?

A: Yes, being a bit younger than Rory, I wouldn't have started playing these clubs until 1966 or thereabouts. So Rory was definitely very well established, and was the guitar hero and as you say King of Munster, certainly King of Cork, by the time I started to travel and play. At that time I was playing in a Limerick band called Sweet Street and we had an electric violin player by the name of Joe O'Donnell, who went on to play with East of Eden and in the mid 70s he collaborated with Rory. Rory guested on a track on his solo album (Gaodhal's Vision). Joe also played support to Rory on tour.

We (Sweet Thing) were playing in many of the clubs that Rory had been in, especially around the Cork, Limerick, and Waterford area. I remember there was one club in Cork called the 006 Club and this was definitely Rory's stronghold. It's strange, but at that time, I didn't see Rory play. He was starting to move to London around then I think, so anytime we came to Cork, he was away somewhere. The biggest memory I have of that time was playing support to John Mayall's Bluesbreakers at the 006 in Cork, and Mayall had Mick Taylor on guitar.

Q: So that was the connection then, growing up in the same area and playing the same clubs?

A: The connection was the huge influence the blues had on both of us really. Rory would have gotten into it before I did. I started getting into the blues around 1964/65 when I heard Muddy Waters and Howlin Wolf. Then I started to seek out as many black American blues artists as I could find. Rory must have gone that route as well.

Q: So in other words you'd have been listening to the same artists?

A: We were both definitely listening to the same blues artists. I think Rory may have gotten into the country blues artists like Son House, Blind Boy Fuller and of course the slide players like Robert Johnson and Muddy Waters a bit more than I did. I was leaning more towards the Chicago blues of Junior Wells and Buddy Guy, Otis Rush, Freddie King and guys like that.

Q: OK, having established the fact that you both were from the same neck of the woods and had a lot in common, one thing you didn't have in common with Rory is the fact that he was a Fender man and you are very much a Gibson man. Any particular reason for this fact?

A: When I started playing guitar back in the sixties in Ireland, owning either a Gibson or a Fender was something you only dreamt of. You would see guys in English bands, like Hank Marvin with this red Strat... I remember when I first saw The Shadows in a movie called Summer Holiday in about 61. I fell totally in love with Hank's red Stratocaster. So you would dream that someday you might have one. Meanwhile you had to make do with a Hofner or a Futurama!!

Rory found his '61 Strat in Crowleys' music shop in Cork. I think he bought it from some showband guy? Anyway, as the sixties progressed and I started to get into the blues I noticed a lot of the guys were using Gibson models, mostly 335s and some jazz models like T-Bone Walker with his blonde ES5 Switchmaster. To me, the Gibson's sounded fatter and warmer and raunchier somehow, perhaps bluesier. But what really did it for me and totally blew me away was when I heard Eric Clapton for the first time with John Mayall's Bluesbreakers playing a Les Paul Standard. It was an incredible sound! I had never heard anything like it, and up until then had never even heard of the Gibson Les Paul! So from then on I became totally infatuated with the Les Paul. Rory must have had his sight set on the Fender Strat from the beginning and so it would be that I would become a Gibson man upon hearing the Les Paul. I knew somehow that I could find my own sound on that guitar.

Q: So perhaps the fact that you were influenced by both Peter Green and Eric Clapton also influenced your choice of guitar?

A: Exactly! I was influenced first by Clapton, then a little later by Peter Green who was also playing a Les Paul Standard, and it was that sound that turned my head. So yes it definitely influenced my choice of guitar.

Q: I've always loved your tone as much as your solo in 'Furniture'' on the double live album, and I think the solo on I'll be waiting is a real lesson in restraint and structure. Obviously you think a lot about your solos. Did you feel Rory did the same or was it always off the cuff with him?
A: I always tried to construct the solos to suit the particular song, so I used to think about it quite a bit before I put one down on tape. On Furniture and I'll be waiting, for instance, they were slow songs, so I tried to be sympathetic towards the songs when I played the solos.

I think Rory liked to be spontaneous in his playing, so a lot of the time I think he tried to capture the moment and record it. I think also his songs called for a more spontaneous style of playing as the blues often does, to be more off the cuff as you say, although on his slower songs I think perhaps he did think about his solos a bit more.

Q: Obviously you both love the blues, although the music that you both produced and got famous for sounds quite far apart. Do you think this came from the fact that Rory moved away from home, whereas Horslips as a band stayed closer to their roots?

A: I think this may have had something to do with it, yeah. When Rory formed Taste, I think he quickly outgrew Ireland, and in order to get a proper record deal, London was the next step. Whereas with Horslips, we made Ireland our base to work from and formed our own record label (Oats) which was unheard of in Ireland in 1970. We then started to tour overseas and got a record deal with a major label which covered America and the UK, and other territories, while we retained control over the Irish record sales. So we did stay closer to our roots. We always found Ireland to be an inspiration for our music I suppose, especially with the traditional side of the band.

Q: So perhaps that fact that Rory played in Hamburg a lot when he started over in Europe might have exposed him more to the US influences of the blues than someone who might have stayed home and heard traditional music more frequently?
A: Yeah, I think when Rory started to play in Germany it must have broadened his palette a bit, and opened the door to some of the other American blues artists he hadn't encountered and perhaps allowed him to experiment a bit more, whereas if he stayed back in Ireland it may have hindered his progress and his songwriting.

Q: It's a well known fact that Germany really did become his base away from home, but a lesser known fact is that Horslips also were very popular in Germany. Wasn't Dearg Doom a big hit over there?

A: Yeah that's true. Horslips started to tour in Germany in the early 70s and quickly built up a big following when we released Dearg Doom as a single. It did become a big hit in Germany and it was played a lot in the Disco clubs, which were happening in Germany well before Britain had them. So we were quite amazed at this. We did quite a number of TV shows around this time also, in Bremen and Munich and other cities. Then we started to play the Festivals.

Q: So did you guys ever get to play together in Germany, perhaps at a Festival or something like that?

A: We played a number of Festivals in Germany with Rory. The one I remember best was in Berlin, in 1976 I think?

Q: That must have been great! What are your memories of that gig?
A: Rory was the headline act that night. He put on a great show on that one. I think it was in the main Stadhalle in Berlin and there was probably about 15,000 or 20,000 people there… and they loved Rory! A great night. It was there that I met him for the first time. It was great to finally meet Rory, in Berlin of all places!

Q: Now I find it hard to believe that two Irishmen in Berlin wouldn't try to find a bar somewhere that had a good pint of Guinness?

A: After we were introduced, we got talking and I think we sort of hit it off straight away. He asked me what I was doing, had I any plans for that night, and I said 'Not really' so he said 'Great, let's hit town' He knew some clubs that served pretty good Guinness and had some good music so that set the tone for the night…and I must say that we had quite a number of creamy pints of Guinness that night!!

Q: It must have been nice for Rory to have a friendly face from home to go out with.
A: He was genuinely very happy, I think, to meet another Irish musician, and the fact that it was another Irish guitarist made it even better, also because we hadn't met up until that time.

Q: Was the conversation only musical that night?
A: The conversation was mainly musical that night. Rod De&'Ath, Rory's drummer, was also with us, and for some of the evening Lou, the piano player. As the night wore on we got more and more into the blues and the influences we shared. We discussed Muddy Waters, the Chicago blues scene, Chess Records, Junior Wells and Buddy Guy, Otis Rush, Howlin' Wolf, Hubert Sumlin and Freddie King. Rory liked Freddie a lot. We talked about Earl Hooker; the famous slide player whom Rory said had influenced him quite a bit. His all time blues hero was Muddy Waters, no contest! It transpired that Rory and I had shared a lot of the same blues influences after all…completely independent of each other and only 60 miles apart!!

Looking back on that night, it was apparent that he had a considerable knowledge of black American blues and was able to tell me a few things I hadn't known.

Q: I can imagine that the word "Guitar" must have crept into the conversation at least once that night?
A: We also talked about the choice of guitars we both preferred, and the roles the guitars had played in the blues, as well as our own styles. One thing we both had in common at that time was the use of the Vox AC30 amp. Rory had always used them, along with Fender combos from the 50s, and I was using two VoxAC30s linked up onstage along with my 1952 Les Paul Goldtop. Interestingly enough though, Rory always used the Telecaster for his slide work, he said he also loved the 1950s Les Paul Juniors for slide work as well, and had used them. He really liked the sound of the P90 pickups they had. He also loved the Silvertone guitars for slide, with their lipstick tube pickups.

Q: Then everyone said Goodnight and went home?
A: No, no…six or seven pints later, and at the fourth or fifth club, we met a guy who was a fan of Rory's and he invited us back to his apartment. We agreed on one condition…that he had a decent collection of blues albums, and sure enough he did!! So off we went into the night once more. At this guy's apartment we drank, talked and listened into the early hours of the morning. When we parted it was about 9.30 am. Having been up all night it was time to get back to our hotels and sleep.

Q: Towards the end of his days, he showed up on quite a few more traditional albums, for example, The Dubliners, Furey Brothers, Davy Spillane, etc. Did you have the feeling that he was trying to broaden his horizons musically, or was it just getting back to his roots?

A: Actually I wasn't aware that Rory had been playing with The Fureys, Dubliners, etc. on their albums. I sort of lost touch in the 80s with what Rory was doing. But I did hear, or read it somewhere, that he had been playing with Davy Spillane. So perhaps, yeah, maybe he did want to explore the Celtic side or indeed his own Irish side that hadn't emerged in earlier years.

Q: If you had to cover a Rory song which one would it be and why?
A: If I had to cover a song by Rory, hmm, let me see… I think it would be 'Messin' with the Kid' and the reason for this is I really like the energy of that song, with the riff, and the way he sang it. It jumps out at you, grabs you straight away, you know? If I had to pick another song it would be 'What's Going On' for the same reason. I love the riff on that one. So that would be my choice of Rory songs.

Q: What Horslips song would you like to have heard Rory do, and why?
A: I would like to have heard Rory do 'Trouble with a capital T' because I think he probably would have enjoyed playing the riff on it, gotten his teeth into it, and also he would be able to sing it in his own bluesy style I think. Because Trouble leans towards a blues thing, it probably would have suited him and he would maybe have felt comfortable with it.

Q: Just recently in 'Guitarist' magazine, Rory was voted within the top 25 guitar players under the criteria of technical proficiency, role in the legacy of the blues, showmanship and quality and influence of their recorded works. What role would you say Rory played in helping the blues legacy?

A: I think the role he played in helping the blues legacy was one of bringing the music to a young white audience who weren't that aware of the blues really in the late sixties. Rory played the blues in a very exciting way and it turned a lot of people onto the blues, especially in Europe, and Rory being a white blues guitarist made it accessible to a rock audience. He helped to break down the barriers and gave people a way into the blues. He kept the blues alive and he added his own original style, left behind his own legacy that helped to expand and diversify the music.

Q: Do you think the Irish music scene is healthier now than when both Rory and yourself were starting off?
A: Well it's in a better financial position, let's put it that way. I don't think the music is healthier, it's part of a corporate world. The spark of originality that was around in the early days seems to have gone. People are churning out the same old formula, boy bands, Riverdance, whatever, as long as it sells.

Q: What were the biggest obstacles then and what do you find negative about today's music scene?
A: The biggest obstacles back then was trying to gain acceptance of our music outside of Ireland, which in the early days of Irish Rock was a much more difficult thing to do, in fact extremely difficult! Up until Rory and Horslips emerged Ireland was a backwater; nobody took the slightest bit of notice. A bit of a joke, you know? So you had to let them know you were here to stay…and you meant fucking business! What I find negative about today's music scene is the decline of live music, live bands. It's nothing like what it was in the 70s. I find the overuse of technology and DJs and dance, rap and the rest a sad state of affairs. Record companies are only interested in selling a commodity in vast quantities. No more individuality!
Q: What is your fondest memory of Rory?
A: When we parted company that morning in Berlin we planned to do it again, somewhere down the road, the next time we crossed paths at some other gig. Unfortunately there wouldn't be a next time! That was the last time I saw Rory, the two of us standing on a Berlin sidewalk, hailing a cab as all around us people rushed about to get to their daily work. I think we were the lucky ones. It remains a fond memory.
© Barry Mc Cabe (BMC) 2000

***********************************************************************************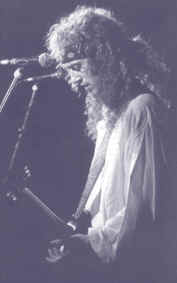 Barry McCabe was kind enough to allow me to use this interview done with Johnny Fean about Rory. Barry knew Rory for about 20 years and sites Rory as his biggest influence. His band,

Albatross

, supported Rory on his final European tour. Later, Albatross disbanded, and after a year's rest from the rigors of touring, Barry formed

the BMC Band

. Check out their website and definitely check out the Rory influenced, Celtic Blues music by the band. The live CD's smoke! Barry and the band now use his name for the group. Barry McCabe Don't miss "The Emigrant" dedicated to Rory on Barry's "The Peace Within" CD. Thanks Barry!

roryfan


The Johnny Fean website
The Official Horslips Web Site

*********************************************************************************************

reformatted by roryfan

232