---
Caught in the Act
---
Rory's Montreux explosion
by Chris Welsh
MONTREUX:  Rory Gallagher scored such a convincing triumph at the Montreux Festival it needed a bomb scare to stop the cheering fans demanding yet another encore.  Rory, confident and unassuming, not only held off fierce competition, in an orgy of acoustic guitar wizardry, from Larry Coryell and brilliant Belgium virtuoso Philipe Catherine, but also held together an all-star jam session that threatened to collapse into chaos.
The first few days of the Ninth International festival were devoted to folk, country and blues, with the jazz content due later this month.  Organizer Claude Nobs has spread out events for the delectation of the denim clad Euroteens and sprinkling of young American wanderers, who have replaced the tuxedo clad Swiss of yesteryear.
Acoustic guitar has ruled events so far, but jazz-rock reared its head at the special opening concert on Thursday that featured Billy Cobham, on the final session with his old band.  "Thank God," was Billy's own comment on the final phase of an unfortunate chapter in his career.
For, in truth, despite some bright patches, the band proved exceedingly dull, with acres of arid free form soloing that deterred even Billy's staunchest supporters.
As was evident from their British appearances, the band were fine on the written passages, "when they played the tunes," as one critic observed.  Some of their best performances were on "Moon Germs" and "Sharbazz."  When Billy soloed he showed how he has developed this facet of his playing since Mahavishnu days.  He gives more attention to space and silences, which add drama to the battering fury of his wilder attacks.  He seemed propelled from his stool in a happy rage, as he reached out over cymbals and drums.  After an intermission the band seemed to lose direction again until Larry Coryell joined in for a successful jam.
Friday folk night saw a remarkable variety of talents who supplied an exhausting stream of events from 8:00 p.m. to 5:30 a.m.  John Golding, a fine British singer/songwriter swiftly established a rapport with the audience with gentle songs and wry sense of humour.
Teaming those incorrigible rogues Danny Thompson and John Martyn is one of those rare strokes of good fortune.  Danny's resonant double bass and John's electronically processed acoustic guitar has created a unique sound.  Empathy and balance worked to produce absorbing and at times beautiful improvisations around their basic framework of themes.
Their aggressive bonhomie amused the audience.  "I don't know what you're clapping for, you ain't heard nothin' yet," said Martyn swiftly.  Delayed echo on the guitar set up delicate traceries and patterns.  Thompson's surefooted agile bass developed power, the duo context giving him complete freedom.
John's vocals, used sparingly, and guitar often submerged into can hit notes almost as deep as Thompson's bass, vocals, and bass one voice.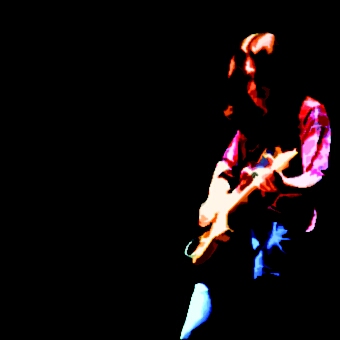 More faces familiar to British audiences followed.  Rory Gallagher, singing and playing black American blues with disarming sincerity and obvious skill.  He stood in his famed check shirt and blue jeans, singing "Too Much Alcohol," working a call and response routine between guitar and vocal on Muddy Water's "Garbage Man," and Tony Jee White's "As The Crow Flies."
It was the first time Rory has worked solo in this fashion, and although a brief experiment with harmonica didn't quite come off, his biting, slow blues earned an encore.  Rory dutifully re-emerged with mandolin and got everybody clapping along.  Cheering, whistling and stamping went on for five minutes until the bomb scare cleared the hall.  Half an hour later the show went on with sensational, self-taught Belgian virtuoso Philipe Catherine.  He played a series of classical and Spanish improvisations at blinding speed using homemade tapes of himself as accompaniment.  It would have been difficult for Segovia to have followed.  But Coryell and Steve Khan were determined not to be outdone.
With Khan chording and Larry picking out a hair-raising lead line, they hurtled through "Stiff Neck," and a piece dedicated to Rory, "General Tojo's Well Laid Plan."  Coryell soloed alone on a 17th century saraband, Philipe Catherine chortling backstage at his awesome skill.  "Run," called Larry as the duo returned for a tear away Wayne Shorter tune, with the pair swapping fours.  After a speedy version of Chick Corea's "Spain," the stage was cleared and amplifiers set up.  It was time for the jam session.
Out trotted the most unlikely collection of guitarists ever assembled sans rhythm section.  John Martyn stood with his back to the audience; Larry Coryell organized, but seemed determined not to hog all the solos.  Rory was steadfast at the rear.  Philipe and Steve up front.  It was supposed to be Herbie Mann's "Memphis Underground," but for several minutes the guitarists found it extremely difficult to find a common riff.  With no drummer to help out, the great meeting seemed in danger of becoming a farce.
Eventually, Rory stepped up to the microphone and to cheers of relief, laid down a rocking blues.  He tried to sing but the PA wouldn't work.  Larry started to help out, but broke a string.  As he desperately fixed a new one, Rory launched into "Good Golly Miss Molly."  Then came a surprise.  Organizer Claude Nobs stepped up.  Everyone expected him to call the jam to a halt.  Instead he produced a harmonica and began wailing the blues.
The piece ground to a halt after half an hour, and Larry and Rory launched into a beautiful slow blues with the pair trading breaks.  For all Larry's speed, Rory just couldn't help but wring real feeling from his battered old guitar.
The following day country and folk fans thrilled to the sounds of Tom Paxton, Country Gazette, Loudon Wainwright and the David Bromberg Band.  And on Sunday it was the turn of the Cousin Joe, the Chieftains and Alan Stivell.  It was all too much for one man to take, and I've got banjos ringing in my ears. 
_______________________________________________________________________________________________
From Melody Maker – July 12, 1975
Thanks to Brenda O'Brien for sharing this article
artwork by John Wainwright


 210