Seventies Recollection –

Rory Gallagher
For being a blank week in the calendar of my life till then, the one starting with that famous fucking Monday February 14th 1972 was - musically speaking - very remarkable. Taking off with the unforgettable VDGG's performance at the Space Electronic club in the heart of the town of Michelangelo on Monday and subsequently landing with Groundhogs's less than inspired blues set on Friday 18th, the week reached its peak Thursday 17th with The Rory Gallagher Trio live at the club. The place was packed, and the atmosphere still charged with the excitement VDGG left behind them. Rory is a people's choice. In the previous weeks the club's artistic director, the 20 year-old Jerry Gherardi, went around the ballroom asking the most die-hard fans for suggestions about whom to choose between the Irishman and the sensitive four-piece outfit from Charisma Label. The answers he got left very little room for imagination. For instance, I replied to his question with a sample of my two-word philosophy: 'Book both!'.

He did that.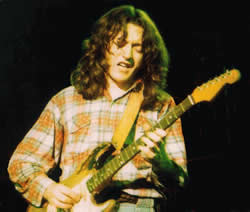 Florence's rock community loved Rory's first two solo albums ('Rory Gallagher' and 'Deuce'), and Taste's 'Live in Montreaux' was never too far from the local boys' turntables. His coming was warmly welcomed.

And so, here we are again, out of the pouring rain and the mediocrity of a well-mannered city living on its past, with no so much hope in any future (Florence's future is represented by its past - please take note!) and no rock & roll stories to be told. Not yet, at least. Not until this week, that is. All this because for the second time in just one week we are here again into our future rock & roll life! Tonight, 4 days into the week that changed our lives, we are beginning to get accustomed to the real rock & roll life. Thanks to VDGG, Rory Gallagher and The Groundhogs.

And now, ladies & gentlemen, it's showtime for Mr. Gallagher!

Rory is a very easy-going guy. No frills, no star trip, just a plain good ol' chap from Ballyshannon, Donegal, Ireland, ready to chat, crack a joke and laugh - and he loves football (I mean the game otherwise called 'soccer', not its rough Gaelic version). I meet him in person in the glorious loo of the club (any historical rock club in the world must have a glorious loo· ) just 15 minutes before the gig, pint in hand, chatting with a few local boys that, a little apart from the rest of the crowd, are passing around a spliff. I'm offered a toke, but I politely decline saying I'm too young; actually, though, I decline mostly because my head is still somewhere else in time and space since Van Der Graaf Generator's sonic attack of just 3 days ago. Being there next to him, I realize his voice sounds exactly as on his eelpies, which makes me think that choosing a Marantz 30 w amp and an Akai AP 001 as turntable with handmade 3 way speakers as new home stereo equipment (X'mas 1971 gift from my parents) was not so bad an idea!

Tonight's opening act is a still-unknown Roman 'progressive rock' band born just a few months ago and whose atypical name - Banco del Mutuo Soccorso - means nothing to me. Their lead singer is a funny, grossly overweight, bearded guy who looks like he's straight out of a Fellini movie (I'll discover later that Francesco Di Giacomo has actually worked with Fellini, as an extra in 'Roma'!). Their music is well rehearsed and textured, a little bit odd but fascinating. Within 6 months their debut album will be in the uppermost part of the Italian chart. Tonight people applaude them politely.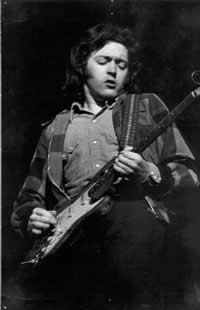 Now it's Gallagher's time. The three-piece outfit formed by him, Gerry McAvoy and Wilgar Campbell walk on stage cheered by a noisy and happy crowd which launch themselves in a 3-minute long stadium chant and rhythmic handclapping before the band hit a single note. The happiness of the local rock community psychs Rory up, and for the next 90 minutes the Irishman and his cohorts rock hard in a set not too different from the 'Live In Europe' album (I recall noting a Revox tape recorder next to the primitive mixing board), with crowd-pleasing, applause-raising faves such as 'Messing With The Kid, 'Bullfrod Blues, 'Laundromat, 'In Your Town', 'I Could Have Had Religion', 'Going To My Hometown'. Rory best kept secrets are simplicity and humility. He is one of the hardest-working men in the show business this side of the Ocean. He is positive and knows how to connect with a new audience. Simply great!!! Gallagher & Co., with the smallest set of equipment I've ever seen in my life (it fits in a canary yellow, battered Citroen 2CV, as I'll find out later on that same summer when I'll see the band again on Sunday, July 23rd, at the glorious Piper Club 2000 - now Caprice - in Viareggio), produce a rock-blues wall of sound which makes you beg for more and more and puts you in an exceedingly good mood. This is the so-called 'feel fine factor' - every artist should have one! At the end of the third encore Rory thanks the crowd and says goodbye, but it's immediately clear to him that the kids want more. And so, tired but still smiling, risking to fall from the high stage, he's back for a last number, a slow acoustic blues which closes down an epic night.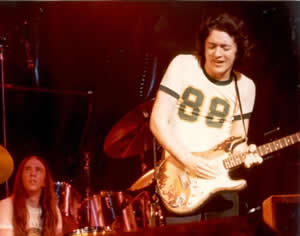 In the years to come this concert will be regarded as a highly influential one by the next generation of Florentine rock musicians, assuming a mythological status in the history of rock music in the town of Michelangelo. I mean, if all those who say they attended the show had actually been there, only the local ballpark (and not the relatively tiny Space Electronic) could have accommodated so many people!

When, 22 years after that night, I met Rory again, after a rousing show at the Pistoia Blues festival, his music was the same, but he was very different. He looked tired and bloated. On that occasion I showed him a photo taken at the Space Electronic. He smiled politely, trying to hide his physical pain - maybe his sadness too.

He died within less than one year, on June 14th, 1995. Death don't have no mercy.

Ernesto de Pascale
Firenze June 16th, 2002
****************************************************************************************
The review was taken from:
Il Popol del Blues (The People of Blues) http://www.ilpopolodelblues.com/rev.html
Thanks to Claudio Vanzettor for passing it along
reformatted by roryfan

234