CORK & DUBLIN AREA TRIBUTES
JUNE 2003
---
CORK
Rory Gallagher Square
June 14, 2003
Open Air gig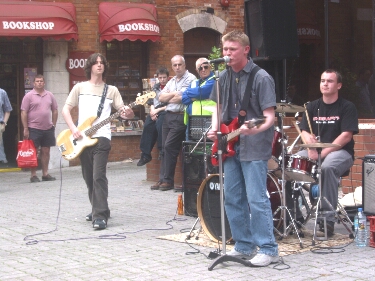 STAGESTRUCK, a group of 18 year old
musicians from the Cork area in action.
The band is headed by guitarist
Brian Tambling......watch out for this guy!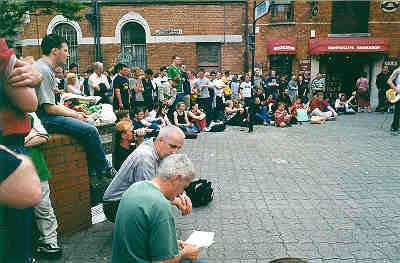 A crowd of about 250 enjoy the action.
Organizers, Tony Moore and Pete Somers pictured
in the forefront

---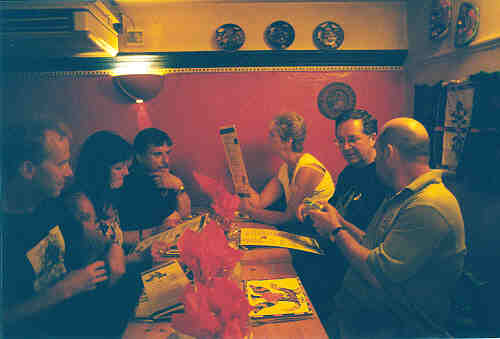 A group of 8 Loop members went to dinner at a Mexican restaurant in Cork.
Where else would you go for Mexican besides Cork?!
The members came from 6 different countries.
Clockwise:Gareth Williams (Wales), Unni Williams (Norway), John Ganjamie ( US),
Laurie McGuire (US), Phil Redshaw (UK) and John Spreckley ( Australia).
Not pictured...Irene ( Laurie's friend from Ireland) and Barbara Ganjamie (US)
.

Rory's global appeal at work
---
The wrap up of the weekend.....a two band finale
at the 2 Mile Inn in Midleton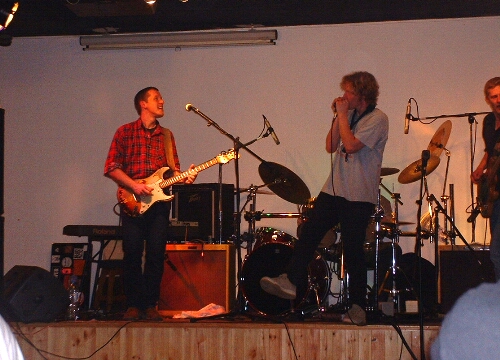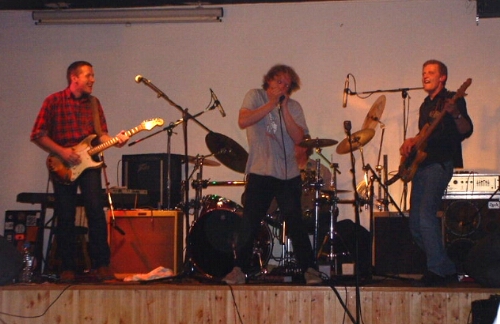 Brute Force & Ignorance opened the show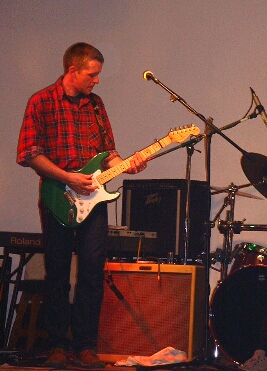 Marcus broke a string...within seconds Volkhard from the Loop
dashed to the stage to loan his green Strat to keep the show going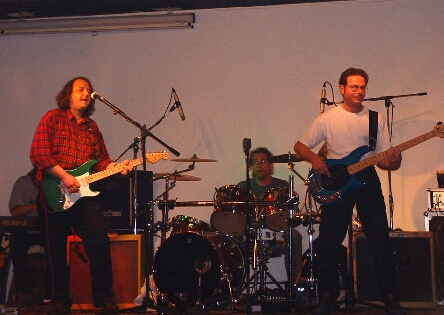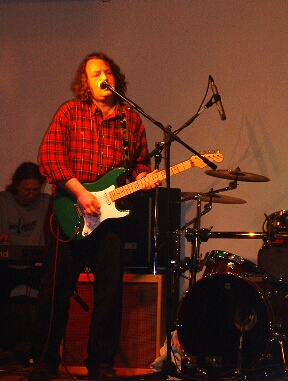 The Loop followed BFI to the stage Volkhard at work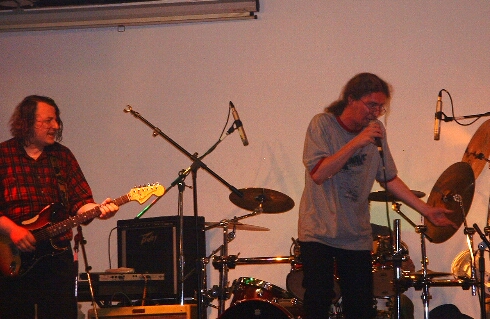 Jan takes over the vocals
Loop Members at the 2 Mile Inn & Meeting Place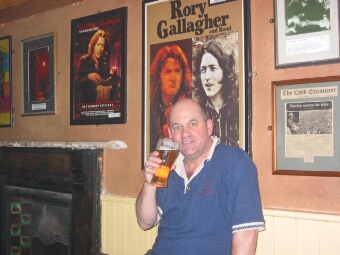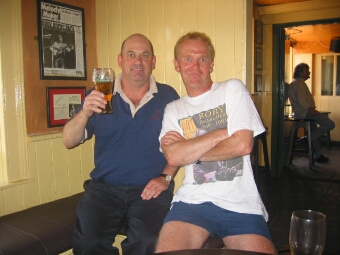 John Spreckley from Australia John Spreckley & Gareth Williams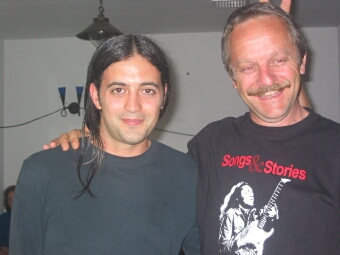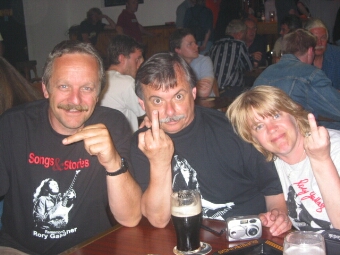 Stefanos (Greece) and Saxo ( Holland) Saxo, roryfan and Barbara G salute
the photographer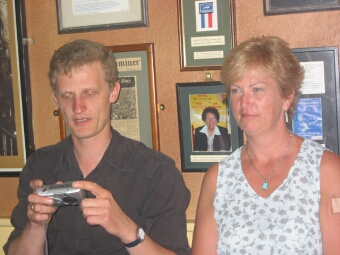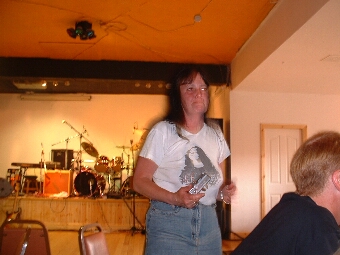 Thomas (BFI) & Laurie McGuire Unni Williams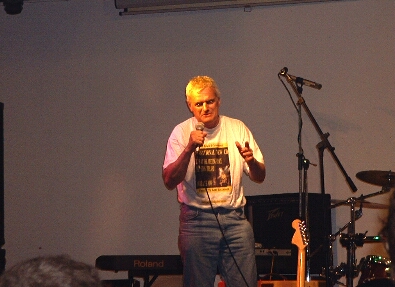 Tony Moore puts the finishing touches to the night
---
THANKS TO GARETH WILLIAMS FOR MANY OF THE PHOTOS POSTED ABOVE!!

---
Photos from Cork sent by Phil Redshaw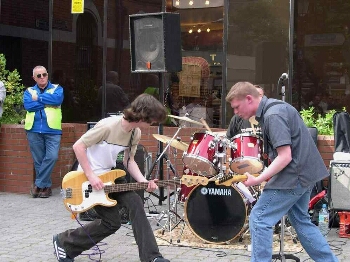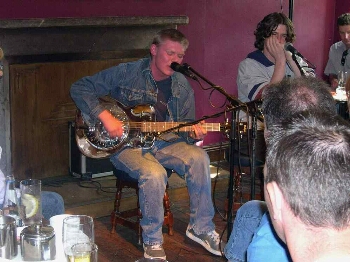 Stagestruck at the open air gig in Cork Brian and Rory at McDaid's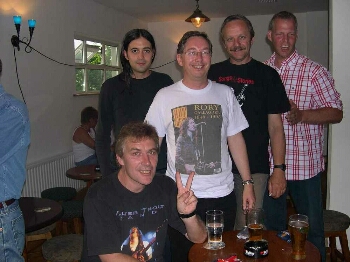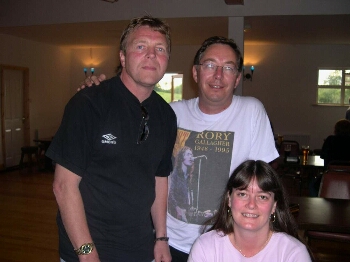 Back row: Stefanos, Phil Redshaw, Saxo, Peter Stoudt Phil Redshaw with Robert & Paula Jones from Cardiff
Front: Tony Watson ( formery of New Zealand)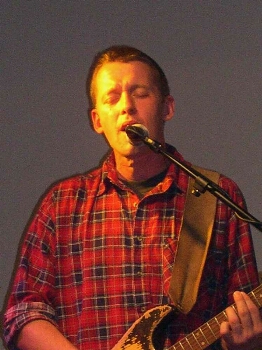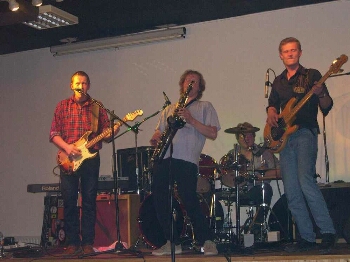 Marcus of BFI BFI at the 2 Mile Inn


---
DUBLIN
A TASTE OF RORY took Dublin by storm with a R.G. commemorative gig on Friday, June 13th.

The band (Deko Kennedy (gtr/vocals), Paul Moore (bass), Rod Quinn (drums) and Dick Farrelly (keyboards)] started the night as a three piece, playing music from the TASTE era ( e.g. 'Mornin' Sun', 'Whats goin On' etc.) to a wildly appreciative audience.

An acoustic set followed, including such gems as 'Out on the Western Plain', but the real highlight of the show was an original, penned by Deko, recounting his first visit to Rory's grave in Ballincollig. There wasn't a dry eye in the house...

The third part of the show was done as a four-piece, and included such classics as 'A Million Miles Away', 'Walk on Hot Coals', and finished up with the 'anthem' - 'Bullfrog Blues'. Encore after encore followed, with fans dancing and screaming for more. As one fan put it: "Taxi? - I could RUN home!!!"

A TASTE OF RORY continue to break new ground, spreading the message of Rory to fans, old and new ( the amount of young fans at the gig was a welcome sight!). The band are planning a tour of Holland in August ( details to be confirmed) and look forward to touring the rest of Europe in the near future.
Contact: atasteofrory@hotmail.com