Caught in the Act
Rory's Night of Triumph
by Jeff Ward
We were waiting for it, the Grand Slam, the big push, that unique moment when we'd hit the peak, explode, go over the edge together, it didn't matter where to: elation, hysteria, just to lift London's shivery Rainbow Theater right off this planet of woe, if only for a while.

We knew it was coming, it had to. It did, it led to a massive triumph for Rory Gallagher, who played forty minutes of encores. I've see Rory quite a few times over the years, but never a reception like this one, not since Taste days anyhow.
The stage had to be guarded through four standing, stamping ovations — and the buzz got deep down into Rory to dislodge some magnificent playing. It really made you feel good inside to see him go down like this. It all suggested we were witnessing another turning point in his career: that he'll supplant guitar greats who've had their day and do much to influence and energise rock in the mid-Seventies.
The gears shifted, the push came during 'In Your Town' which was to have been the final number. He's restyled this now to include a section where he 'machine-guns' the band — he bounced bodily off a big chord and made a backward run across the stage, there was a surge of power and the group was steaming like a giant piston, rocking really hard. Rory was using bottleneck on his old Strat and scat singing in time, ending the number with a Townshend-like leap in the air.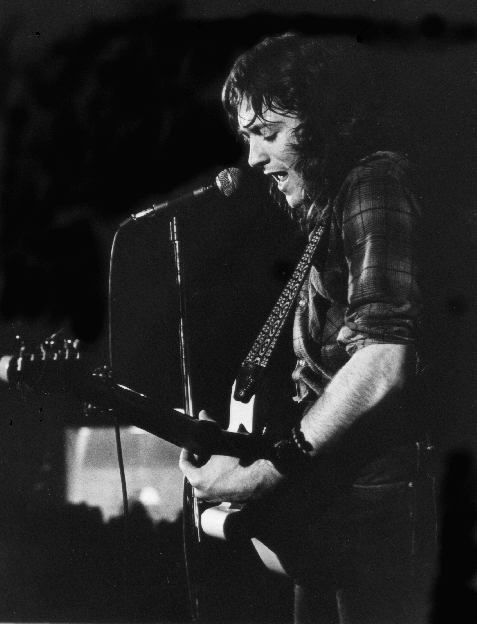 Everyone got up and called him back for the first of three great encores. 'Bullfrog Blues' featured sizzling bass and drum solos from Gerry MacAvoy and Rod deAth and the crowd in full throat shouted back 'Yeah, yeah!' to Rory's vocal lines. Then there was "Sleeping On A Clothes Line" which got five minutes solid applause before Rory decided to come back for 'Laundromat'.
The crowd wouldn't have taken no for an answer, and after all, Rory hadn't been in town for many months, around nine in fact. He pumped all he had into 'Laundromat', neither he nor the band showing any signs of flagging, the pressure mounting if anything, especially in the slashing, high-register guitar solos.
It's hard to communicate the feeling that seemed to be aroused in the audience, but maybe love for the artist wouldn't be setting too high a distinction on it. The atmosphere had been intense from the start. Rory had begun in a particularly bluesy mood, playing some of his older material alongside 'Tattood Lady' and 'Cradle Rock'from the new album to act as contrast. Lou Martin pummeled the electric piano with nice snappy solos his nose right down to the keyboard, while deAth's composed drumming seemed to get the band hanging loose.
'A Million Miles Away' came up too, vigorous and with bustle and then he switched to acoustic guitar for a Tony Joe White number, 'As The Crow Flies' and using bottleneck got a good jangly streetsound.
He did -'Pistol Slapper Blues' and then went into his usual mandolin stomper 'Going To My Home Town' followed by 'Who's That Coming', another new one, bottleneck solos showering from the Telecaster like splintered glass. It was all-round excitement from Rory, the complete live performer.
As one might have expected, Strider who were in the support spot, were over-shadowed. They gave out a lotta energy especially in 'Higher And Higher' where there was a speedy drum solo from Tony Brock, and impassioned vocals from pianist Ian Kewley. Guitarist Gary Grainger has a certain stage presence and a smooth though forceful style: he could be a man to watch.

---
This review is from Melody Maker 12/15/73
Thanks to Mark Stevens for passing it along


reformatted by roryfan




136
added 1/21/06