How do I start this page?
There is so much that could be written, but I'll leave that to the people who do it far better than I do.
(see the bottom of this page!!).
I'll make it a simple, heartfelt 'THANKS A MILLION' to Seamus Kelleher for investing his time, energies, money and favors owed into bringing this wonderful event to the U.S. It may not be so clear to the fans around the world, but for all the tours Rory did in the States, he was never given the attention or airplay that he should have. There are a lot of fans here, but they are spread all over this continent and I never dreamt this would ever happen. Seamus had this idea burning inside, decided it had to happen and managed to put together a first class night for Rory.
Thank you Seamus, ALL of the terrific performers, Alan Pepper of the Bottom Line, all of the great fans (especially my friends from The Loop), Donal Gallagher and the owners of Puck Fair for making this a night to remember.
And, most of all, THANK YOU RORY GALLAGHER.
John and Barbara Ganjamie

---
SONGS and STORIES
Remembering Rory Gallagher
The Bottom Line
New York
October 23, 2002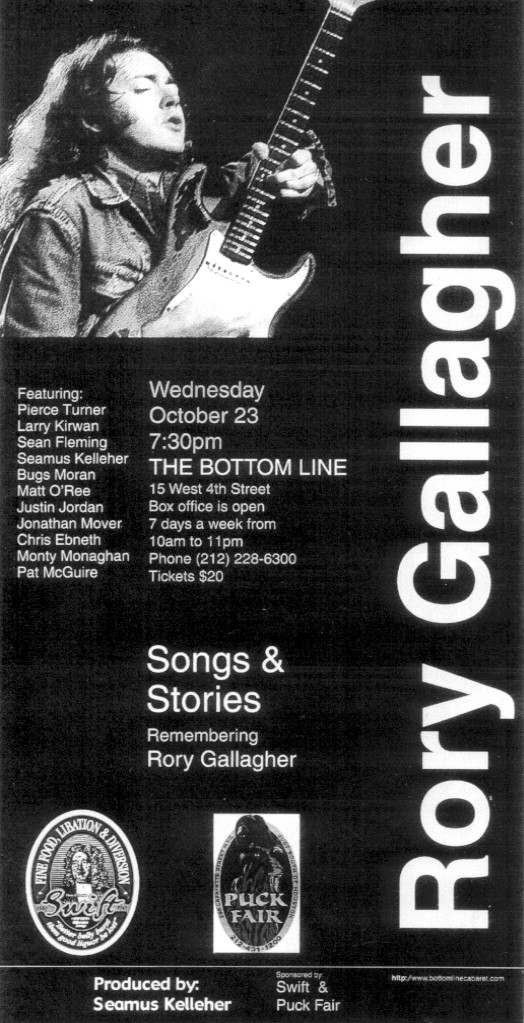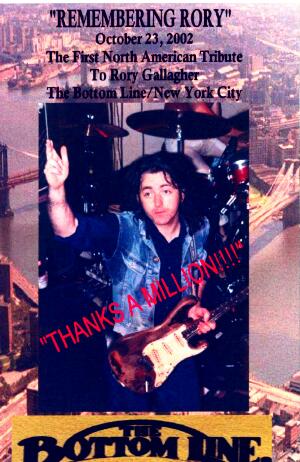 Souvenir made by Charlie Gili
Photos from the Tribute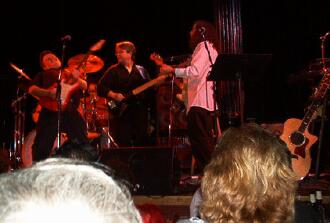 Seamus Kelleher, Chris Ebneth and Justin Jordan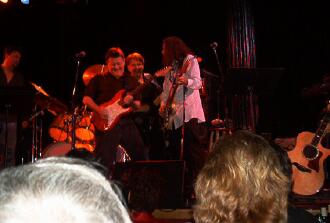 Seamus Kelleher, Chris Ebneth and Justin Jordan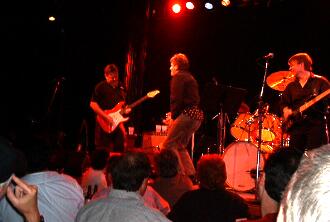 Seamus Kelleher, Pierce Turner & Chris Ebneth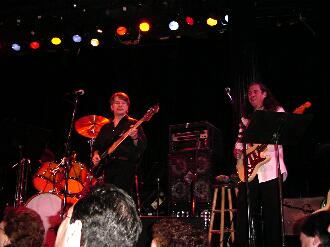 Chris Ebneth and Justin Jordan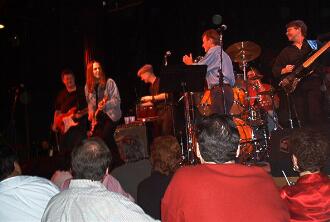 Seamus Kelleher, Matt O'Ree, Larry Kirwan, Sean Fleming, Chris Ebneth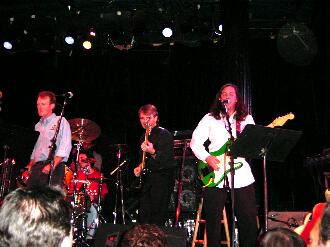 Sean Fleming, Jonathan Mover, Chris Ebneth, Justin Jordan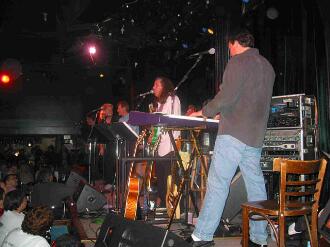 Justin Jordan and Brian Moran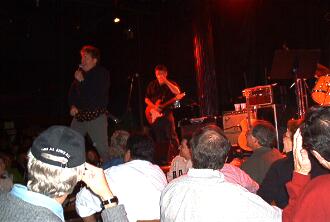 Pierce Turner & Seamus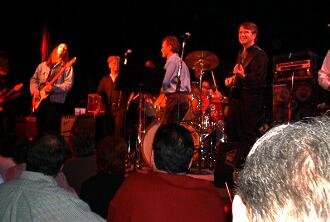 Matt, Larry, Sean and Chris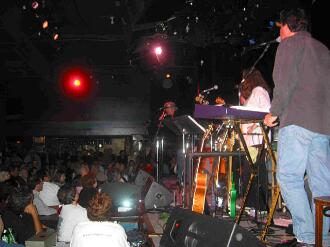 Donal addresses the crowd

---
Fans at the tribute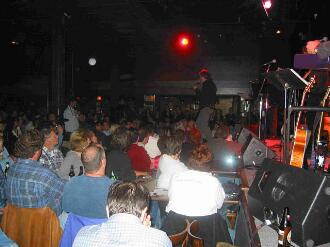 Some of the Crowd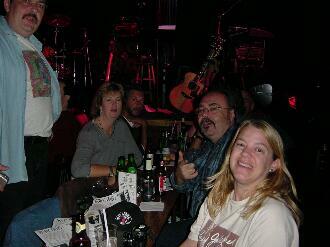 Neil Christman, Laurie Meguire, Vince Rampino, Ed Christman, Barbara Ganjamie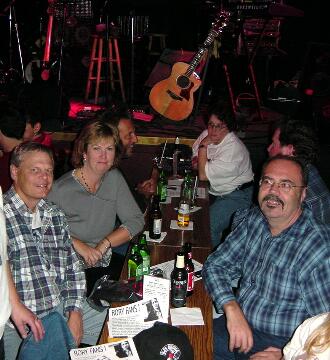 Doug Pugh, Laurie Meguire, Vince Rampino, Paula Warner. John Murphy, Ed Christman
---
The after tribute party at Puck Fair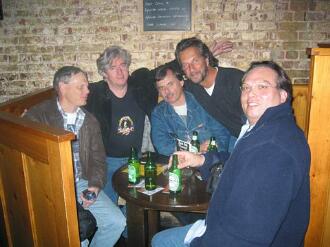 Doug Pugh, Donal Gallagher, John Ganjamie, Vince Rampino, Bert Dros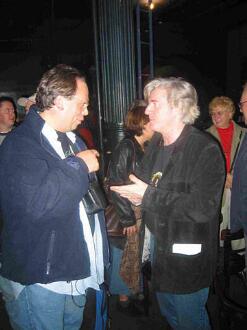 Bert Dros and Donal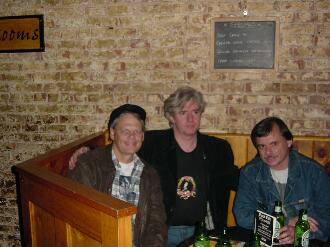 Doug Pugh, Donal Gallagher & John Ganjamie
---
Photos with TAN CAPTIONS sent by Neil Christman
Photos with GREEN CAPTIONS sent by Doug Pugh
Photos with PURPLE CAPTIONS sent by Bert Dros
Thank you all
---
"Remembering Rory" by C.P. Warner
Observations on the Bottom Line Tribute Show
23 October 2002
As I sat wedged against the stage at the Bottom Line on the night of the show, admiring the guitar arsenal of Justin Jordan, and downright coveting his steel-body Dobro, I couldn't help but think of the sheer irony of one small detail.
Just about a year ago, when my very first round of Rory Gallagher CDs arrived in the post and I wilted on to my sofa to listen to them, I had a real blinder of a headache, and a broken elbow, and was feeling mightily sorry for myself.
This night found me recovering from a couple of ankle sprains, cautiously maneuvering my way around with a cane and, once again, I had a real blinder of a headache. However, I also had a very firm belief in Rory Gallagher's power to reach out from beyond the grave and take the pain away, just as he had done a year before.
I was not disappointed. Gallagher's spirit was present in the room, very nearly tangible, and inspired a diverse group of musicians to do him proud. Suffice it to say, it wasn't too long before I forgot all about that headache, thanks to Gallagher's wonderful music (and a little extra protein from a not-half-bad Bottom Line cheeseburger).
Whose toes could fail to tap along with the sheer ebullience of Larry Kirwan's "Messin' with the Kid"? And who could not marvel at "Out on the Western Plain," especially when considering that it took three accomplished guitarists to recreate what Gallagher himself played solo in countless live shows during his too-short lifetime?
Matt O'Ree, a young guitarist from New Jersey, evoked Gallagher in both musical skill and physical appearance. Small in stature, with long, straight hair framing an angelic face, clad in simple denim, he took the stage with complete confidence and revved up from zero to sixty in a nanosecond. He displayed the same intensity and focus typical of a Gallagher performance, paying noble tribute to Gallagher, but never becoming his clone. O'Ree's renditions of "Moonchild" and "Laundromat" smoked, and the audience was delighted to have him return at the end of the evening, for the encore performance of "Bullfrog Blues." I've a feeling we'll all be hearing a great deal more about this fella in the coming years.
To learn more about Matt and his music, please visit: Matt O'Ree
Also compelling was Justin Jordan: he of the aforementioned arsenal I wish I owned. I was fortunate to be seated directly in front of him for the show. He was a pleasure to watch, as well as to hear. His slide work, an element that must come into play when any guitarist seeks to honor Rory Gallagher, was excellent, and I also found his personal Gallagher story especially moving.
Some years before, Jordan and a friend sought to attend a Gallagher concert in Boston, with just one ticket between them for a sold-out show. There was not a spare ticket to be had anywhere, for any price: not even from "unofficial" sources. When all hope seemed lost, whom should they encounter but Gallagher himself? Upon hearing the tale of their dilemma, Gallagher advised Jordan: "Give the ticket to your friend." He then handed his guitar case to Jordan and said, "Follow me." Problem solved, and a young musician further inspired by his hero's unforgettable kindness and generosity.
To learn more about Justin and his music, please visit: Justin Jordan
Other highlights of the evening included Sean Fleming's beautiful, plaintive rendering of Gallagher's signature anthem, "A Million Miles Away," and Seamus Kelleher's humorous and masterful "Banker's Blues." The latter drew some audible chuckles from the audience at the wry delivery of lyrics such as: "If you've got money in the bank, don't let your woman draw it out, 'cause she'll take all your possessions and then she'll kick you out."
To learn more about Seamus' band, Blackthorn, please visit: Blackthorn
To learn more about Sean Fleming, please visit: The Sean Fleming Band
It was Larry Kirwan, though, who forced us all to look at both sides of Rory Gallagher's life and music. Kirwan, in his usual style, presented all aspects of the picture in a bluntly honest way, and reminded the audience that this prince of a man suffered some intense struggles in his lifetime, with alcohol, and with his own psyche. Especially in the last years of his life, Gallagher was unable to see, or believe, how much he was loved and respected by others. He withdrew into himself, to be overcome at last by his own sadness, compounded with the physical damage done by a deadly combination of the drink and prescription medications.
Kirwan documented Gallagher's joyous beginning and tragic end in a three-song nutshell: "Messin' with the Kid," his own tribute song, "Rory," and "Too Much Alcohol."
This was the first time I had ever seen Kirwan perform without an electric guitar strapped on. He did use an acoustic for "Rory," but for the other two songs, he relied on the other fellas in the band for a solid, driving back-up, and tore into the vocals, dancing wildly and slinging the mic stand around with great vigor: a most exciting performance.
To learn more about Larry and his music, please visit: Black 47
Towards the end of the night, just when I thought things could not possibly get any more sublime, Pierce Turner, rumpled as an unmade bed, appeared on stage with an acoustic guitar. The soft, simple riff he began to play was no Gallagher tune, but rather a Turner original about Gallagher, composed just a few days before. It began with: "Rory Gallagher bought a cheap guitar," and ended with something like: "we didn't know you'd die so soon." I wish I had had a piece of paper handy to jot some of the other lyrics down for posterity. I've forgotten them now, alas! But it takes me more than one hearing to get lyrics into my head, anyway. What I do remember is that the song moved me to tears and left me speechless.
To learn more about Pierce and his music, please visit: Pierce Turner
Seamus Kelleher is to be commended for putting together such a well-organized, well-executed event. There was some talk of making the tribute show an annual event, and I hope this will come to pass. It certainly got off to a fine start with a sold-out house. These shows don't just serve to keep Gallagher's name and memory alive; they enable a damn fine group of musicians to showcase their own expertise, and honor a worthy inspiration.
And, lest we forget -- in a display of generosity worthy of Gallagher himself, every single one of these fine musicians volunteered their time to participate in this event. This included rehearsals as well as the show -- a truly awesome gift to everyone who attended, and loving tribute to a kind, beautiful man.
It was also a privilege and an honor to meet Donal Gallagher, who journeyed from England to attend.
I have no doubt that Rory Gallagher, in his corner of Heaven, is aware…and smiling as he feels the love that flows towards him on a never-ending "crest of a wave."
30 October 2002
from Paula's Rory's Corner web page

---
This write-up comes from the Irish Voice after the tribute. Thanks to Charlie Gili for bringing it to my attention and thanks to Seamus for getting the Ok to post it to this page.
Crowd Roars for Rory by Mike Farragher
AS YOU walked into the murky confines of the Bottom Line last Wednesday night, you could feel the presence of Rory Gallagher in the room. His spirit seemed to tango with the plumes of smoke that hung in the air over the bar on this cold autumn night. From the corner of my eye, I spotted the impish Larry Kirwan of Black 47 holding up the other end of the bar. After greeting me with a warm handshake and a hug, he asked me to join him in a whiskey.
"No, I'm working," I said.
"So am I," he cackled, finishing the contents of the tumbler and hopping behind the stage.
Gallagher had played this Manhattan music mecca at least 10 times during his legendary career, and now the Big Apple was set to pay him back for the great memories. Led by Seamus Kelleher, the lead guitarist for the Philadelphia powerhouse known as Blackthorn, a group of Irish transplants stormed the stage and paid homage to the blues great during "Rory Gallagher: Songs and Stories." Though he has been dead for years, Gallagher greeted the crowd and kicked off this memorable evening.
"Good evening, Bottom Line," he chirped over the PA system as a collective chill ran up the spines of the adoring crowd. The snippet was taken from an old WNEW radio broadcast in 1976. Kelleher appeared from behind the heavy curtains toward a podium, and was greeted with rapturous applause.
"People who loved Rory needed a forum to remember him," said Kelleher about the goal he had in mind when producing the show. "I want to introduce some younger folks to his music and at the same time pay homage to someone who has had a profound impact on my life. When I first met Rory in Galway, it was like seeing God. He was so kind to this young guy, and helping young people is a mantra for me now. It's how I live my life."
Gallagher's kindness and interest in young guitarists inspired Kelleher to be a college professor at NYU, and his lecturing skills came in handy as he offered an informative history of Rory's life and career. This would prove to be the last reverent moment of the evening, as the musicians soon took the stage and tinkered with Gallagher's body of work like a rabid grease monkey in a junk heap.
Too often, the shoddy productions of Taste and Gallagher recordings sound moldy and dated. The bad equipment and production used to capture Rory's performances on record border on the criminal, and Rory's phrasing at times can sound like a psychedelic trip through granddad's record collection. Tonight, the band oiled Gallagher's melodies by injecting modern Mississippi mud and Kansas City grease. The roadhouse swagger of "Sh*tckicker Blues" was as mean as "A Million Miles Away" was sultry. The latter featured Sean Fleming, who sprinkled green Celtic dust onto the blues grooves with marvelous results. Fleming also sat in for a great Celtic take of Leadbelly's "Out on the Western Plain." This was a song that Rory made his own during his live shows, and tonight's rendition had an earthy prairie vibe that was aided by a bodrhan and a tin whistle.
Matt O'Ree, an axe slinger from the shores of Jersey who bears a striking resemblance to Rory, tore into a raucous version of the classic "Laundromat." With eyes closed and the neck of his guitar pointing skyward, he seemed to channel the energy of the blues great as he played the fiery riffs that would become one of the evening's many highlights.
While O'Ree may have been the best guitarist in the place, Brian "Bugs" Moran was clearly the brightest star behind the microphone. His scratchy, broken-glass vocals stole the show during "Wayward Child." If it sounds like I can't make up my mind about the highlight of the evening, it's because there were too many of them to keep track of. Pat McGuire's brawny vocals during "Brute Force and Ignorance" were pure bliss, and Kirwan's brave attempt at the blues during "Messing with the Kid" was priceless.
The program turned serious again when Donal Gallagher, Rory's manager and brother, took the stage to present Kelleher with a recently issued commemorative stamp of his sibling. The lump in the throat stayed as Pierce Turner took the stage with his acoustic guitar and a new heart-tugging song about his hero. "The thunder came from superboy/A fire contained was now in rage/A bolt of blue came from the stage/And Rory roared like a lion uncaged/And in the end/Rory went so quick/ I'd only heard that he was sick/The obituary wasn't big/It seemed so small compared to his/Contribution/Rory Gallagher gave the world his life/I paid a pound he made me fly."
"I was asked by Seamus to write the song last week," said Pierce of the song "Rory Gallagher" after the show. "I felt like I wanted to take on the challenge, and the song just sort of wrote itself very quickly. It was strange, almost like Rory helped me write it."
The evening ended on a high note, with the full roster ambling onstage for one celebrity impromptu jam that blew the roof off the Bottom Line.
"This was the high point of my career so far," said a clearly pleased Kelleher after the show. "To see the reaction on the faces of the people brought chills to me. I was so nervous that I thought I was going to be sick before the show. Once I got on stage I felt such a wonderful spirit in the audience. As the night went on and I heard the audience get louder and louder I felt that this was indeed a special night. It took me over an hour to get out of the Bottom Line because folks wanted to talk about the show and how it moved them."
As the sweaty crowd headed out the door into the cool night air and over to the after show party at Puck Fair, I caught Donal Gallagher staring at the stage.
"This was an incredible night," he said, his eyes moistening slightly under a mop of wavy grey hair. "I was a bit apprehensive about coming here, you know, because I always used to love coming to the Bottom Line to watch Rory play. This is the first time here without him. But to see these artists play and see Rory's influence on them, it was just an amazing experience. Rory would have loved this."
You would have loved this, too! If you had trouble getting into this sold-out gig, fear not! The entire evening was filmed, and Kelleher is mulling over plans for these tapes. Additionally, he plans on doing another concert to honor Gallagher, and he has a vast body of work untouched to work on. He's not done "messing with the kid," and we should thank our blessings for that.
Irish Voice

---
Thanks to the Victoria Warne Band for doing a special Rory set that night at their show in New Jersey. They do quiet a few of Rory's songs as part of their setlist.
There are clips of a couple of Rory songs on their website
The Victoria Warne Band
---
some related links
The Bottom Line
Puck Fair
---