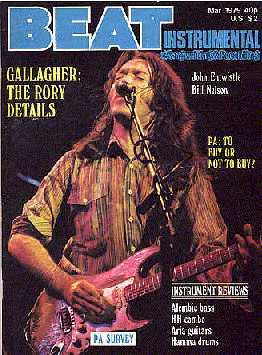 GALLAGHER : THE RORY DETAILS
RORY GALLAGHER
A career and equipment profile
by Adam Sweeting

---
I lost count of the number of times men in check shirts spilt beer down me. Elderly blues and rock and roll music thundered over the PA. It got hotter. No, not a lumberjacks' benefit gig, but Rory Gallagher at the Marquee. There was genuine excitement in the air.
Gallagher must get sick of being called "a trooper" and "a gent'', but both comments are fair. The bloke always seems to be touring, and he won't short-change his vociferous following under any circumstances. Take his Birmingham Town Hall gig some three years ago, when his band got stuck in motorway fog at Watford Gap. Rory takes up the story:
"I was panicking at the Hall, or the promoter was, I should say, and we had a choice of sending everyone away or doing something. So I said I'd go on and do a 45 minute acoustic set at least, with an announcement that if the fans came back a couple of weeks later the whole band would be here."
As luck would have it, a piano-playing mate of Gallagher's bassist Gerry McAvoy was in the Hall that night, and needed no encouragement to tickle the ivories while Rory played some electric guitar. The further arrival of Rory's brother — "he can just about keep a beat on the drums" — led to the three playing "a bit of a set". The incident is typical of Rory Gallagher, and it goes some of the way to explaining the loyalty of his fans. "It's one of those 'The show must go on' things that crop up once in a while", Rory said. "You have to do that, it's experience."
But on top of that, there's Gallagher's ability to ignite an audience. The Marquee gig was a case in point. He'd just completed three nights at the Hammersmith Odeon. but showed no sign of metal fatigue. Right from the shriek which launched the opening "Shin Kicker", Gallagher summoned enough energy to keep him bouncing and strutting across the stage for two hours. Predictably enough, he was dragged back for numerous encores. He seems to regard his prolonged hyper-activity as perfectly normal.
Independent
"I'm one of those guys who feels that music gets better for being played live and in front of good audiences, bad audiences, in different cities — not under stress by any means, but it's not as if we did one gig every year in a very plush hall, this kind of recital attitude. That's why I like Muddy Waters and people like that. They just go out and they play under odds, inasmuch as they don't know what the club's gonna be like or the hall's gonna be like, they just keep on doing it. But that's not unusual in rock and roll, I mean I'm against this system that you should be a huge pop star by the age of 25 and then click, that's it, your retire. it used to be the system that you'd end up at the Talk of the Town or on the Des O'Connor Show or something. I think, particularly anything connected with the blues or rhythm and blues..... gritty music improves with age, it improves by playing it, whittling it down, understanding the music.
So can we expect to see a wizened old Rory Gallagher playing the blues well into the 21st century? I wouldn't be surprised. On his latest and very listenable Chrysalis album, "Photo-Finish", he's written a song called "Last Of The Independents", and apparently I wasn't the first person to ask if that's the way he thinks of himself.
"Last Of The Independents' isn't about music. It's a tongue-in-cheek story about a gangster getting away from the Mafia, cos he was involved in a stick-up 11 years ago and only he knows where the money was stashed. It's a bit like that movie 'Charlie Varrick', with Walter Matthau. Did you see that? Certain people have read some of the lines in the song as autobiographical or something, like 'I play by my own rules' and the title. Some people see me as the last of some kind of a breed or something. But I'd hate to have everybody regard me as the last of any breed or the first of any. I'm aware that I've gone through the late 60s and through the 70s, doing whatever I do. The point is, if I was to get worried about every fad that comes along, whether it was Bryan Ferry or Gary Glitter or psychedelic or punk or whatever. . . y' know, they all have their thing to offer, but I just enjoy getting up there and letting the music cook."
"I just enjoy getting up there and letting the music cook"
Gallagher's legendary good-nature shows signs of strain when he's accused of being caught in a hair-and-denims time warp. "I'm not that sensitive about it, but certain writers are inclined to write you away as 'This guy wears a denim jacket, how dare he wear a denim jacket? ' I was never into sartorial elegance anyway. Why throw away your love for blues or rhythm and blues just because it's not in vogue. But then again, all of a sudden now it's somewhat back in fashion. in the meantime, there's a good audience out there that follows what I do and 1 just try to enjoy it. But it can be a bit disheartening.
"I just think too many artists are so fashion conscious, so pushed about by what they think the press expects of them. They think 'progress' is something to do with changing your clothes in Carnaby Street or buying the latest synthesizer. That's not progress. Music is playing, getting out there and working at it as often as you can, and enjoying it. You can't but progress then, it's an internal progression, and that's all I try to do."
But the proof of the pudding..
"The point is, if we were doing the wrong thing, the audience would soon ebb away, and the younger set in the audience would say, 'Oh this guy, he's not worth going to see.' But we're getting bigger audiences and we've been getting bigger audiences in the last 10 years than a lot of the more heralded names.
"But", he added, "I must stop sounding like a politician." On "Photo-Finish", Rory has succumbed to a little more studio wizardry than in the past, but despite this the material translates very well to live use. He still likes to retain an essentially live approach to recording. "Over the years I've gone through different attitudes about recording. On a couple of albums I sang live, played live lead guitar and then overdubbed a bit of rhythm. I suppose in retrospect it was a bad idea, but at the time I wanted to get something as truthful as possible, mistakes and all. But with the last three albums I've been a bit more intelligent about it. I'm not averse to overdubbing vocals and lead parts if need be, or a rhythm part. But most of the basic things are still live-ish, drums, bass, lead guitar come rhythm guitar, and, there's usually an attempt at a live vocal. Then after that, if it needs it, we'll maybe stick on a rhythm guitar or a little bit of percussion or repair a lead line.
"But some of the things on "Photo-Finish' are a little more produced than others. Let me see, on 'Overnight Bag' you've got two acoustic guitars doing a bridge part and two electric guitars playing rhythm. Then there's an old 12 string Vox Phantom going through a flanger giving little kinda organish clips. I think that's nice on some tracks, you can build up a little guitar orchestra, if you like, but I want to keep it as subtle as possible. I don't want to go as far as Brian May, who's a very talented player, but that to me is not my bag, as they say. I prefer it if one guitar does the track, as in 'Mississippi Sheiks', though there again I snuck a rhythm guitar in. It only gets a little bit against my code when you end up with three lead guitars wailing away in the background, something I could obviously never do on stage. I'm somewhere in between. I like to more or less let the music cook and try and patch it up and make it sound like we're having a good time in the studio and gettin' it on."
It was convenient that Rory had mentioned "Overnight Bag", because it led naturally into my clever pre-planned question about his writing style. "Bag" stands out on the new album as a song conspicuously more structured than much of the Cork fellow's output. Would he agree that a lot of his tunes are custom built for the purposes of guitar wizardry? Perhaps this wasn't tactful.
"No, never. It's a constant problem, people sort of think that I write songs as guitar vehicles, which I don't. Some songs I think could be done by other people with other, y'know ..."(I think Rory meant that some of his songs could successfully be given a different treatment to his own by other artists. Sounds feasible).
"They're not guitar vehicles, but on the other hand I'm proud of being a guitar player and I enjoy having a good bash at the guitar, playing lead guitar, which is a dirty word these days. It's a part of the appeal — people buy the records to hear the band, to hear the guitar and the voice and the songs. But I certainly never short change myself lyrically, I sweat over the songs to make them as good as possible. If I wanted guitar vehicles I could just do 10 versions of "Rock Me Baby" or something."
But to revert to the ubiquitous "Bag", it stands out for its lack of guitar soloing, its subtler-than-the-Gallagher norm textures and mellow changes. No?
"Compared to something like 'Cloak And Dagger' it's very much a song and it's built up piece by piece and yes, it's a very textured, coloured tune. That's the strength of the album, I think. A song like 'Overnight Bag' stands up very well in contrast to something like 'Cruise On Out' which is a straight, fast rockabilly thing with just a Telecaster and an acoustic guitar. Whatever it takes. Whenever a song needs a certain treatment, you just try and do it."
The discussion of Rory's writing led fairly naturally into the more general topic of the Irish rock and roll background. Ireland seems to be going through a renaissance, what with Lizzy, the Boomtown Rats and now the Undertones and a host of others. What would life be without the venerable Peel playing "Teenage Kicks"? First of them all, of course, was Van Morrison.
"He was the first one to make it and he broke a lot of the walls down", Rory reckons. "But to be fair I never found any animosity over here. You know, being Irish you'd get the odd quip, people didn't think that you might be able to cut it. The difficulty for the Irish musician was that he had to leave home, come to London and starve —you could predict the starvation — and then y'know, try knocking at the doors of the record companies. Whereas if you were over here, a Londoner or someone from England who knew the set-up and could always take the bus home to your parents for a hot meal, it wasn't too bad."
When Rory was a lad, there were precious few outlets budding rockers in Ireland. There were a few beat clubs, and the showband circuit, which is where the 15-year-old Gallagher found himself out of necessity.
"It was fun, but it wasn't a serious thing. But at 15 just to plug into an AC30 and play for a few nights a week was a dream, you know. It gave me a chance to play in the Irish ballrooms in England, and then on my nights off go to the Marquee and see Steve Winwood, the Yardbirds at all kinds of people. And it gave me a trip to Spain and caused havoc with my schooling."
Rory is delighted with the amount of music blasting out of his homeland now, though, and cites a couple of band who supported him on his recent Irish tour.
"We had a band called Rule The Roost from Donegal doing semi country-rock stuff, very good. And a group called the Bogey Brothers, a three-piece from Dublin. Both groups were really well up to scratch, and there's a load of other bands coming up. There's a real birth of groups now cos the old showband scene has really cooled down an awful lot. With the success of the Irish bands, record companies are taking Irish rock and roll seriously now, it not just sort of, 'Huh, who are these leprechauns?', the kind of attitude they used to have."
What is it that these Irish chaps have got, then? Boomtown Rat Gerry Cott once suggested that it was the old Celtic story-telling tradition manifesting itself in powerchorded format. Take "Rat Trap", for example —very long for a number one single, but it tells a story which, presumably, people got into. Unless it was just the sax riff. Rory G. tends to agree.
"Lyrically I think there's a little twist that some of the Irish writers have, like Lynott has, and Van Morrison of course. Some people think that there's a slightly different sound to the Irish groups. A lot of Irish writers tend to write little stories, it's a good point actually. Semi-Celtic legendary or mystical things. Van used to write semi-autobiographically in things like 'Madame George' or 'Cypress Avenue'.
"Bob Geldof is a different writer, his writing is more journalistic, more modern. It's not as unconscious as the way Van would write, Van doesn't sound like he sat down and worked at it. Bob's writing is a very structured, methodical kind of writing, but then again, why should he be like Van Morrison by any means? We all write in different ways. That's where it should end — any more speculation other than the fact that Irish groups are good is just superfluous."
Rory went on to shed a little light on his own creative processes.
"I've written stories, but more like from an American flashpoint. I've written things like 'Last Of The Independents' as a gangster running away. 'In Your Town' is (from the 'Deuce' album on Polydor) is about a jailbreak, about a load of gangsters going over the wall. I write other kinds of songs too, I try to keep my writing allied to the actual force of the music as much as possible. 'Mississippi Sheiks', that's about a country blues group that actually existed on the streets of the South called the Mississippi Sheiks. They're dead now. They were just a fiddle and guitar duo, they used to make some really nice music. In the song I kind of go into a time machine and go back in time. It's a slow rock song, and I just try and conjure up the atmosphere of the time, y'know. Songs can come in all kinds of ways."
Rory Gallagher is much better known for his guitar playing than his song-writing, though "Photo-Finish" contains some of the strongest material he's written. His roots are strictly in blues and old rock and roll. In his early years as a musician, all his exposure to the music he loves was via the records of Chuck Berry, Jimmy Reed, Eddie Cochran and Elmore James — among others. "You find yourself saying if Eddie Cochran and Elvis Presley make great rock and roll, then you hear Elmore James and Muddy Waters who are even rougher ... it's just the muscular appeal of the music. And the lyrics, the humour in blues lyrics and the whole tough, unusual way of using words, like in Bo Diddley's writing for instance, using all these car names and street names. I just love it. There must be something in the sound of it, the wail or the loneliness of the sound or whatever you want to call it. It always sounded better to me than straight pop music.
"It's hard not to get knocked off your feet by Elmore James or Howlin' Wolf. For me, Wolf singing 'Wang Dang Doodle' or 'Shake For Me' has got as much viciousness as 'Anarchy In The UK' or any of those things. I mean, they're just harder, modern Eddie Cochran songs if you ask me, which is allright, y'know, it's just real hard brute force playing. But Howlin' Wolf had the benefit of having a ridiculous voice, he was the most dominating singer you could ever hear. Plus the recording sound of the Chess studios, it was just outrageous — amazin' sound."
Cardboard
Rory's first ever gig was with a skiffle group, which included his brother and another friend. Luckily, he started singing before he learned guitar, so he never found any difficulty with playing and singing simultaneously. That makes him one up on B. B. King. Not surprisingly, Rory's ambition was always to play lead guitar, though he's keen to point out that he tries to be what he calls a complete guitar player who can play rhythm and fills as well as lead. The old showband training came in handy in that area, since Rory was the only guitar player for most of the time and had to double as lead and rhythm guitarist. As for contemporary guitar players, Rory listens to just about everybody.
"I'm a guitar fan, that's the problem. Without going into all the bluesmen, I like Keith Richard, Johnny Winter, John Hammond, Lowell George. I like Ry Cooder, I love his experiments with different things. But I'd love once for him to do an album with 'Smack Dab In The Middle' and those R&Bish things. He's inclined to dot his albums with one or two of these tracks and then you have a semi-Hawaiian track or a semi-jazz track or semi-something else. It gets a bit too eclectic, or whatever the word is.
"I've always liked people like Martin Carthy and Bert Jansch, too. I always regard myself as a fan of the general scene. That doesn't mean I like everybody's records, but there's a lot of great players around. I'm always ready to enjoy it, even if it's a punk record. If the guitar's suitably on the ball, then fine. My main criticism of most punk records is that they're badly produced. If they used the old blues or rock and roll techniques rather than this 24 track sound, they wouldn't be gettin' all these cardboard drums. If they want the big sound, they should go for the Who sound. That's the model for a punk group, if you like, that sound. Pete Townshend's playing I like, and Mick Green's. I'm afraid I've got a good word for so many players."
... Except the new wave, which he evidently regards as a fashion to be viewed with caution. Strange really. But I digress. Currently, Rory is more than happy with his three-piece line-up which is completed by the stalwart Gerry McAvoy on bass and ex-SAHB person Ted McKenna on drums. Having dispensed with keyboards in the summer of '78, Rory finds the burden of filling all the available musical spaces resting lightly on the fretboard of his decrepit Strat. "I don't feel that it's any more tiring now than when we had the keyboards. The keyboards do their thing and the guitar does its thing. With the keyboards, I never really stopped and played rhythm or took a breather, so I don't feel any more tired now after a gig than I did before. I suppose it might be different with another guitar, I haven't worked with another guitarist for a long period of time so it's probably worth a bash. This is definitely the happiest band I've had, though, and I think at present we've got enough going for us as a three-piece."
Ampeg
Gallagher's essentially earthy approach to his craft is reflected in his equipment. Not for him the exotic customized technology visible onstage with many of the Supertax bands. His battered Strat has become a trademark over the years. Is this because it does everything he wants a guitar to do?
"Almost! Never quite. The Strat for me is just structurally the best guitar you can get. Machine heads all on one side, and the scale being slightly longer than Gibsons, it suits me. You can get more pull on the strings above the l2th fret. Apart from that, my tone control handles all the tones for all three pickups, that's the only custom thing. I was slow to get that modification done, but I'm glad I did. I actually prefer the lead pickup on a Telecaster, and I've often thought of putting that in the lead position on the Strat. On a Fender Esquire I had a Tele lead pickup, and then two Strat pickups and a five-way switch."
For amplification, Rory has currently abandoned the old Fender gear he used to use in favour of Ampeg. The Fenders were a Concert from 1960, and a really old Bassman from 1954. "With all the wear and tear, it was hard work for them", he observes. He now has an Ampeg VT 40 which he links up with a VT 22. He finds that the Ampegs give him the mid-range response he's looking for, which isn't the case with, say, the Ritzy, but wallet-piercing Music Man units. On top of that, Rory has a treble and bass booster made by a New Jersey company called Hawk. And in addition to the Strat....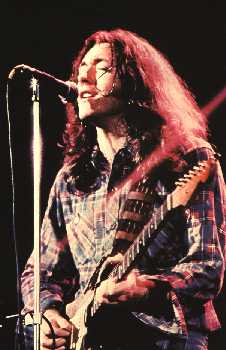 © Danny Clifford 1978-2002 www.dannyclifford.com
Truss-rod

"At present I'm using a Gretsch Corvette for slide instead of the Esquire. The Corvette is Gretsch's attempt at a Les Paul Junior, but I took off the Gretsch pickup because it was too weak and I put on a P90, which is an old black Gibson single coil pickup. For the acoustic number, I have a mandolin, a Martin from the 1930s and a National steel-bodied guitar, also from the 30s. I had a new fretboard put on the National in the States because it was beginning to warp — there's no truss-rod in those guitars. The Martin's a D35 with a little Ibanez transducer. I find the Ibanez a little more toppy than, say, a Barcus-Berry Hot Dot. Then I use an Ibanez pre-amp to boost the acoustic guitar. Luckily on the pre-amp I have a little three-way graphic, with which you can cut down the bottom end. On the Dreadnought Martins you get a bit too much of a bass-boom sound, which may be grand for a guy playing in a folk club, but it gets a bit annoying for anyone playing the big shows."

One of Gallagher's more unusual stylistic devices is his use of normal tuning to play slide guitar, though he only does this on a couple of tunes. Again, on "Cruise On Out" for example, he'll drop his top B to D and play in the key of D. But he uses various open tunings too, mainly A or E., which suit his vocal range. For acoustic numbers, he favours a D tuning, "because I tend to be singing country blues type things, so it works." He also uses a tuning favoured by Bert Jansch, among others, which is (from the top string down) D A G D A D. In other words, a D tuning with the G string remaining at G rather than dropping down to F sharp.

"It's a sort of Celtic sound, so you get your major chord from your second fret, third string. You get a chord and a half, a modal sort of sound. I think I know most of the main tunings, but a lot of them aren't practical. B is a lovely tuning for acoustic guitar, it's the same as C but it's down
a step. The only trouble is you'd have to be doing Joni Mitchell or Tom Rush stuff."

Rory says he only gets about two nights' worth out of a set of strings, because of his aggressive playing style and various re-tunings. "I don't wanna be too sedate about it, I mean you gotta dig in there", he says.

Rory Gallagher is one of the most durable artists in rock & roll, and looks like being so for a long time to come. He's not fashionable, but nor are his fans. He won't let you down.

---
This article comes from the March 1979 issue of BEAT Instrumental.
reformatted by roryfan
Images from the magazine
53