AGAINST THE GRAIN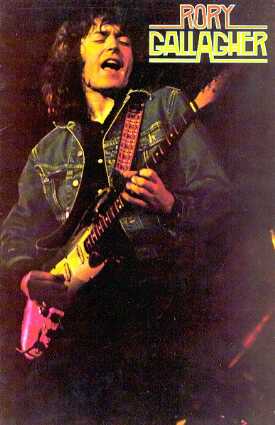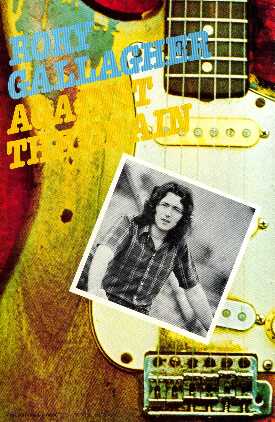 " When I listen to something, I like to be taken out of my seat and thrown across the room. I like guts, a good drive, which can include gentle stuff too. If it sounds good and feels good, that's it." Rory Gallagher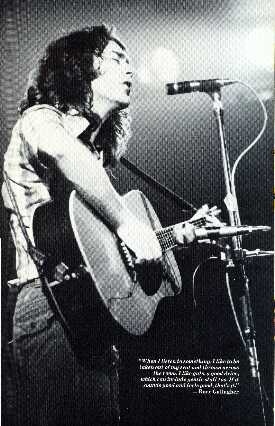 Quotes like that, and a close listen to most of his music, might lead one to think Irish guitarist Rory Gallagher is some kind of fierce character, a mean ball of energy likely to explode into malevolent action at a moment's notice. The truth is, Gallagher, the person, is almost the complete antithesis of his aggressive music. He's quiet, friendly, soft-spoken, eager to please. But don't stand in the way of the man or his guitar.
Born in Ballyshannon, County Donnegal, Rory, moved at an early age to Cork. He bought his first real guitar at nine, replacing an earlier plastic model on which he'd entertained relatives and socials with the hits of Gene Autry. At 15, though he had no particular fondness for the form, he joined the full-scale Fontana Showband ( later renamed the Impact ), with whom he spent two and a half crowd-pleasing years.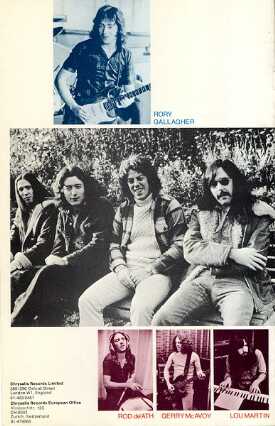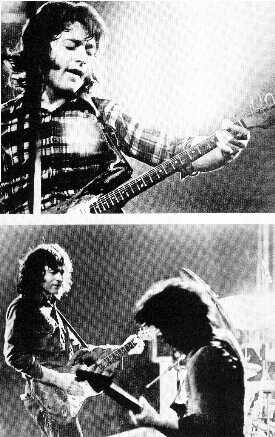 "We played all over Ireland, toured Spain and did a couple of English gigs," Gallagher explains. "It turned out to be great fun. We were luckier than most showbands: the drummer wanted to do Jim Reeves stuff, but the rest of us wanted to play "Nadine" and " A Shot of Rhythm and Blues." Rory's rock & roll heroes had been Eddie Cochran, Chuck Berry and Buddy Holly; when the showband broke up, he found himself freed to play his favorite hard rock exclusively. With the showband's drummer and bassist, he visited Hamburg in 1965, returning to England some months later and forming the nucleus of Taste, the band with which he was to enjoy his first success. " We played around Ireland, went to Germany again, then finally made the big step over to London in 1969."
Taste made two critically acclaimed albums, Taste and On the Boards ( both on Atlantic in the U.S.) and built up a considerable reputation on the strength of volcanic live appearances. Late in 1970, however, Taste broke up and Gallagher again found himself with time on his hands. He spent the early months of 1971 laying the foundations for a new band that would continue where Taste left off. With fellow Irishman Wilgar Campbell on drums and Gerry McAvoy on bass backing him, Rory cut his first solo album, Rory Gallagher, released on Polydor. The set furnished a more in-depth portrait of the artist; where Taste's assets lay in the band's ability to generate enormous physical excitement, the new album disclosed Rory as a powerful performer, even subtle, musical sides.
Around the same time, one of Rory's early idols- Muddy Waters- visited London to cut his London Sessions album and Rory was one of the first sidemen the veteran bluesman chose.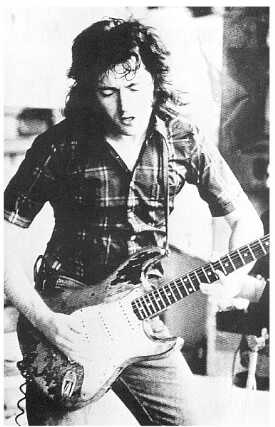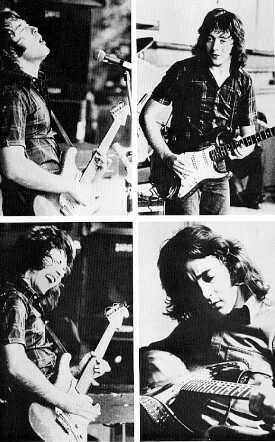 Gallagher recorded two more solo albums with Wilgar and Gerry: Deuce in November of 1971 and Live In Europe in spring of 1972, the latter being the record that brought his giant breakthrough in sales. The band had first visited America in the fall of '71, and made considerable impression on hard rock-hungry audiences across the country.
Asked recently if his music had changed since the days of Taste, Gallagher explained, "I'm still recognizable, even if the line-up has changed. As far as style goes, I don't like playing twelve bars all the time; the blues field goes right from Charlie Patton to Lowell Fulson and my aim has been to play the blues properly and feel them. Basically, I like anything with guts: Leadbelly, Woody Guthrie, The Stones, Johnny Winter."
Gallagher released three more albums with Polydor ( Blueprint, Tattoo and the devastating live set, Irish Tour '74 ) before signing with Chrysalis in 1975. His first album with the label , Against the Grain, was released in the fall of the year, coinciding with a favorably received American tour.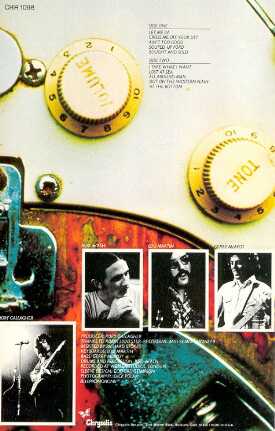 " I'm pleased with the new album," Rory admits. "It's the first studio album in two years: we recorded at Wessex, a studio I hadn't used before in London, but it had a nice feel to it. There are seven new songs which I've written over a period of a year. Apart from those, there's a Leadbelly number, 'Out On the Western Plain,' and James and Bobby Purify's 'I Take What I Want.' It's a good record."
---
This article comes from a promotional booklet for Against The Grain in 1975.
reformatted by roryfan
Thanks to John Murphy for sharing it.
44