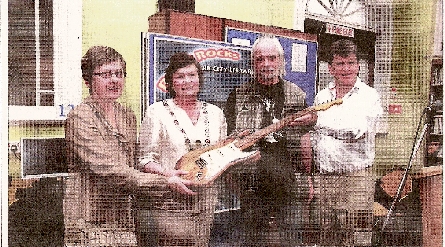 Pictured at the presentation of a replica of Rory Gallagher's 85 Stratt guitar to the Rory Gallagher Music Library, Cork City Library at Grand Parade, were Kitty Buckley, executive librarian at the

Rory Gallagher Music Library; Deputy Lord Mayor, Clir Mary Shields, Joachim Matz

,

from Germany, who made the guitar and presented it to the library, and Liam Ronayne, city librarian.



Copy of Rory's Stratt in library
by Claire Sutton
A replica of the guitar made famous by Rock legend Rory Gallagher has found a new home at the Cork library.

A duplicate if Rory's 85 Stratt guitar, designed by German native Joachim Matz, was presented to head librarian Liam Ronanyne of the Rory Gallagher Music Library as part of the Cork Rocks for Rory Festival.

The guitar is now on display in a glasss cabinet at the entrance to the music library where it is expected to be admired by rock fans from all over the world.

Mr. Ronanye said many fans from across Europe were at the library for the presentation.

"We were delighted to receive one of Joachim's guitars. He customizes them to look exactly like Rory's. The majority of the people here for the presentation were from the Continent, " he said.

The two-day Cork Rocks for Rory Festival at the Triskel Arts Centre included a photographic exhibition by Fin Costello and performances by tribute bands including Dave McHugh band and Slumming Angels.

Rory who died in June 1995, is buried in St.Oliver's Cemetery on the Model Farm Road. His headstone is a replica of an award he received in 1972 for the International Guitarist of the Year.

---
This piece was published in the Evening Echo from Cork on June 10, 2008. Thanks to

John Harrington

for passing it along.
Note: I posted the piece as it posted published........including the errors!
roryfan

---
Back to main RoryON!! page