The "Hall"
Peter Williams to the old Bullfrog mailing-list on 7/8/98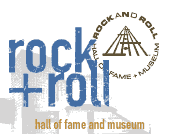 a few years ago i was asked to produce some work for the rock & roll hall of fame. when you walk into the building, there is a giant video wall framing the main entrance. i was asked to photograph the hall's collection of memorabilia and design a series of "pages" that feature the collection. it would be part of the musical montage film that greets visitors as they enter the hall the video wall is 2 groups of 42) 27" monitors the biggest projection system in the hall
since cleveland is my hometown, and music has always been a passion, i jumped at the opportunity! i flew into cleveland, caught a baseball game at jacobs field, and went to the halls temporary offices the next day. (they hadn't opened yet) the staff set me up and proceeded to bring in a ton of their artifacts
"here's a strat. . . it was jimi hendrix's" "over there is pete townsend's acoustic"there i was holding one of duane allman's slides! (a common salt shaker)
the trip was a blast and i designed the wall to emulate a david hockney style collage. the hall also wanted one of the designs to include photographs of some of the musicians. they had an arrangement with the photographer ethan russel, so we had one of the collages include ethan's shots. it was in this piece that i slipped in a shot i had of rory (late lou martin period) i was extremly proud that it made the cut because it's probably the only way that rory makes it in the hall. i don't know about the rest of you, but to me the idea of a rock and roll hall of fame is pretty absurd.i had a great time doing the work and look forward to visitng it the next time i'm in cleveland but. . .it seems kinda ridiculous to judge art as if it's a sport.
"with over 10 million albums $old worldwide we are happy to induct into the hall . . .the jefferson airplane!" "with, count'em, 5 top ten $ingles it is my pleasure to welcome into ....this illustrious group. . . the mamas and the papas!"
another reason i'm not bent out of shape that rory will probably never make the cut is . . .i am quite proud to have rory to myself .i can't wait for any reissue cds or a boxed set,but in america it was always such a rush to be able to see rory in a small club with true fans and get good shot of his pure and easy music, while 15 thousand of my closest friends crammed into a basketball arena to see peter frampton! we all KNOW he should be there but do we really care?
anyway there you go ~rory gallagher is in the hall on a giant video wall there for those who know"
Peter