Orange County Calendar
Pop Music Review
---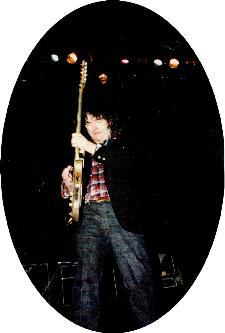 GALLAGHER'S STILL GOT THE SOUND AND FURY
But some scenery was lost in all the steam of the Strat master's blistering show at Peppers

---
by Jim Washburn
Special to the Times
---
HUNTINGTON BEACH-
Irish blues-rocker Rory Gallagher may have had his struggles with a fear of flying (his reason for not touring the States in more than six years), but he clearly doesn't have any such apprehensions about soaring on stage. His Pepper's Golden Bear show Thursday evening gusted along with all of the legendary Strat basher's customary grit and fury.
Some of it was a might too customary. His show featured more songs from his 1972 "Rory Gallagher, Live!" than from his new, surprisingly vital, "Fresh Evidence" album.
Back in the days when Eric Clapton was God, Gallagher was at least a demigod. Without ever scoring a hit single, he still built a solid, loyal following with his feisty, over - the - top roots-rock, first with the power trio, Taste and then under his own name. Some of his blues derived material was as excessive as most British attempts at the form, but he also sometimes found a distinctive, personal expression in his music.
While boogie-ing relentlessly, such older songs such as 'Laundromat' (which he played Thursday) and 'Brute Force and Ignorance' also show a keen intelligence.
Gallagher's strengths are more consistently evident in "Fresh Evidence", than they were in his show. The current disc's rollicking 'Kid Gloves' and deftly mutated boogie 'The Loop' were high points in a set that called out for more of the albums; solid tunesmithing, zydeco rhythms and focused musicianship.
The 42 year old singer-guitarist's performance had several virtues, but finesse wasn't particularly one of them. Gallagher comported himself like a Gaelic Johnny Winter throwing out such a storm of notes that the passion he put into them was sometimes devalued. The effect was far stronger when he gave his phrases room to breathe, which was the case in his stinging solo in the 1973 ode to estrangement, "A Million Miles Away.'
He was backed by a blustery trio of bassist Gerry McAvoy (Gallagher's sidekick of two decades), drummer Brendan O'Neil and harmonica player, Mark Feltham, who took some remarkable solo flights. They gave a solid support, though their rampant attack did little to encourage the guitarist's more melodic side. Of peripheral interest; McAvoy may be the best current proponent of the Phil " Look, my feet are on two different continents" Lynott bass-player stance.
While Gallagher's artistry might be better served if he were to leaven his six string attacks with more prudence and dynamics, there aren't many better full throttle guitarists about. As often as not, his musical excursions actually went somewhere - even if some of the scenery was lost in the steam - and he seemed thoroughly caught up in the journey. He has a command of his Stratocaster that only decades can bring. It was alive in his hands as he coaxed wild bends, tricky harmonics and feedback screams from it.
The deluge abated a tad when he switched to acoustic guitar for a trio of folk-blues standards, "Walking Blues', 'Pistol Slapper Blues' and his classic reading of Leadbelly's " Out on the Western Plain.' For an Irishman conveying a black interpretation of Southwestern cowboy life on a Japanese guitar, Gallagher's coarse-grained vocal and open-chorded guitar figures proved highly evocative.
~~~~~~~~~~~~~~~~~~~~~~~~~~~~~~~~~~~~~~~~~~~~~~~~~~~~~~~~~~~~~~~~~~~~~~~~~~~~~~~~~~~~
This article was posted to the March 9, 1991 issue of the Los Angeles Times
Thanks to Doug Pugh for sharing it.
Photo by John Wainwright Victoria Hall 1988
reformatted by roryfan

187