BELFAST TRIBUTE 2001

Below are some photos from the June 14, 2001 Tribute held in Belfast at The Empire Music Hall. Show organizer, Dino McGartland was kind enough to pass them along. The Show featured Aftertaste, The Houseshakers and The Travelling Blues Roadshow. Thanks Dino!



The Houseshakers
( photo from Steve Murtaugh from the band)


---

You might remember that Rory played with Samuel on his album "Strangers on the Run"
A note from Dino McGartland:"I'd like to point out that Samuel Eddy was not on the programme to play Belfast. He actually bumped into Dave McHugh at a Blues festival in the West of Ireland a week prior to the gig.Dave mentioned that he was doing the Belfast Tribute and Samuel said that he may travel up to Belfast, just to be part of it. He kept to his word and made the journey up to Belfast with his guitar and equipment,played for free, paid for his own accomodation and travelled back to Dublin, and never asked for any money. He just wanted to be there!!! Need I say anymore!!! A genuine Rory fan.We all had a fantastic night a stayed up to the small hours trading stories about Rory!"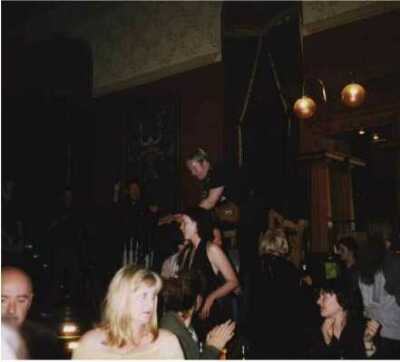 Samuel Eddy moves from the stage to the bar
during Shadowplay




Samuel on the bar


Dave McHugh and Samuel Eddy in action


Dave and Samuel once again

Dino McGartland joins the band for"Messin' with the Kid"
Back to Main RoryON!! page